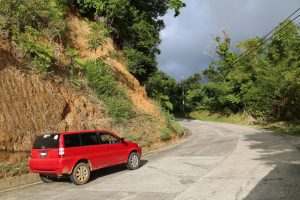 I must have picked up about 15 people today with my self titled new job on the island, "Dave's Dominica Taxi service". Getting around from place to place is dependent on the generosity of drivers – and this hitch hiking seems like an easy and cheap way to see the island. With bridges still out or damaged from the tropical storm in 2015 – one of the main roads was closed leaving a smaller road through the rainforest as the alternative way to get from one part of the island to another.
This went through Kalinago Territory on Dominica's East Coast – about 3,700 acres of land that supports the Kalinago peoples (currently numbering around 3,000). They originally migrated north from South America and somehow survived the diseases and decimation that was brought over by early Europeans. I picked up a nice guy who is a tour guide in the Kalinago Territory – he informed me his ancestors used the geography of the island to survive – having moved up high in to the mountains and rainforest escaping some of the 'western' diseases that were originally brought over from Europe.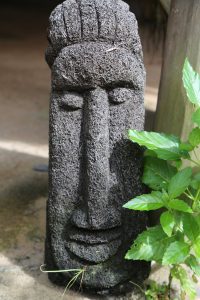 My next stop was for three cute little kids who needed a ride home from school. My last stop of the day was for a man who I would soon find out was as drunk as one could be. He kept hitting me on the arm and claiming that he wasn't as violent as they said he was and that he was a good man. Apparently he thought I was a doctor – as he kept thanking me for delivering his new born son and thanking God for bringing me to him.
Visiting Dominica seems to be like going back in time – especially on the drive through Kalinago Territory. I did not see the influx of tourism and the inevitable development that it brings, like I have seen on numerous other Caribbean islands. Things seem very traditional – with small agriculture dominating. I have not seen any fancy resorts or large scale development. Properties are small – guesthouses or small cottages. The population seems small (certainly compared numerous other Caribbean islands) and spread out as well – throughout a number of villages and small towns. People are very friendly – it seems very safe here.
Dominica reminds me of a mixture between Papua New Guinea, Hawaii and Costa Rica (without the animals). Water seems to be flowing everywhere – there are so many rivers here. Several freshwater lakes are located higher up on the island. The boiling lake is a very popular trek with visitors – but during my visit this lake turned cold and it was temporarily closed to the public while scientists made sure conditions were safe for visitors.