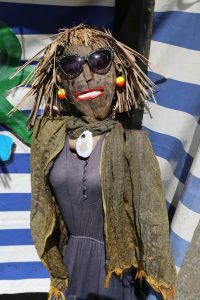 After spending four relaxed yet still activity packed days on Dominica I find myself staying in the midst of sprawling apartment complexes on neighboring Guadeloupe in the city of Pointe-à-Pitre. Mere 25 minutes away by small jet, Guadeloupe feels worlds apart. World's away from the unspoiled natural setting and the the pleasant feel of space when you have a low population density (only 72,000 people live on the entire island).
Now I am surrounded by the hum you hear in all cities across the globe, the incessant noise of traffic, the horns, some annoying bass notes of music playing somewhere in the city and the sound of crowded apartment neighborly going ons and chatter.
I miss the absence of human noises – preferring the sounds of the rain forest, the solitude of being in the mountains of Dominica surrounded by fog while trekking through the cloud forest, swimming in pristine rivers with absolutely no one around and the people who were friendly and quick to lend a helping hand to a traveler who needed information.
And all of the locals who joined me in my rented vehicle – even young and very polite children hitching a ride with a total stranger and getting in my car. And more nature, the waterfalls, the hot springs, the jagged mountains – a landscape that at times reminded me of the unspoiled nature of Papua New Guinea, the volcanic landscape of Hawaii and even some touches of Southern Thailand's visual beauty. And the fresh fish – the vendor selling out of a shack by the side of the road – and the passion fruit drinks of which I enjoyed many of these – some spiked with rum.
And the intrigue of discovering that the Caribbean's largest of the remaining indigenous people, the Kalinago still inhabit the highlands of this island.
Four days was certainly not nearly enough time to explore this country. I don't often return to countries in my odyssey to explore the world, yet somehow I suspect I will return to Dominica.