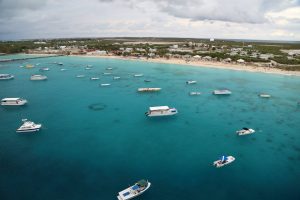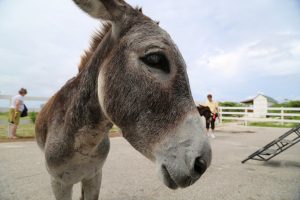 The giant cruise ships disembark on the southern side of Grand Turk – towering above you like skyscrapers as you walk down the pier. From your balcony on your state deck you are greeted with azure shallow waters and pure white sand beaches. Beyond the aquamarine waters, the sea turns a dark blue – evidence of the edge of the island shelf where the ocean plummets some 7,000 feet straight down to the bottom. A stop here was part of the Holland America Line's ms Eurodam Caribbean cruise.
Suffering from random sea sickness I was more than ready for some stable ground. However, soon I was in the air – having pre-arranged a helicopter tour of the island through Mountain Air Helicopters. Founders and husband and wife Dwight and Marina Jones divide their time between Albuquerque and the Turks & Caicos (and other places as work permits – including construction and film projects). Dwight is a pilot with more than 20 years experience in the cockpit and when he is on the island often personally fly's guests on the tours.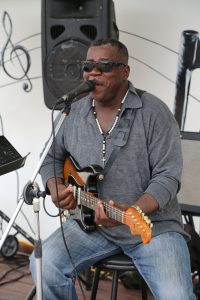 The approximately 15-minute flight is highly recommended for a birds eye view of the island with narration provided by Dwight or one of his other pilots. The flight covers the entire length of the island hovering above the Imperial Lighthouse (still active and dates from 1852), the remains of a 190+ year old shipwreck (the remains can clearly be jutting above the surf) and above some of the most popular shark and stingray viewing parts of the island. Finally you will fly directly above the cruise ships – their size is certainly impressive in relation to the small island.
Then to perfectly complement your helicopter ride jump on board one of the Oasis Tour passenger vehicles for their "Coast to Coast" island experience – visiting some of the attractions you spotted from the air including the Imperial Lighthouse.
Grand Turk is really small and mostly flat – people come here for the stunning water and the beautiful beaches.