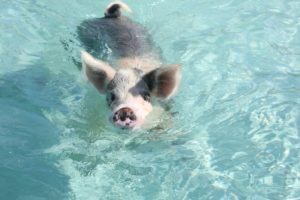 One of the activities synonymous with visiting the Bahamas is swimming with pigs. I have long heard about this, especially during multiple trips to the Bahamas over the past several years. Prior to our latest trip to the Bahamas, the closest I've ever come to swimming with pigs was wading with swimming pigs in the remote Tuamotu Islands in French Polynesia.
So, when I was invited by EMBRACE Resort in remote Staniel Cay in the Exumas to join one of their tours including swimming with pigs, I did not hesitate to join the excursion. EMBRACE Resort is owned by Nicole Ferguson-Taylor; her daughter Natajia is also extremely involved. When one has a vision and determination to accomplish their goals, external circumstances are but obstacles to overcome in the road. Take Nicole's interest in building a resort on Staniel Cay for example; she was denied by 6 banks because they didn't feel her plan was going to be a successful one, citing building a resort next to an airport on property that was not beachfront. She didn't take no for an answer – rather she used her savings to initially build one villa, and as she made money, she used that to build additional villas.
Today her business includes EMBRACE Resort, a number of vacation rentals on Staniel Key, golf cart rentals and 3N's, Exuma Vacations Island Adventures, a tour operator who arranges various excursions on and or around Staniel Cay including swimming with the pigs.
I joined a group of about 12 people on a boat piloted by Captain Dave for a half day tour. Dave obviously knows his way around the cays very well and based on all his interactions with other boat captains, is very well known.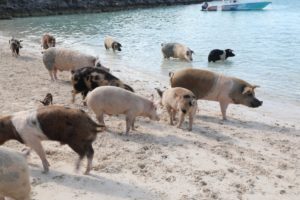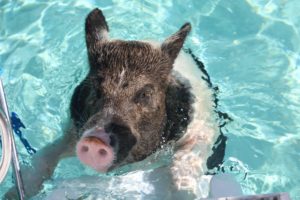 Big Major Cay is the original swimming pig's location in the Bahamas. After creating a mess and smells (as pigs often do) on Staniel Cay, they were moved here to live away from people. When one of the original pig farmers came to visit one day with food in his boat – some of the pigs began to swim out to greet him. Over the years, the number of pigs has grown considerably, and this is now one of the Bahamas most well-known and iconic attractions.
We arrived at Pig Beach in the morning; this is the best time to visit the pigs because they are more active and are more likely to be swimming. Other boats were already in the harbor but as soon as our boat arrived several pigs waded into the water and began swimming towards us. Apparently, Captain Dave is not only known by the locals but is also recognized by the pigs. He gave us some bread, and as soon as we started throwing pieces in the water more pigs began arriving.
Some of us jumped in the water and accompanied several pigs back to the beach. There were many more pigs wandering around on the sand including numerous piglets who loved having their tummies scratched. We were given milk bottles to feed some of the pigs. Some people from the other boats snuck food onto the beach (it is forbidden to bring food onto the beach) and were soon mobbed by squealing pigs. When some of the larger pigs were unable to gain access to the food they ran up and bit some of the humans in their behinds. Then both pigs and humans were squealing!
From my observations and interactions, it seems like the pigs are living a very comfortable life in paradise. They have plenty of food, water, beautiful views, friendly tourists and even regular medical checkups! Add this to your bucket list: click here to book this tour with 3N's Exuma Vacations Island Adventures.