Dodging clouds, discovering sunshine in between and finding inspiration below I found myself on a tiny 12-seat prop plane on my way from Nassau to Staniel Cay (note that 'cay' is always pronounced as 'key') in the Bahamas. The captain briefly announced our flight plan; 28 minutes to Black Point Cay to drop off a few passengers and then a quick 5-minute flight from there to Staniel Cay. There are not many passengers on board; these planes are small but everyone on the flight seems to know each other. One gentleman in the back was already in a great mood probably due to the beers he had been drinking before boarding.
I was in a great mood as well, not because of alcohol but because of the incredible vistas in all directions and the excitement I always have when traveling someplace new.
Most people have heard of Nassau, the capital city of the Bahamas but in reality, the country is composed of some 700 other islands, some private, many uninhabited and others developed for tourism. Staniel Cay is in the Exumas, a long island chain which boasts some 365 islands. This cay features just the right type of laid-back feel combined with genuine people and a friendly vibe. Only about 125 people live full time on the island.
If it were up to me, this is how island tourism would look, featuring a comfortable balance between locals, visitors and infrastructure. Despite visiting during some of their busiest times of the year (December through April), never once did anywhere on the island feel crowded.
EMBRACE Resort

This woman owned generational business (three N's, Nelli the grandmother, Nicole the mother and Natajia the daughter) was originally rooted in a small golf-cart rental business founded by Nicole who later expanded upon the business and began renting boats. Wanting to build a small resort she approached a bank for funding. They denied her because she was not directly on the beach. Five subsequent banks also denied her. Not one to give up, she bootstrapped or as they say on the islands, 'flip flop strapped', and used her savings to build something small, starting with a single villa. Today there are seven villas, each named after a Bahamian island: the first letters of each villa in a clockwise direction, spell Embrace. An accommodation ranges from a honeymoon suite with an in-room jacuzzi to two-bedroom villas including a full kitchen, living room and dining area.
And for ease of access, it doesn't get much closer to the airstrip than this. EMBRACE Resort is a short walk from the tiny terminal, but guests are always picked up in one of their golf carts for a quick ride to the resort.
There are numerous highlights to staying here not the least of which are their staff. It starts with ownership; Natajia is vivacious, outgoing, empathetic and focused on offering their guests a comfortable and enjoyable experience. And these values are fully instilled in their staff. There is one guarantee from a stay here: you may come as a stranger, but you will most definitely leave as a friend. And guests often become return visitors, realizing that they need more time during their subsequent visits.
Each room is decorated with a particular theme relating to its namesake island. Rooms are spacious and inviting and range in size from one to three bedrooms. One may just want to bask in the sun all day with quick dips to cool down in the small pool; it should be noted that the seat cushions are soft and comfortable, not stiff like many seat cushions we have experienced at resorts around the planet. A stay here is genuine; it is about taking time away from one's daily life to re-energize, perhaps escape cold weather, relax and enjoy a slower pace of life.
Really, the only sound that breaks the silence at the resort is that of small planes taking off or landing a few times each day. And it's a nice sound, because it reminds you where you are.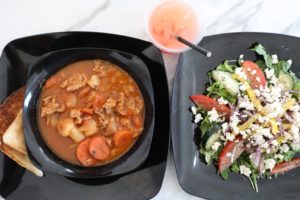 There are only four restaurants on the entire island; the newest, Flyin' Pig Cafe opened in July of 2022 at EMBRACE Resort and offers breakfast, lunch and dinner. It is conveniently located within less than a minute walk from any of the villas and offers both indoor and outdoor seating. Greek salad in the Bahamas? Why not! And we can also recommend the delicious shrimp and grits. But note that the spicy chicken wings are really spicy!
But if drinks are what you are after, check out, Gettin' Piggy Wit It, their signature drink or as Natajia says, "this drink is the love-child of Goombay Smash and Rum Punch." But for those who need a bolt of energy in the morning, especially after a night of drinking alcohol, the guava duff latte is on hand every am. This is the only coffee shop on Staniel Cay. It is open daily except closed on Sundays.
And EMBRACE Resort rents golf carts, the ideal way to safely get around the island. The carts are easy to operate and never exceed 15 miles per hour. They are ideal for going to the beach (our favorite is the small Pirate Trap Beach), visiting the Staniel Cay Yacht Club (an often very lively bar and the island's only fine-dining restaurant) or just exploring the island at your own pace. Guests can also borrow a beach chair or umbrella from EMBRACE Resort.
Know Before you Go
Arrival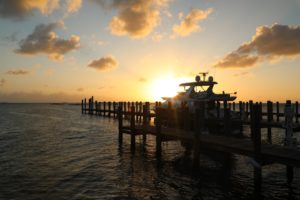 Lynden Pindling International Airport in Nassau services numerous international nonstop destinations, primarily in the USA, the Caribbean and select locations within Canada and also London. Staniel Cay is only about a 30-minute flight from Nassau, served twice a day by both Titan Air and Flamingo Air. And if returning to the U.S., through Nassau, refreshingly all passengers will clear customers in Nassau.
From the east coast of the U.S., it is a fairly easy journey. One can fly from Fort Lauderdale Executive Airport directly to Staniel Cay on either Maker's Air or Staniel Air (a three-hour flight). Like airstrips at other cay's, this one is small with just a couple of buildings housing the airline offices.
ATM/credit cards – credit cards are accepted on Staniel Cay but note there are no ATM machines on the island. It is recommended to also bring cash; U.S. dollars are accepted everywhere). A small percentage fee is charged for every credit card transaction.
Safety
The island is very safe; we noted that some guests even left keys to their golf carts in the ignition after parking them. The locals are welcoming and helpful. And due to the diminutive size of the island, most everyplace is accessible by walking or within a 5–10-minute golf cart ride.
Weather
We were told this is a trick question because no one (not even the locals) knows how the weather will be from day to day. Generally mid-August to mid-November is their rainy season and therefore the slower time of year. Temperatures? They are just about perfect with daytime highs fluctuating between 77-86 degrees Fahrenheit (25-30 Celsius).
3N's, Exuma Vacations Island Adventures
A must do experience when visiting Staniel Cay is a half-day tour/boat ride to a number of area attractions. This can be arranged by 3N's Exuma Vacations (same ownership as EMBRACE Resort) both for guests of the resort as well as day trippers from Nassau. Although note that guests of the resort receive discounted fares on their booking. The morning excursion is followed by an included lunch at the Flying Pig Cafe at EMBRACE Resort – with those staying in Nassau catching a quick flight back following lunch.
One of the highlights is a stop on Iguana Island, appropriately named for all the wild Northern Bahamian Rock Iguanas that congregate on the beaches. These aren't small creatures; they typically range in size from two to four feet. They are used to visitors and will let people walk within a couple of feet of them. They are attracted to bright objects and may come over to investigate such objects especially painted toes, (simply bury your toes in the sand and the iguanas will back off).
But one of the coolest experiences one can have is swimming with wild pigs in aquamarine waters. Despite other swimming pig locations in the Bahamas, Big Mayor Cay is the original home of the swimming pigs in the country (and its only about a 10-minute boat road from Staniel Cay). Farmers on Staniel Cay began raising pigs but quickly discovered their mess and accompanying smells. So, they were moved to a nearby cay in 1986. One day while one of the pig farmers approached the island while delivering food, he noticed a couple of the pigs began swimming towards him. Over the years this has morphed into one of the Bahamas most well-known attractions.
The pigs are most active in the morning which is when most of the tourists come to the island. One pig in particular swims out to the boats and constantly tries to step aboard. We were told this cutie used to love swimming out when he was a small piglet. But he would always overestimate his abilities and run out of energy far offshore. So, some of the boat captains would scoop him up and give him a ride back to shore. He has never forgotten their kindness, and still thinks he is a small pig when he tries to hop on board. Fortunately, he has plenty of energy these days and a return swim to the beach is not a problem.
Food is a huge motivating factor which is why it's not allowed to feed the pigs on the beach or have food in one's possession. But during our visit several guests decided to try to coyly feed the pigs. Not happening! They were immediately mobbed; when food appears, the pigs love to bite guests in the behind and this occurred with visitors shrieking and running into the water. However, it is acceptable to feed the pigs from milk bottles and the boat captains provide these to their guests.
A number of tiny pigs are raised on this island – some are more friendly than others including several who seem to live for backscratching sessions from visitors.
Other stops include a visit to Thunderball Grotto, a sizable space within the rock which is best accessed during low tide (by squeezing through a narrow barely visible entrance). The grotto itself is well lit with holes to the exterior at the top and on the sides. At high tide one would need diving equipment since the entrance is completely covered with water and the currents can be quite strong. Did you know the grotto was in several movies including: Thunderball, Never Say Never Again, Splash and Into the Blue.
The sandbar at Pipe Creek is best visited during low tide, leaving an exposed sandbar covered with beautiful patterns left by the receding water. This is one of those quintessential visually stunning Caribbean picture perfect postcards – with the white sand forming a stark contrast to the blue skies.
Around the year 2000 a small plane was taking off from the airfield at Staniel Cay, the pilot developed some engine problems and had to land in the water. The plane is still there sitting on the bottom of the bay in very shallow water. Now its home to a number of fish and can be easily seen with a snorkel and a mask.
And a very fun excursion is a stop at the Compass Cay Marina to swim in the clear aquamarine waters with nurse sharks. Don't fixate on the phrase 'swimming with sharks'; nurse sharks are not interested in eating humans. They can even be held in one's hands following the instruction of the guides; their skin is very soft and gentle to touch. Sharks in this particular marina have been featured in Discovery Channel, Animal Planet and Shark Week.
Bring your phone/camera, a hat and a sense of adventure. The boat provides everything else including towels, sunscreen, drinks and snacks and snorkel gear.