If cities like Jaipur, Jodhpur and Udaipur bear the mark of luxury and opulence of royal Rajput lifestyle then Jaisalmer epitomizes rural Rajasthan. A day or two in this remote town will give you a closer look to the daily life in this desert land. If you are a traveller and believe in experiencing rather than seeing Jaisalmer is the place to visit. And here are the top ten activities to make the most of your Jaisalmer travel.
Walking tour of Jaisalmer Fort
Whether it is popular tourist destination or an untraveled route there is no better way than a walking tour to know that place. Jaisalmer Fort, the oldest living fort township as well as a UNESCO world heritage site, is unique in its own way. The entire fort city is constructed with yellow sand stone that lends it a golden hue for which Jaisalmer fort has got its nickname 'Golden Fort' or 'Sonar Kila' (in vernacular). Unlike Chittorgarh people still live in this fortified town for generations. Explore its quaint streets and alleys to discover what the fort has in store for its visitors. By the way, a guided tour is recommended so that you don't get lost in the maze of alleys. Most importantly, a government registered guide knows the history and stories associated with the old temples and palaces inside the fort better than anyone else.
Exploring havelis and admiring exquisite stone carvings
Jaisalmer fort is home to a number of havelis ('palaces' in vernacular) which were once the residence of the ministers or administrative heads of the province. The intricate lattice work and stone detailing in Diwan Nathmal ki Haveli, Salim Singh ki Haveli, and Patwon Ki haveli will blow your mind.
Boating in Gadisar Lake
Gadisar Lake was dug up in 1367 to reserve rain water. With an imposing gateway and temples all around the lake has now become a point of attraction for tourists. You can spend some time sitting by the water, feed the cat fish or go boating in the lake.
Camel Ride to Sam sand dunes
Desert safaris are one of the most popular things to do in Jaisalmer. A journey into Thar Desert on camelback is one of a kind experience that you'll cherish forever.
Watching sunset in the desert
Visit sunset point in Thar Desert. Call it a day with the sight of a beautiful sunset.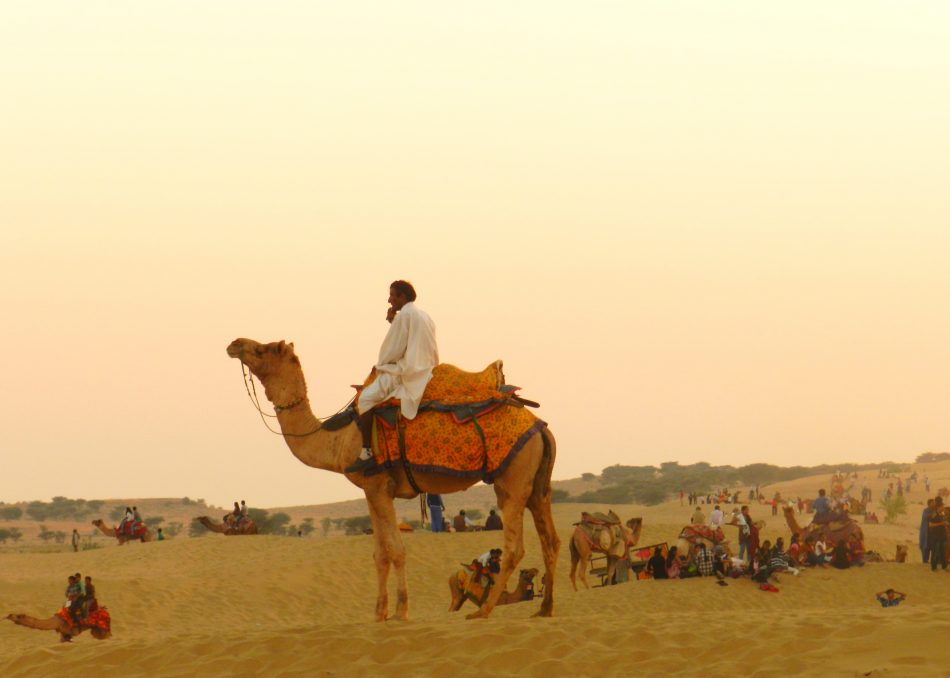 Enjoy open-air folk music performance at Camp Resorts
Oasis Resort and Camp arranges traditional Rajasthani folk music and dance performance in the resort premise every evening. Ask your hotel's travel desk to make the arrangement. The hotel where we stayed offered a package deal including desert safari and entry to folk dance show at the resort. Rajasthani folk dancers in gorgeous traditional costumes enthralled the audience with their supple movements and balancing acts.
Shopping in Local markets
Local stores offer exquisite handmade jewelry, bags, artifacts and hand-embroidered clothes, dress materials, rugs and wall-mattresses made by local villagers.
Photographing artifacts
Local art and crafts stores are like treasure troves for photography. From handmade puppets to ornate show pieces to colourful accessories subjects are aplenty in Jaisalmer fort and market. However, don't forget to ask for permission of the shop owner before photographing elements, else you may get into unnecessary trouble.
Visiting Desert Culture Center
Situated on Gadi Sagar Road in Jaisalmer the Desert Culture Center & Museum can be accessed by auto rickshaw from hotel. The museum houses a collection of local textiles, utensils, musical instruments, weapons and many more. A visit to the museum gives you insight on the life and culture of desert people in Rajasthan.
Meeting with the ghosts of Kuldhara
Delve into the mystery of haunted village of Kuldhara located 27 kilometres west of Jaisalmer town. Many myths and stories about this deserted village prevail in this region. The village is locally known as 'the ghost village' because no one dared to live in the village after its occupants left it overnight some 200 years back. According to a popular myth the villagers wanted to get rid of their notorious ruler Salim Singh who used to torture and exploit his subjects and imposed huge tax on poor villagers. That's why thousands of villagers left home one day and migrated to some other place. Since then the village remains exactly as the dwellers left it. So, if you are lucky(?) you may run into a ghost! 🙂