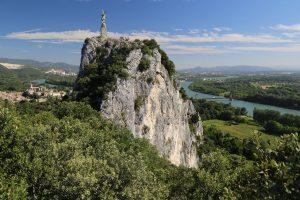 One of the many advantages of taking a river cruise in Europe is immediate access to small off the beaten path villages and experiences. This was my second river cruise with Viking – on both cruises I've maintained a balance between participating in the offered group tours and taking time to explore on my own. Today I felt like exploring at my own pace simply letting the day unfold.
Walking a dirt path on the way to town, I took delight for the first time in my life to duck into one of the surrounding fields of corn. It is a disorienting feeling to be walking among hundreds of tall stalks of corn and completely lose ones sense of direction.
Eventually reaching the old town I walked the well trodden cobblestone streets like many eager explorers before me. Intrigued by every bend I moved slowly passing between the shadows and the sun's dappled light scattering through openings in the ancient walls. Worn by the elements but somehow surviving time's relentless exposure, a visit to Viviers is like journeying back in time hundreds of years.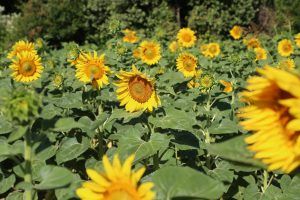 Arguably the highlight is the Cathedrale Saint-Vincent de Viviers, or simply called the Viviers Cathedral. This impressive cathedral was built in the 12th century and is the smallest active cathedral in all of France.
Spotting the Archangel St. Michael statue high on a hill in the distance, I decided to head in that direction. Leaving town I found myself on narrow paved and dirt roads at times passing through small vineyards and sunflower fields (all in bloom). Finding myself in the middle of nowhere I wasn't sure how to access the statue and no one was in sight. By the grace of God, a local walked by with two angry dogs. Between their barking and my non existent French – she was able to point out the trail head leading off of the dirt road. If she had not walked by at this exact time I certainly would never have spotted this.
The trail is marked by two strips of paint every few hundred feet. At one point I heard furious chirping in front of me and soon spotted a young bird somehow entangled in a vine. A cute little thing, I was able to easily cut the vine and this tiny creature came over and pecked me on the top of my shoe. As I started walking away, it began following me until presumably its mother chirped instructions to stop.
Rising well above the river I continued on the trail, hiking through steep forested slopes before finally reaching the statue. From the top there are exceptional views in all directions including of Vivieres far below.
To book your Viking cruise and related shore excursions offered in this lovely part of Southern France, or elsewhere in the country, visit: www.vikingrivercruises.com/cruise-destinations/europe/countries/france/index.html