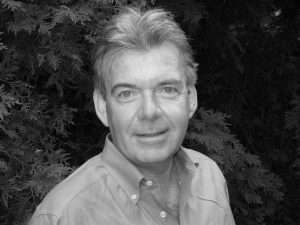 Everett Potter is an accomplished journalist who has written for and currently writes for major publications. He also manages the well-regarded site, Everett Potter's Travel Report. Besides his writing prowess he is an accomplished speaker.
I was reminded of his career and work when I spotted one his articles "Snowshoes, a Love Story" in the January-March 2016 edition of the Ritz-Carlton Magazine. I reached out to him and these are his insightful and thoughtful answers to our interview questions.
Q. you have a prolific career as a journalist – focusing on travel and writing for major publications. How did you begin and then expand your journalism work?
My career as a travel writer began in 1984, when I was living in New York City and working on a novel. The editor of travel trade magazine, who later ascended to the top ranks at Travel + Leisure, gave me an opportunity to go to Shandong Province in eastern China, which was just opening up to the West. Beijing's streets were filled with bicycles and "small" cities of two million teetered between the medieval and the somber Mao suit look of the Cultural Revolution. The rickety trains I rode were packed with rudimentary bunks and the inevitable thermos of hot tea. At night, the stations would be filled with crowds of travelers with frantic flocks of bats overhead. People would follow me everywhere, curious because I was the first Westerner many of them had ever seen. When I came back excited and exhausted after three weeks, the first freelance story I sold was to The Washington Post.
I began by freelancing and I have always freelanced. That said, the key to success was angling for regular assignments and eventually, a regular column. Or several columns, simultaneously, which became my modus operandi for decades. You need to make yourself indispensable to the harried editors who employ you. In time, I wrote a column for The New York Times Syndicate for 18 years and a monthly column for both the late Diversion magazine and for Ski for nearly that long. In 1994, I became the first contributing editor and travel columnist at the fledgling Smart Money. Along the way, there were other regular columns and countless assignments for a huge variety of publications.

Q. Relating to the above question, you have written for a number of major outlets and continue to do so – what advice would you give someone just beginning a career in journalism in order for them to work their way towards writing for some of these well-known publications?
Focus on your writing skills and your storytelling capabilities. That will distinguish you from the masses who fill their blogs with exclamation points. Understand that you're not the first person to see the Eiffel Tower or a particular beach in the Caribbean. You have to tell us why it's so remarkable and meaningful, or not.

Q. Your Everett Potter's Travel Report, founded in 2005 has become a well respected online travel publication. What are some of the key components to building a successful travel site in the online sphere of thousands of travel related sites? How to stand out?
The odd thing is that in the early days of the web, it was the rare professional writer who had a website. Way back in 2000, it was the hallmark of the true amateur. But things change, don't they, and I established Everett Potter's Travel report in 2005 more as a gathering place for my work than anything else. In short order, helped in part by the recession and the revolution in publishing, writer friends came to me seeking to publish their work on my site. The stable now has more than 40 writers, most of whom I've worked with over the years. I guess I've become a "brand" but I've always thought it was most important to establish yourself as an expert in whatever niche you chose. Quality still counts in terms of standing out.

Q. How important is social media (or is it) to a journalist's career?
Absolutely vital. I have many age 50-plus contemporaries who put social media down and can't be bothered with it, and I'm watching their careers slowly fade away. You need to understand the technical aspects of it, which is not exactly brain surgery, but then you need to be able to finesse it and be smart about it, which is far more difficult.

Q. You have a passion for powder – what are several of the top ski resorts you have skied at on the planet? How does Zermatt compare to some of these (on my list for next winter 🙂
My favorite resorts? Alta is tops. Brighton is secret stash for Utah locals and the odd New Yorker like myself. That's also why I love Aspen Highlands and Grand Targhee. For the pampered and groomed stuff, Deer Valley and Beaver Creek do it best. In Europe, Zermatt is sort of one stop shopping for the Euro ski experience for Americans – cute village, ski to Italy for lunch, non-stop views of the Matterhorn. But I like the smaller resorts like Villars and Les Diablerets in French speaking Switzerland, which are cozier, slower and more authentic. In Austria, I love Kitzbuhel and St Christoph.

Q. Can you give us a description of a specific humorous moment (story, happening or other) from some of your travels?
When I was in Tibet in 1985, it had just opened to the West and the Chinese, who ran the country, were on edge and trusted no one. I was in the border sensitive city of Shigatse. Perhaps it the altitude and one too many Tsingtao beers, but I was walking in the pitch dark after dinner and I managed to stroll right onto a Chinese army base. I spent a couple of hours under a single lightbulb in some officer's quarters surrounded by about six guys trying to figure out who I was. Very Manchurian Candidate. They were baffled but polite and in the end, simply figured out I was an idiot who had wandered onto their base and they even drove me back to my hotel. Well, I found it humorous at any rate.

Q. Of all your travels – you must have stayed in some places that have "character" or "class" – what is the strangest place that you spent a night in or at and what is the most classy or luxurious location you stayed at?
Classy or luxurious? Lots, but I think my fallback is The Cipriani in Venice, which sits on an island, the Giudecca, away from the congestion of St Mark's and has a vast saltwater pool and a private wooden launch that takes you around the city. The TV set in your room would pop up electronically from a wooden console in the middle of the bedroom. It was pure Pink Panther and the breakfast scene every morning was glam as filtered by Fellini.
I think the strangest place that I ever spent the night for a story was an old farmhouse in rural Maine that had been taken over by Jehovah's Witnesses and tuned into a cut-rate spa. Did I mention that there was a blizzard? It was pure Steven King.

Q. In your opinion what is one under rated/under visited country?
Brazil. I wrote a book about the country in the 80's and it was always predicted to "take off" with US visitors. It never has, and perhaps it never will, despite the World Cup and the Olympics, but it's a remarkable, flawed, complex and intoxicating place.

Q. You spend your summers in Maine – what are some of your favorite activities that you would recommend to a first time visitor to the state?
Aside from eating your weight in lobster? Drive the mid-coast, which is gorgeous, but remember that like an iceberg, if you'll pardon my metaphor, the coast is just the tip of the state. So head inland into the lakes and woods of central and northern Maine, where I spend my summers. Go to Rangeley and Moosehead and drive the twisting two-lane roads through the deep woods. Much of interior Maine hasn't changed overly since the 1950's. When I'm fly fishing and watching the sky turn purple at sunset, I'm glad it's that way.

Biography

Everett and his wife sailing off the coast of Maine[/caption]EVERETT POTTER is the editor-in-chief and publisher of Everett Potter's Travel Report, a weekly news blog for smart travelers in search of value. The Wall Street Journal calls Everett Potter's Travel Report "a terrific mix of profiles and interviews, all designed to make the best use of your travel budget."
Everett Potter is also a travel columnist for USA Today and currently contributes to ForbesLife, Robb Report and The Ritz-Carlton Magazine
A former columnist for Ski, USA Weekend, Diversion, Luxury Spa Finder and Laptop magazines, his writing has appeared in a variety of other publications, including National Geographic Traveler, Outside, The Wall Street Journal, Conde Nast Traveler, Conde Nast Traveller UK, Travel + Leisure, The Washington Post, Elle Decor, Virtuoso Life, Endless Vacation, Centurion, Bride's, Town & Country, Martha Stewart Living, National Geographic Adventure, Food & Wine, Aspen Magazine, Metropolitan Home, Manhattan inc. and Delta Sky. Potter was a contributing editor to ForbesTraveler.com and has worked as a consultant on the Forbes 400 list of the World's Best Hotels.
The Society of American Travel Writers has awarded Potter three Lowell Thomas Gold Awards and one Bronze Award for his travel journalism. He is a past president of the New York Travel Writers Association. For more information on his work, visit: www.everettpotter.com