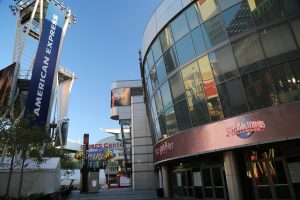 Got into LAX on Friday afternoon and it was so cold as I stood outside waiting for the Flyaway bus I could see my breath. The fog persistently hung next to this part of the coast most of the day while the inland was much much warmer. Classic California micro climates for you!
Love the Flyaway buses – they get you right to Union Station downtown where you can connect directly with the metro or metrolink. So easy. Jumped on the red line and like so many other times I've taken the LA metro it seems a lot of people in LA who ride the metro enjoy talking to themselves. Jumped out at the 7th Street Station and walked down to LA Live which was really hopping on this Friday evening. I know LAPD has a huge force spread out over the county but they all seemed to be downtown this evening – riding in the metro, DUI checkpoint, motorcycles, police cars all over the place.
With minutes to spare somehow squeaked out from all my maze of transportation connections, I made the 4th floor of the @JWLALIVE and their gorgeous rooftop Ion Bar and pool. The Los Angeles Consortium of Online Travel meets every month or two in select venues around the city and this meetup was a Pre Pow Wow @tourism_LA get together. LACOT is a "Community for Los Angeles residents who love to travel" and these meetups are very useful for networking mainly with others involved in the travel industry – many of whom are local bloggers.
Los Angeles as one would expect has some very accomplished travel professionals – many of whom religiously attend the LACOT events – it was great to meet up and meet with the following individuals:
@jenminer – Jen, co-founder of LACOT
@melaniewaldman – Melanie, co-founder of LACOT
@thetravelmom – Emily was the guest speaker tonight – often appears on TV around the nation talking about travel
@ConnieKHo – Connie is just starting her travel blog
@jimbenning – Jim is the co-founder of the popular World Hum travel site
@latravelwriter – her title could be "Ms Los Angeles" – Kayte knows the city extremely well
@mytravelinglens – check out Michelle's photography
@ThatsVy – works on PR for & blogs for Contiki Vacations
@purplekat99 – Rebecca is traveling at 88mph!
@vagabond3live – Jade and Bob love travel & have the website to prove it
and hopefully I didn't leave out too many others!