Then it was on to Tehran – where I had already secured my visa ahead of time but that only seemed to slow down the process of being granted entry to the country. There were plenty of people from Korea, Australia and various European countries applying for visa on arrival.
First up was a long line to purchase mandatory health insurance – for €15 it seems like quite a bargain as anything health related is covered while in the country – including major surgery if needed! Then it was over to a longer visa line where I waited for an hour and then finally was given a yellow piece of paper with merely the number €75 written on it. Others were receiving the same paper but ranging from €50 to much higher amounts. I paid, waited some more and then was finally granted my visa. Then it was into another line to pass through immigration which went smoothly. Finally I was in Iran!
I tried to purchase Iran flights while overseas but the websites are all in Iranian and with the help of Google translation I eventually reached a page which required a national ID number. I then visited large travel agencies in Tbilisi but none of the Iranian airlines were in their system and they were unable to help.
Upon arriving at Tehran Imam Khomeini International Airport I found the Iranian airlines counter and was able to purchase tickets for this afternoon. They sent me to a bank to pay and then I returned and was given my tickets. Next I discovered the flight was from Mehrabad International Airport, about a 50 minute drive from Imam Khomeini International Airport. I found a taxi who typed 50,000 rials into my phone. But when we arrived he informed me it was 500,000 rial. Obviously it takes some getting used to this skewed exchange rate. I exchanged $100 USD and received nearly 4 million Rial!
At Mehrabad International Airport airport, I discovered my flight had been delayed for 2 hours. Finally it was touchdown in Shiraz around 730pm. Immediately what people told me about friendly Iranians rang true. When my taxi driver found out I was low on rials he stopped and withdrew money from his own bank account and gave me a significantly higher exchange rate then what I was given at the airport. He was quite excited to practice English with me – and had a stack of English books sitting on his dashboard that he has been studying from for the past year.
I am now comfortably settled into the Golshin Traditional house – a difficult to find guesthouse hidden in a maze of back alleys. Once inside, the walls and floors are covered with rugs – there is an open air courtyard and this feels like it will be a nice home base for the next few days.
There will be plenty of exploring this week including the famous ruins of both Persepolis and Necropolis. The weather is warm and dry but not hot. This is a perfect time of the year to visit Shiraz.
Ibis & Novotel across from Tehran Imam Khomeini International Airport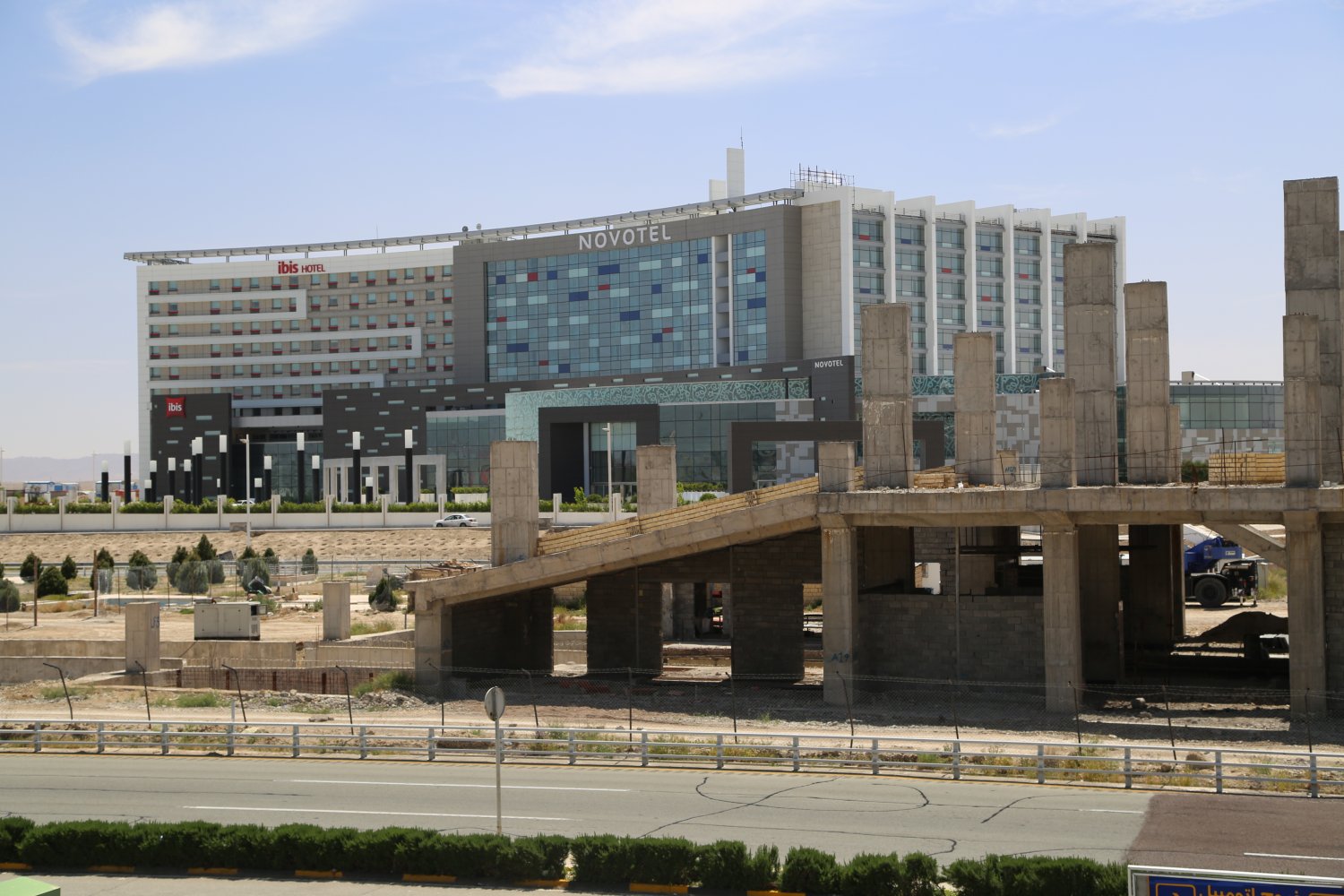 Courtyard inside the Golshin Guesthouse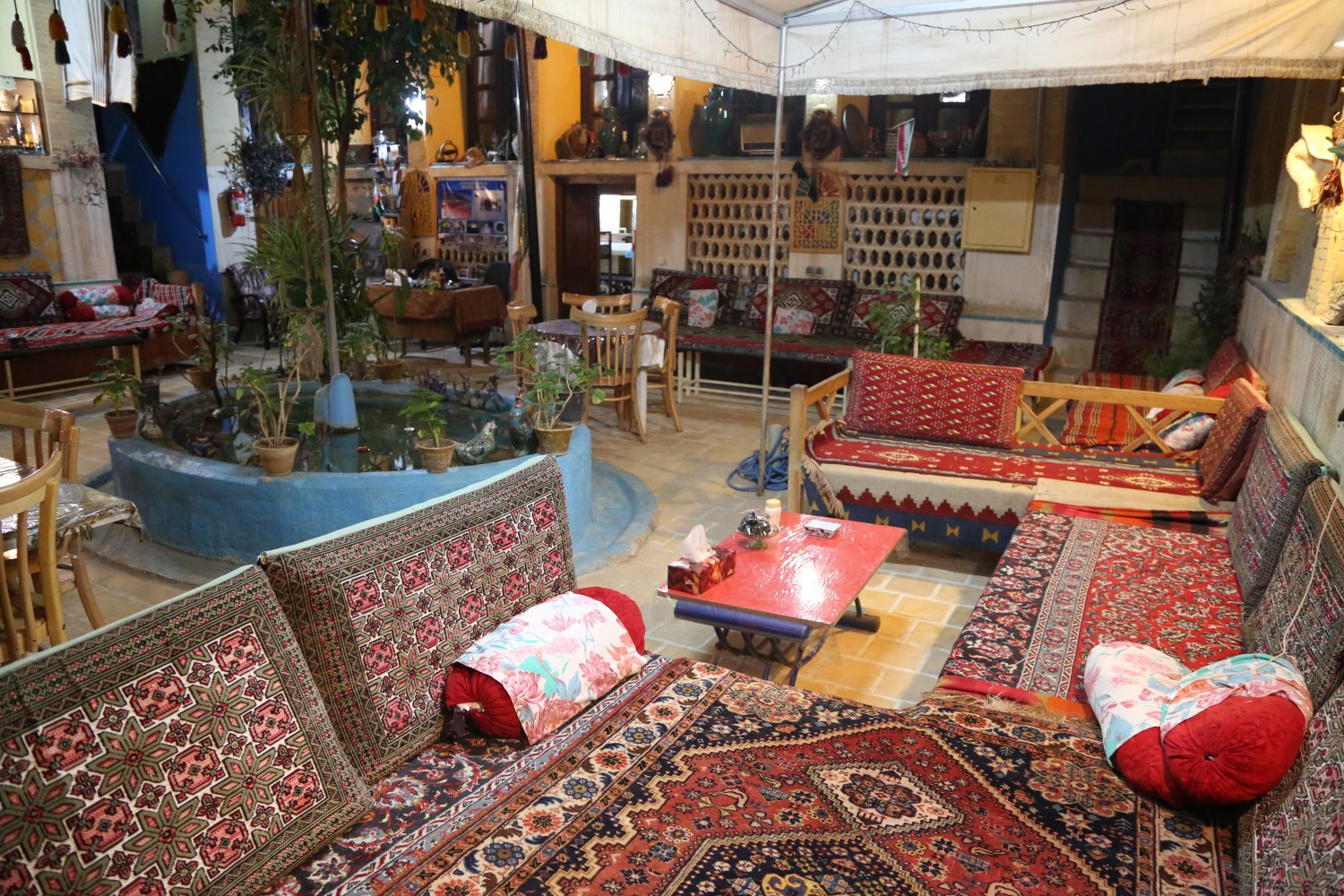 I left for the Tbilisi International Airport in the country of Georgia at 10pm. I arrived at my final destination, Shiraz, Iran some 20 hours later – the next day. If you look on the map this is about a 3 to 3.5 hour flight. As it were, the airport in Tbilisi is under construction; a new runway is being built so all day flights have been moved to the night. I spent all night in the beautiful fairly new Heydar Aliyev International Airport in Baku, Azerbaijan – nestled as best I could in a 'birdcage' (a metal cage resembling a bird cage with a soft cushion) trying to sleep, all the while chirping birds reminded me of being in a rain forest in Papua New Guinea.