New York is an extremely popular holiday destination for many people around the world and it's easy to get caught up in the bright lights and expensive lifestyle. However, New York can be done on a budget and through these tips and steps, you'll see how easy it is to do this.
Tip One
It's boring and probably something you don't really want to be thinking about before you jet off on holiday, but budgeting isn't just for everyday life; it's an essential tool for your down time too. There's a lot to fit in when visiting New York and often easy to get carried away and without a sensible budget or plan, you could miss out on some of the best sights and things to do.
Tip Two
Through planning your entire holiday budget, you can also allocate an investment in an all-access, prepaid city pass, allowing you to see more attractions and do more activities than you may do on your own. It also means you have an allocated amount of money on one card, so you're not tempted to spend any extra money on sightseeing.
Tip Three
Choosing the best time to visit is an important factor when holidaying in New York. During the winter season, it's cold and sometimes unpleasant, but air-fares will be considerably cheaper and that means more money for eating out and sightseeing. Although warmer, the autumn months aren't necessarily kind to your pocket and there are some hotels and attractions that begin to charge full price.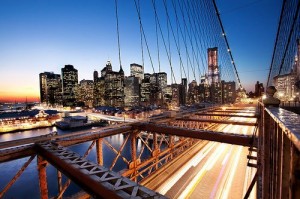 The heat of the summer is a temptation for holiday-goers, but be warned of the ever-changing New York weather; hot and sticky one moment, the damp and drizzly the next. Colourful and calm, autumn in New York is cool and breezy, but often crowded as it's one of the most popular seasons for people to visit.
And it's not just the seasons that make a difference to your wallet. Visiting certain attractions and eating out on weekdays will really lighten the load on your budget, as more people tend to visit at the weekends and this can be quite daunting when there are so many crowds of people.
Tip Four
Although you are on a budget, don't forget that you are on holiday and sometimes it's nice to splash out on something different and expensive, something that you wouldn't normally buy or do. In your budget plan, allocate a section for this and you won't feel as bad for doing it. Remember, you can compare cheap flights to New York at cheapflights.co.uk and any savings you make there can go towards your budget plan.
Tip Five
Deciding where to stay can be tricky for first timers in New York. The most beneficial thing to do is to decide where you're going to stay before you go. Browsing internet sites is the quickest and most efficient way to make a decision as there is a plethora of cheap rates and hotels to choose from.