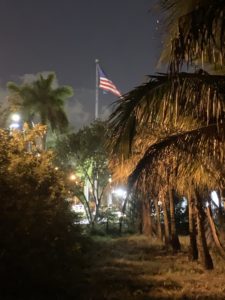 I was super excited; I was flying back to Florida from Medellin, my first time in the U.S. in nearly 3 months. I had booked my hotel several weeks before, remembering the sticker shock of the price for one night, as compared to the cheap living I had experienced in Colombia. I arrived at the Fort Lauderdale airport, one of my favorite smaller airports to arrive into after an international flight. No one was at customs, the agent asked me what my job was and then waived me through.
I took a ride share to my hotel in the town of Plantation in the evening. Upon arriving my interaction was brief. "Sorry we do not have any record of your reservation even though you already paid for it with a credit card and you have your booking number with us". They went on to explain that this several hundred room hotel had no available rooms. Apparently I was out of luck. My two phones were extremely low on batteries. I opted to walk to nearby hotels, cris-crossing an 8-lane boulevard, dodging traffic, and ultimately visited five of them only to be waived away or greeted with, "sorry, we are all full tonight". This was a Friday night. I then used the last bit of battery on one of my phones to search for additional accommodation. It was not looking good, especially when I spotted a fleabag Super 8 motel 8 miles away going for $299/night.
"What was going on", I asked myself? Has inflation become this crazy in my absence from the country? I first needed food and a place to charge my phones. I found a Checkers which only seemed to be operating as a drive-through. Fortunately one of the employees took pity on my and saw me staring through one of their windows. She took my order and said there might be an electrical outlet somewhere on the exterior of the small building. I circled the building. There was none. While sitting down eating my lousy hamburger, I decided I would search for a space where I could lie down and sleep the night away. But first I needed provisions. I found a gas station that was all locked up. Must have been for security. The single employee spotted me staring through a window and buzzed the door open. I purchased water, both for a later impromptu body cleaning and for drinking.
I began to walk along the 8 lane boulevard again. I spotted a chain link fence with some thick bushes growing close to to the road and a field with numerous palm trees. A sign on the fence indicated a potential commercial use. I waited for traffic to clear, and waited quite some time for this to happen. When it did it was brief and I seized the opportunity to attempt to hurriedly climb the fence. It wasn't easy, with a heavy back pack and a hand held canvas bag. The top of the fence was not a clean metal bar, but rather cut off chain links, so it was sharp. In my hurry to get over, I cut up the palm of my hand and later found nasty cuts on my arms and legs. The adrenaline was pumping so, that I did not notice these injuries right away.
I found a patch under the bushes, but I estimated it was only between 12 and 15 feet from the boulevard. I tried to go to sleep but had very little luck, between the incessant and extremely loud traffic all night (not to mention police cars with sirens on racing by from time to time) and the lights from the nearby urban sprawl. A huge American flag flew all night nearby. I told myself, I was now living the American dream. Something kept moving in the underbrush. Thank goodness it wasn't interested in me.
Despite a fairly warm night around 2am the wind picked up and I became a bit cold with the very light gear I was wearing. By 3am I had to move. One of my phones still had some battery life. I hooked up with a ride share driver, but at this hour I made sure to walk over to one of the nearby hotels so it would look exactly like I was staying there and I had risen at this ungodly hour to catch an early morning flight. The driver informed me it was the beginning of Spring Break and hotels and flights were extremely full. Now it made sense why I wasn't able to find a hotel room at a reasonable price.
Earlier in the month while in a hurry, I had booked my flight back to California.
Earlier that evening and after I left the underbrush, I kept trying to check in for my flight on my app. In my extremely tired state I began to become angry and frustrated. It was clearly less than 24 hours before my upcoming flight. Why was I not able to check in? At some point in my exhausted state, I noticed my flight reservation was booked exactly 30 days in the future. OMG. With all flights overbooked because of Spring Break travelers, it was quite challenging to find a flight at this last minute. I won't even tell you how much I spent to change the flight (which on the app, was actually very easy to do), but extremely expensive.