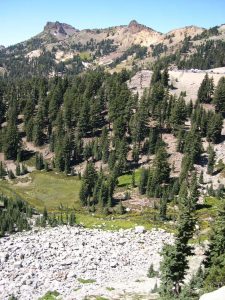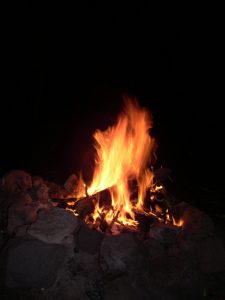 A friend of mine looked at YouTube the other day and found fishing videos of Hat Creek (located near Lassen National Park in Northern California). He had not been to Lassen in over 40 years – "Lets go fishing there", he told me.
We hurriedly threw a bunch of gear in the back of his pickup – I can travel the world for a year with a school size backpack, but for 3 days in the woods – we had enough gear to hold a small garage sale if we had decided to.
We arrived at our random campsite in the woods in the evening – pitching the tent in the darkness and what felt like tailgating, we quickly cooked some chicken in the back of the truck. It was cold – it was forecast to be in the mid 20's (around -4 Celsius) at night but my friend had only brought a lightweight summer bag. Fortunately I brought an extra winter sleeping bag.
Woke up the next morning – early, to cold to get out of the tent so remained horizontal till 10am. After 14 hours of sleep, popped out and saw my friend eying a completely flat tire. Sidewall failure – apparently from the rutted roads combined with the fact this tire should have been changed out decades ago. Somehow we got the spare on and limped on side roads to a small town where we replaced the tire with another used one for $30.
Spent rest of day unsuccessfully fishing Hat Creek. No bites, no fish. A number of serious looking fisherman walking the banks. Headed back up to camp at dark – frustrated we had no fish we found a lake and tried some more fishing at dusk. My friend let me borrow one of his poles – 3/4 of the fishing pole went flying out in the water on the first cast. Reeled in what was left.
Then walked out on large log and immediately slipped and fell into freezing water up to chest soaking all my clothes. Raced out of water, freezing and completely drenched. Unfortunately the heater is broken in my friends pickup – we then bounced around on the rutted roads – making a beeline for our campsite where we started a much needed fire.
Lassen is one of the most underrated National Parks in California and thankfully under-visited to. Here are some photos we took: