The final touchdown could not come soon enough. 39 hours prior I left my place in California for the airport at 430am. After a night in Miami (part of which involved nearly a 2 hour drive to go 3.1 miles from the airport – you think Los Angeles traffic is horrendous, think again), I finally arrived in Guyana. Most people I told prior to my trip that I was going to Guyana greeted me with a blank stare. The few older folks correctly equated Guyana as the site of Jonestown Massacre in 1978.
Like several of these northern South American countries, the airports for whatever reason are located at least an hour from the main city – and sometimes longer. So I still had about an hour to go once I landed. Fortunately I had booked my apartment ahead of time. My taxi driver took me to this apartment pointing out the strip clubs as we entered town (evidently quite popular on the Thursday evening as evidenced by all the cars parked out in front). But not so fast. I stood outside and rang the door buzzer vigorously and then slammed my fists into the door repeatedly. A light was on but no one ever came. Fortunately my taxi driver, Sato whose name of his company is exactly what you would expect it to be – Sato Airport Taxi Service (+592 627-1722) remained sitting in his idling car.
I returned to the passenger side door; he had already formulated a back up plan.
So we were off to the Rima Guesthouse. We woke up Jonathan, the bleary eyed son of the owner. Their chalkboard listing the names of guests seemed empty. Thank goodness, they had a room. In my tired state I did not notice the blasting music from the nightclub across the street – never one to have embraced earplugs, I stayed away until mercifully the music stopped around 2am. But then at 3am the moaning started in the room next to mine – a woman obviously in the throes of deep sexual passion. And not a quick one either – these outbursts lasted for over an hour.
The next day I found myself in an all women's salon being closely filmed while I sat in the barbers chair getting a much needed grooming. The salon was being used for a local TV commercial. They spun me around, they filmed that. They angled in for better shots. I ate up the attention like an international celebrity. Post haircut, I was planning on going to what was billed at Guyana's first ever bikini boxing event on the beach. Right. Unfortunately I later realized I had misread the signs about this exciting event; it was still a week out and I needed to get to Suriname overland in a bad way.
As I walked back to the Rima Guesthouse, I ducked into another guesthouse that I randomly spotted as I was waking through a residential neighborhood. I pulled a cold one from their refrigerator. The lady at the desk gave me a room key and said don't worry about paying for the drink – she would just charge it to my room. I've never seen a hotel so lax as this one – giving someone's room key to a total stranger!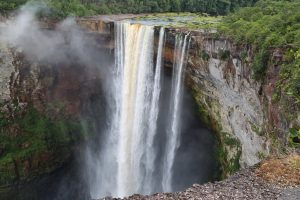 But before Suriname, the day after I found myself in tiny 12-seater crammed in with a few other hardy souls on our hour journey over vast acres of rainforest into the southern inner parts of the country – we were seeking Kaieteur, the tallest sheer drop waterfall in the world – clicking in at a whopping 226 meters (741 feet). We flew through clouds, around clouds and below clouds. It was cloudy the entire way – with heavy driving rain barraging the nose of the plane at times. At times when the clouds opened we saw jungle as far as the eye could see – broken only by tiny rivers of brown snaking their way towards the ocean.
Our intrepid pilot dropped the 'tin can' down on a rutted ancient paved runway to cheers from all passengers. This short runway features grass lined cracks and ends a scary short distance from the sheer drop off at the Kaieteur Gorge just down from Kaieteur itself (we were told Kaieteur means falls so no need to call it Kaieteur Falls).
As we reached the edge of one of the lookouts, gasps were uttered from several stunned visitors in our group. The drop off was sheer – straight down with the park's intent to keep things as natural looking as possible, guard rails have never been installed. With the natural rock slick from the recent rain and leading right to the edge we were extremely careful to stay a few feet back and not slip.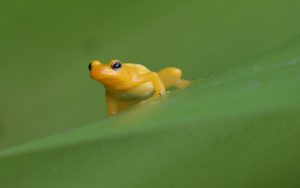 While the waterfall was the main attraction, our guide made a coveted discovery – a rare spotting of the Golden Rocket Frog sitting far down inside its favorite plant of choice, a ground rooted special type of giant Bromeliad called Brocchinia micrantha. These gorgeous little frogs lay their eggs inside the trapped water of these bromeliads which serves as the home to their tadpoles. Their world is entirely confined to this bromeliad and even more remarkable is the fact they are only found in two small parts of Guyana – including around Kaieteur.