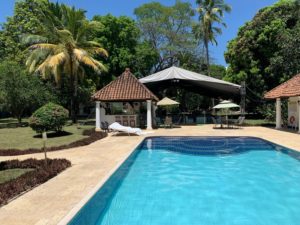 In choosing the title for this post, one would think the noisiest place I ever stayed at would be in a city somewhere, with a room above a nightclub or in a part of town featuring endless partying. But not so, in actuality this not-so distinguished award goes to a rural located eco /glamping lodge on the outskirts of charming Santa Fe de Antioquia in Colombia (about a 90 minute drive from Medellin).
I have never stayed at such a noisy place in my life. When writing this post, I lost count when trying to add up the external noise inputs I experienced during my stay. But here are a few I vividly recall: multiple weed whackers and leaf blowers starting at 7 AM and running most of the day into the evening. These came from both the eco lodge and from nearby neighbors. A sizable lawn is planted on the the property near the swimming pool. In this tropical climate, with a mix of warm weather and rainfall, it grows rapidly. Rather than using a traditional lawnmower which would probably take only 30 minutes to complete the job, employees attack the new growth with weed whackers. This is an aggravating and extremely slow process to completely cut the grass. The one short break I was able to enjoy was when it rained; that quickly put a damper on their activities.
And apparently it's considered enjoyable to blast music at these Colombian nature lodges, next to the pool and around the dining areas (not always in the same location). Even if no one is there. This is happened multiple times at several properties during my stay in the country and some nights continued until 3am.
And then the fruit. Normally I love fruit, but not after it has been falling on my tin roof all night because of wind and squirrels and birds.
And very poor planning; this eco lodge is located directly next to the main highway leading into town. The traffic is relentless, including heavy trucks, at all hours of the day and night. The property is good sized; it would have made more sense to move the accommodation further from the road. And a side dirt road bordering one side of the property, attracts motorcycles racing by at all hours of the day and night.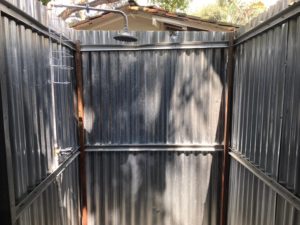 During nights which are especially humid, combined with easy access to the interior of my accommodation, I find myself fighting numerous mosquitoes. No mosquito net is provided, so I am forced to turn on the noisy fan.
And to top it off, some sort of insect starts making loud noise before the sun comes up right outside my window.
Ear plugs would have certainly been the solution but for some reason I have never been able to sleep with these.
Have you ever stayed at an exceptionally noisy place?