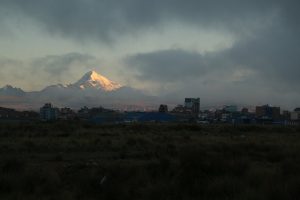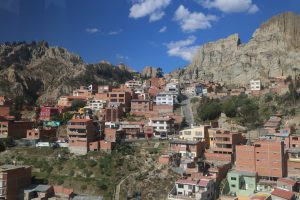 Upon arriving in South America I entered a very familiar airport, Jorge Chavez International Airport. I lingered in Lima for a refreshing shower in the hotel directly across from the airport. Walked back to the departures terminal and tried to sleep for a few hours on the hard floor. Loud music playing at 130am followed by staff cleaning the floors. No sleep tonight. Boarded next flight. Arrived in Cuzco – exited the airport with just enough time to grab a coca cola before racing back through security. Caught next flight and in one hour I arrived at the world's highest international airport, El Alto International Airport at an elevation of nearly 4,100 meters. The impressive Illimani (a 6400+ meter mountain) towers off in the distance and greets visitors with views through a chain link fence directly across from the airport. A commercial flight crashed into that mountain back in 1985, the bodies having never been recovered.
Arriving here directly from sea level is no joke when it comes to the extreme altitude. I immediately felt faint and kept fighting off dizziness. The plan was to spend as little time as possible at the airport with a pickup arranged by an eco-lodge to take me to a much lower elevation. They never showed up. But for good reason. The roads to their lodge were hijacked by armed protesters – some 20 people were killed in the few days before I arrived and another 5 people were killed the day I arrived (political turmoil). A significant police and military presence surrounded the airport.
The main highway into the city from the airport was blocked by protesters who had built rock walls across the road along with other objects and were burning tires so my taxi driver took streets through residential neighborhoods. Arriving at my hotel, I got out of the vehicle but could barely walk without losing my breath and becoming faint.
I ended up staying at Hotel Selina in La Paz – a much higher elevation then I originally anticipated (around 3600 meters). The reception at this hotel is cute – located in the back of an old flatbed truck. Signs in their elevator indicated their property had already been damaged by tear gas and they were providing face masks, disposable wipes and vinegar for guests.
My first night was a bit scary – protesters were screaming a few blocks away. About 830pm every so often over a span of about an hour I heard what sounded like automatic weapons firing – the crowd went quiet immediately after the first gunfire and from my 6 story room I looked down on people running down the streets. Between the altitude and the fear of what might happen that night – I loaded up on painkillers and soroche pills (altitude medication) and ended up trying to sleep vertical but every time I laid down in my stupor my heart would start racing frantically and I would be jolted immediately awake. Not a pleasant evening by any stretch of the imagination.
I've never been to a city quite like La Paz. It is the world's highest elevation capital city and is spread out for miles in a wide and very steep canyon. There is no underground metro here, rather the metro is above ground – a series of raised tramway lines with gondola cars connecting certain parts of the city. Called the teleferico, it is cheap, easy to use with excellent views regardless of which line one takes. Views are of endless brick buildings built into the sides of the canyon.
During one ride, I spotted a palm tree at about 3,600 meters; I started thinking where are the highest palm trees on the planet? Interestingly enough, the highest naturally occurring palms trees are in Bolivia, the Bolivian Mountain Coconut which grows at an elevation of up to about 3,500 meters. Incidentally the tallest palm trees in the world are also in the Andes but in Colombia with some having been measured up to 200 feet tall!
My planned trip to bike down the so called Death Road Ride was canceled due to protesters having taken over roads on the way to the Death Road. And another attraction for my next visit: the Cholita Wrestlers – a group of entertaining female wrestlers who put on shows certain times of the week.
There is so much to explore in this amazing country – especially for outdoor lovers. I will convince a few friends to join me for my next trip (which I have already begun planning while still in Bolivia). Stay posted!