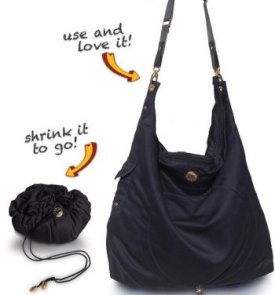 This Urbandillo tote bag (the "Classic Hobo") is the creative idea of Veronica James, fashion designer and avid traveler. The bag embodies her philosophy of"shrink and go" fashion. Similar to the animal which inspired the companies' name, this tote bag shrinks down into a fairly small ball with the pull of the draw cord using Urbandillo's patented SHRiNXtm design.
The Urbandillo seamlessly blends style and function. Its the perfect bag for those on the go. Small pockets are built into it for your phone or Ipod with a larger zippered pocked on the back. Carry it as a hand bag or wear it on your shoulder. The Classic Hobo comes in either purple or black. My wife replaced her old bag with this one and really likes it (the style, pockets and excellent quality of material).
Veronica also works with organizations and individuals who work and help children. She designed a blanket specifically for children and is delivering as many of these as possible domestically and Internationally to children in need.