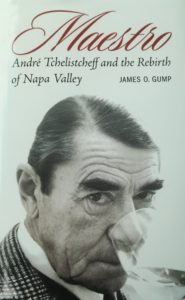 Written by James O. Gump, professor emeritus of history at the University of San Diego, this book explores Andre's early life, growing up in Russia including personal experiences, hardships and his viticulture and enology training, all of which built character traits that would ultimately lead to a distinguished and influential career as a winemaker.
Written from a rich historical perspective, this account of Andre's life highlights the significant influence he had on not just Napa Valley but also the American wine industry as a whole. His consulting, vineyard decisions and expertise impacted numerous the careers of numerous winemakers and wineries.
Author Gump has pieced together Andre's life and career through interviews with his wife Dorothy, other family members, colleagues and friends.
Besides his unique skills in the vineyard and winery, Andre was witty, poetic, humorous and always knew what to say at the right time. The maestro left a lasting impression on generations of people in the wine business and truly was the father of California winemaking.
To purchase this book, click here.