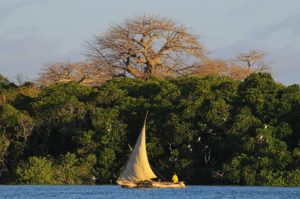 Out in the middle of the Indian ocean, the water is shimmering in deep emerald green. A traditional dhow rocks gently against the lapping ripples. Next to the boat, a group of divers are flipping their fins in excitement and snorkeling alongside with a whale shark, the biggest fish in the ocean and a species now classified as endangered.
This is not a typical scene on any tropical island. This experience – and all its other attractions in one place – is what makes Mafia Island unique and alluring.
About 130km south of Dar es Salaam – a 30 minute light aircraft flight – Mafia Island is a stunning location for scuba diving and snorkelling with over 460 fish species and more than 50 genera of corals. Aside from whale sharks, one can see turtle hatching (over 100 nests each season),  join a guided walk to visit archaeological sites, or sign up for a cultural tour by boat and road to far-flung villages and beaches, island and sand bank picnics, sport fishing (catch and release) and much more.
The island epitomizes the quintessential island village lifestyle and offers a treasure trove of interests for visitors.
Peter Byrne was born in Manus Island, Papua New Guinea. Located  a few degrees closer to the Equator, but on the other far side of the world and a different ocean, Manus resembles in many ways to Mafia island.  Peter fell in love with Mafia in 1984 when he first set foot on the island. Mafia brought back many of his happy childhood memories.
"In 1988, I wrote to IUCN to enquire if they had been approached by the Government of Tanzania about creating a Marine Park in Mafia Island. IUCN referred me to WWF and from there I became involved in the initiative that was still in its infancy and would eventually lead to the creation of the park with local village communities in 1994. The legislation was passed and enacted in 1996 along with a General Management Plan."
"Coincidentally, from 1988 to 1993, FRONTIER, a volunteer organization conducting the first baseline surveys of the coral reefs of the proposed Park area, was operating out of a campsite on our land at Utende Beach in the heart of the marine park. Today, this is the site of Kinasi Lodge, Mafia Island's first independent private resort."
Peter is the owner of Kinasi Lodge and working to create the Mafia Island Tourism Association. He is focusing much of his time working with the industry investors and village communities in the sustainability movement under the banner of 'climate-friendly' tourism and community management.
"We completed a comprehensive EIA in 2019.  A course of actions were identified as a result. We are now putting efforts to reduce our carbon output and electricity consumption.  We are also working to recycle all organic wastes and send any plastics back for recycling"
"Through our newly-formed Mafia Island Tourism Association, we are starting to work with four key village communities fringing Chole Bay to collect and transport solid wastes to a depot on the main island, where plastic will be sorted and ground to pellets for shipment to the mainland for recycling"
Peter is hoping to involve the District Council, which has administrative responsibility for the villages, to develop sustainable economic activities in order to create job opportunities for the 24 village communities of Mafia Island.
"There are many potential developments on Mafia, such as organic rice farming and bee-keeping, oyster farming, coconut husk chips for the horticulture industry, mud crab farming using hotel food wastes, and many more".
Kinasi Lodge is a boutique hotel overlooking Chole Bay in the heart of the Marine Park. The 15-room resort is an 'accidental' creation, responding to an opportunity rather than a business plan.  Over the course of 25 years, it has undergone a series of improvements carried out by his wife Antonella.
"What we enjoy most about being in the hospitality industry is the company of like-minded guests. Many of them are our long-term regular guests who have been coming back for 20 years. Our philosophy is to treat guests as family and we start communicating with them before they arrive to ensure expectations are met."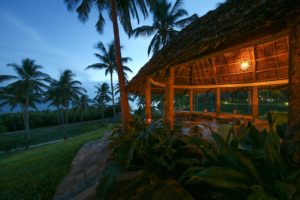 The hotel team of staff prioritize personalized attention to each guest in planning excursions and activities.
"This ensures that visitors get to know more about our incredibly friendly people. But with the pandemic, we worry that the 'distancing' protocols may reduce the industry to a "touchless" experience."
"That is not what travel is all about. We love to serve our guests with a personal and family touch."
Daily programs are selectively tailored to meet each guest's interests and preferences. The exchange starts as early as before the arrival of the guests to the hotel through personalized communication via an app.
Kinasi hosts 'Swahili Night' every week, usually Thursday, by bringing a chef in full uniform to dazzle guests with a memorable experience of popular local recipes.
Peter and Antonella also own a land at Ras Bweni in the north of Mafia, that was once served as the site of a rustic beach camp for sport fishermen and those who sought a complete hideaway retreat.
"We were forced to close it in the wake of the Global Financial Crisis.  The good news is we are now resurrecting the ideas with a new Zen-influenced design that meets the needs of post-pandemic travel and provide an opportunity for guests to get involved in community projects including reef-building and economic projects,"
"Mafia Island has one of the friendliest local communities I have ever come across. What better way could there be to meet the locals and make a difference in their lives, while still enjoying your vacation on the island. You do not get far in a small, inter-dependent community if you do not work together. It is very interesting, instructive and productive to engage with these villagers who embody good leadership qualities."
The dominant influence on the community at large is based on the traditions of Islam rather than unique ethnic origins. However, the Makonde people, who are originally from southern Tanzania and related to the Macua of northern Mozambique, have strong cultural traditions as evidenced by their coming-of-age ceremonies, drumming and dancing.
With a community that puts hospitality above everything, here comes the next question, how safe Mafia Island is for tourists?
"It's easy for me to claim that personal safety is extremely good on the island. We raised our daughter here and never ever had to even think about her care. She was always under someone's watchful eye as it is the nature of traditional communities in which I grew up too."
"As with everywhere in the world, people need to be mindful of their belongings and not to leave their valuables unattended. Petty theft can happen anywhere, one just has to be sensible and alert at all times."
The high cost of the flight coupled with the high admission fee to the Marine Park are the main deterrents for tourists when visiting Mafia.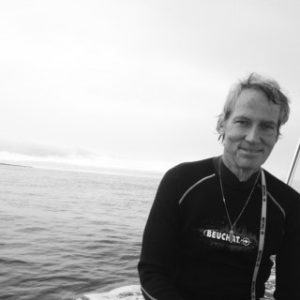 "We hoteliers must reduce our pricing to 'subsidize' government by creating packages that ameliorate the impact of both park fees and flight costs. In effect, we lose."
The flight to Mafia is the most expensive in Tanzania at $2.30 per nautical mile per seat.  As a former aircraft owner and operator, Peter cannot fathom the logic of this, although the dual pricing mechanism in Tanzania could mean tourists subsidize residents, who pay less than half the price, and secondly the absence of strong competition in aviation services to Mafia.
He opposes the dual pricing as unconstitutional and a serious constraint for the tourism industry. He has, so far unsuccessfully, lobbied against it with the government tourism institutions and the Tanzania Civil Aviation Authority.
Peter is eyeing the possibility of re-entering the aviation industry to launch a non-stop service from Zanzibar to Mafia and from Nyerere National Park (formerly Selous Game Reserve) to Mafia to create a 'safari-and-bush travel circuit'.
While Mafia offers an idyllic lifestyle in theory, running a small business in Mafia is not an easy feat and certainly has not been a bed of roses.
"Managing a small business in Tanzania requires the same level of administration as a large business, but without the financial and organizational capability of the latter"
"The government is extremely demanding in terms of compliance and there are many requirements imposed on the industry. The whole business management process has become even more difficult as most of our overseas agents have been forced to suspend their activities or severely curtail them."
"The magnitude of the challenge before us is daunting. It almost feels like starting a new business from scratch. We are now spending a great deal of time studying all that is happening to learn what the near-term future holds, which countries will allow travel, who is travelling, what the requirements are and so on."
"We are adopting a series of new approaches including more digital technology and strengthen our in-house training program. In addition, we are improving the delivery of water sports and diversifying even more of our excursions and activities with kite-boarding and a new dive center in the north of Mafia, and some fun toys like 'glass'-bottom kayaks."
On top of the work in Mafia, Peter and his wife, Antonella, have other businesses in Zanzibar. Peter designs landscapes and builds gardens for hotel projects, and grow all their own garden plants, many thousands each year. Antonella handles charter flights, up to 14 per week, into Zanzibar. Both Peter and Antonella spent most of their time in Mafia to work intensely on Kinasi, but gradually their other life in Zanzibar is coming on-stream again. They will be splitting their time between the two islands in the coming months.
Like the waves in the ocean, life in Mafia is filled with ups and downs. Life surely can't get any better under the present circumstances.
All photographs credit: Peter Byrne