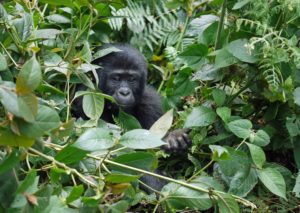 One of the planet's highlights is arguably a trek to see gorillas in the wild in Rwanda, however there are a number of details and expenses one needs to be aware of when planning a trip to Rwanda. Kigali International Airport (KGL) is located only about 20 minutes outside of Kigali, the country's capital city. This airport is the hub for RwandAir and services other international airlines including Ethiopian Airlines, Kenya Airlines, KLM and Turkish Airlines among others. This airport offers non stop flights to several major European cities, select cities in the Middle East and numerous African cities. Rwanda requires visas from citizens of many countries, but not all. Check your own country's visa requirements before planning your trip.
Depending on where you are arriving from, its wise to spend a few days in Kigali, especially if needing to recover from jet lag. One doesn't want to be tired when tracking gorillas 🙂
Mountain gorillas typically live at elevations between 2,400 and 4,000 meters in rainforest vegetation. There are several places in the mountains to see gorillas in Rwanda and take a gorilla tour. Volcanoes National Park is located in the northern part of the country where the borders of Uganda and the Democratic Republic of Congo converge; conveniently, it is only about a 2.5 hour drive from Kigali. One can participate in a one day gorilla track from Kigali – but be prepared to get up very early and return late. Longer gorilla tracks are also offered, most commonly two or three days. Gorilla tracking permit time is from the hours of 830am until 7pm daily.
Volcanoes National Park is large and spans some 160 square kilometers. Besides gorillas being its primary attractions, the park also features the rare and cute Golden monkey and more than 170 species of birds. Gorilla primatologist Dian Fossey (originally from California) is buried at the Karisoke Research Centre and travelers can stop at her gravesite.
There are a number of factors to consider when booking gorilla safaris. Rwanda limits the number of tracking permits; as of the most recent update only 96 permits are issued a day and each permit costs $1500/person/day. A percentage of the proceeds raised from tracking permits is provided to local communities for education, health and maintaining and building roads. And if gorillas damage crops of local farms, money can also be used to compensate them.
Due to the demand for gorilla tracking permits, it is recommended to book your permit at least 6 months in advance. Note that Rwanda has two rainy seasons – one in October and November and one generally from March through May. The non rainy months tend to have a higher demand for the gorilla tracking permits.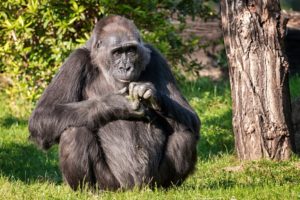 Guests must be 15 years or older and depending on the gorilla's location, be prepared and in decent physical shape to hike up to 4 hours at a time. In order to ensure gorilla sightings trackers are sent out daily a of any group departure to determine the current location of gorillas. All visits to the gorilla habitat are led by expert trackers and guides who know the area well. And once guests do encounter gorillas, visits are limited to no more than 1 hour at a time.
If one is lucky they will be here during one of the Kwita Izina gorilla-naming ceremonies, a time to celebrate the naming of a particular gorilla with events, cultural activities and tours.
Some helpful guidelines for the actual day of the tracking are worth considering. Bring a small backpack to carry these items; a camera with a telephoto lens and binoculars are extremely useful. Also wear sturdy hiking boots as gorilla tracking can take some time and will be off trails and bring insect repellent.
Have you been gorilla tracking in Rwanda before? Any tips? Share your experiences in the comments section below.