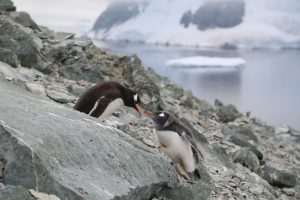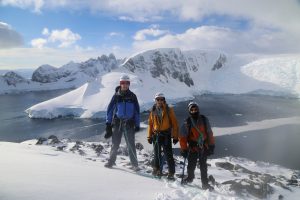 What an incredible trip so far. Tonight we enjoyed a BBQ in a snowstorm on the helicopter deck on the "H", where the helicopter lands. Large ribs, chicken, and steaks were all being grilled. Every meal we have significant appetites because we are exercising so much during the day.
We passed through the *amazing* and very narrow Lemaire Channel yesterday – with massive and jagged mountains providing the visuals on both sides as our ship broke through the ice floes – sizable icebergs floated by. Our captain wasn't sure we would make it through this narrow channel because of the thick ice but ultimately we had no problems going through. I had 9 layers of clothing on for the uppers and 6 layers on for lowers.
Amazingly I fit everything into a small suitcase for this trip and was able to avoid checking in any luggage at the airports.
We ice climbed today on a sheer glacier wall which led straight down to the ocean – directly below the vertical ice were floating icebergs and thick sheets of ice. We were not able to get the zodiac through the 5 inch thick ice which had recently formed so we stopped and ice climbed down a nearby glacier face. We stopped right before we reached the water – as large Weddell seals were below us nesting after feeding – some of their individual ice floes were bloody from recent meals.
We climbed straight back up the vertical ice wall, burying both our ice axes as deep as they would go on the lip to pull ourselves back onto the flat of the glacier. We are getting to do some pretty technical stuff – the ice and mountain climbing opportunities are endless – 360 degrees, everywhere! The extra running, biking, swimming and walking I forced myself to do in Thailand and California for the past 8 weeks has really paid off on the mountain. One of the guides told me to slow down because I was going up the vertical face to fast, far outpacing the belay. I could do the mountain climbing every day here. It is incredible.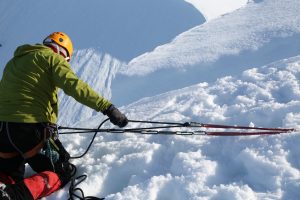 Our guides are hard core mountaineers, having climbed around the world; one reached the summit of an 8,000 meter peak in Nepal. He received a call 3 days before the Ortelius departed Ushuaia and said he was needed for this trip. He had never been to or climbed in Antarctica before. Sometimes we go out with just our own Zodiac and explore places that look good for climbing from the rocky shoreline and then we go for it. No set schedule or route!
Just before lunch we were treated to an impressive display of humpback whales. Whale breath – you can smell their musty breath as they exhale – and they did so right next to the ship. Several of these *massive* animals were using this opportunity to literally scratch themselves on the sides of the ship and we watched them bump into the hull each time they came in for the itch.
In an impressive snow storm we visited Vernadsky, a Ukrainian base at more than 65 degrees south latitude. Eighteen men have lived here for the past 12 months. This outpost is perched precariously on solid rock at the water's edge. This is the base that first discovered the hole in the ozone layer back in the 1980's. And we visited their ozone research room. Amazingly, there is a bar upstairs. The men welcomed us like family and we went inside and drank until we were warm again. A donation of one woman's bra gets you a free drink. They also operate the world's southernmost gift shop.
One of the Ukrainian men was so proud to show us a tiny piano he had built while on the base – he played a harmonica simultaneously to serenade us with some musical entertainment.
We have picked up three people at the tiny UK maintained base of Port Lockroy – after they spent the summer here on this extremely small island. One would think they would have a boat on the island – but that is not that case as using a boat could potentially be dangerous with the ever changing weather and the frigid waters. We will take them back to Ushuaia with us. They seem very happy to be on board. Similar to the Ukrainian base, historically the UK base had been men – it was obvious they missed the company of women as we saw hand painted images of famous actresses within easy reach of their bunk beds on the walls.
We have come across two hard core sailors – with their tiny sail boats in anchor. One of the crew told a story about one sailor stuck in ice all winter by himself – he put out many ropes to anchor to rocks. A lady on one of the cruise ships met him and she jumped ship to stay with him on his sailboat. He used a set allotment of fuel each day to survive. He enjoyed reading but in the dead of winter all his books froze solid. So he had to use some of his precious fuel to warm the books enough to be able to turn the pages.
We stopped at a bay with hundreds of penguins all around us. We sat among them and watched them watch us. Sometimes one would run across the snow – flapping as it went.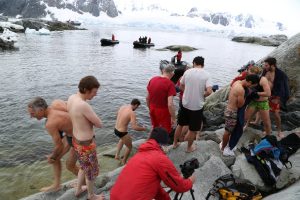 Some of us did a polar plunge with the temperature well into the 'frigid' zone. One man ripped himself up pretty well on the rocks and was dripping blood – the doctor took him on board. After the plunge, I noticed one man couldn't stop shaking. Not for me … no way!
A bay clear of ice may be short lived – massive cracking and thunder occurs on the far side of the bay – 10 minutes later the waves finally reach us. Then an hour later, the entire bay is filled with massive ice floes and ice sheets from the part of the glacier that crashed into the water.
And if you would like a drink on board, there is plenty to go around. Someone harvested one of the mini clear ice bergs and it sits on the deck just outside the bar. You can then chip off some small pieces and voila, one has ice for the drinks!
Seals in Antarctica have the general shape of seals elsewhere in the world – but upon closer inspection they look quite different. Some of the seals we saw were huge! At one point we were walking through hundreds of often friendly male Fur seals on Half Moon Island (they were here after an 800km swim).
I have been on a lot of trips over the years, but this is definitely in the top one, two or three travel experiences.
This is a totally surreal and epic trip – every hour is completely different, the experiences we are going through are incredible. And I can see why the expedition leader told us when we first set sail from Ushuaia, that 'Antarctica is a feeling" and he has a very difficult time to convey the 'power of place' and this feeling to people who have never been here before.
The absence of color in Antarctica is dramatic especially noticed when you get back to the 'real world'.
This is a trip of a lifetime … no question about that.
Looking to do this cruise, or a similar cruise from Oceanwide Expeditions? visit their Antarctica Cruises page here and Note: readers of Dave's Travel Corner receive a 10% discount on the cruise fare when booked on www.oceanwide-expeditions.com