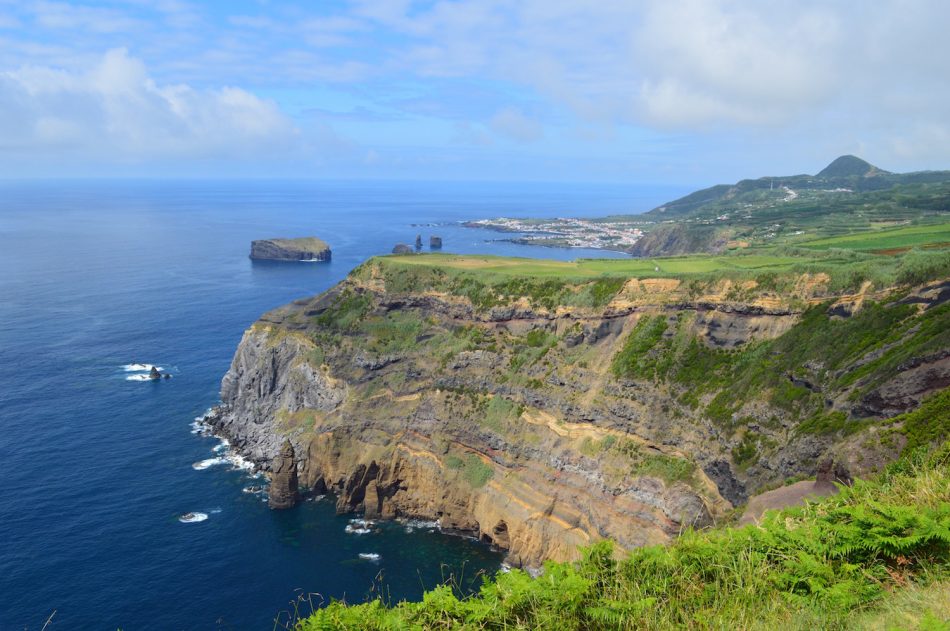 Name the group of nine European islands merely four-and-a-half hours from Boston Logan Airport. Stumped? You are not alone.  Most of America has never heard of the Azores, couldn't locate them on a map, and wouldn't know what part of Europe claims them as countrymen.  For the few who do know of the Atlantic eden 900 miles west of Portugal, this Zion is a cherished gift and a dichotomous burden.  On one hand, the beauty and virginal nature of the islands are a discovery that one wants to shout from the rooftops.  On the other, these quiet and pristine islands seem to be one of the few destinations unsullied by tourists, a difficult feat in this age of technology and accessibility.
With a landscape similar to Hawaii, it is hard to imagine that the Azores will remain an unknown paradise, especially for travelers from the East coast.  Take advantage of this gem while it is still under the radar.  Having doubts? Here are nine reasons why a trip to the Azores is a great option for any traveler.
1. Ease of Travel
As of March 2016, a route available through Azores Airlines makes a trip to the islands of São Miguel and Terceira easier than ever.  At just under four-and-a-half hours, direct flights depart four days a week. A trip to this island Shangri-La is a great idea for an extended weekend from New England. Even Midwesterners with a connection at Boston Logan can save one to two hours of travel time versus heading to the Pacific.  With a spacious Airbus 330, these direct flights depart every Tuesday, Friday, and Saturday night. Prefer to stop over after a trip to mainland Portugal? Flights to Lisbon depart daily and routes from Lisbon to São Miguel are also more frequent.
2. Affordability
Islands are expensive. They are expensive to get to, expensive to live on, and generally expensive to visit. Without any direct access to a continent, even the most basic supplies are imported and are priced accordingly.  Despite their remote location and a currency of the historically strong Euro, the Azores are gleefully affordable.  Four star hotel rooms run around 110€/night and a three course meal with two alcoholic beverages and after dinner coffee totals up to a whopping 70€-80€ for two people. Two liter bottles of water run about 0.70€ and the average hamburger and fries costs 4€. Looking for something stronger?  A bottle of wine is difficult to find over 12€.
Perhaps it is because of the limited availability of flights, or even short-reaching advertising, but the presence of crowds on the most populous island of São Miguel is minimal. Across the nine islands, the Azores boasts a permanent population of just shy of 225,000 people, with 137,000 living on São Miguel.  Even the most frequented sites such as the Sete Cidades, Lagoa do Fogo, and Porto Formoso Tea Plantations might see a thousand people a day, and only when the cruise ships come to port. Standing in a line at an attraction is infrequent and if it occurs, will move quickly.  Anyone who has been to Honolulu during high season knows that this level of quiet and unhurried meandering is hard to find and remarkably welcome.
4. Beaches, Mountains, Volcanoes
Whether you are a sun-worshiping beach dweller or an extreme sport hiker, activities abound in the Azores. Natural pools built into volcanic rock along the shoreline are popular and numerous, with many pools containing jets of hot water.  As if an organic spa, these streams of hot water are the result of geothermal energy from the Earth's crust. For the most enthusiastic adrenaline junkie, canyoning is popular on the island, and the abundance of gardens and greenery provides calm for those seeking quiet. More traditional forms of adventure travel such as zip-lining, hang gliding, sea kayaking, and mountain biking are all activities easily arranged on São Miguel.
5. Native Whale and Dolphin Populations
The Azores sit on a latitude of the Atlantic Ocean that falls along the path of the gulf stream and lends itself to native whale and dolphin populations. While whales are typically migratory animals, there are known pods of Sperm whales that live and stay within the Azores.  Bottlenose and common dolphins also call the Azores a permanent home. Sightings are plentiful as both types of animals are easily found by marine animal spotters who make a living by radioing animal sightings to local tour operators.  Tour companies have multiple offerings daily including full- and half-day outings with focuses ranging from shoreline yacht cruising to close encounter speed boating.
6. Mineral and Hot Springs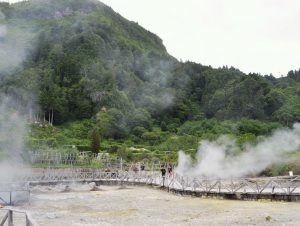 The volcanic activity throughout the islands make for some of the most unique and exhilarating aspects of the Azores.  While pockets of hot water flows are often found in the shoreline pools, the inland hot springs provide comfortable respite.  These pools vary in size, minerality, and temperature, making a trip to the natural parks an adventure even for the most timid traveler.  Mineral spring fountains found throughout the towns provide an experience best described as mineral water taps directly from the source.  These taps are easily found throughout towns and differ in temperature, effervescence, and taste.  Don't forget to bring a cup!
7. Clean and Pristine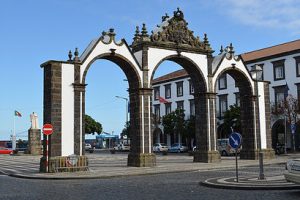 Trash is hard to manage on an island.  With limited availability of landfills, clunker cars often pile up in yards, and bags of garbage may fill up quickly.  This reality is a sad reality on island vacations, like the path to resorts are lined with poverty and garbage.  This is not the case in the Azores.  Waste management on the island is so efficient that even on Friday nights, there are garbage collectors hard at work.
8. Safe for All Travelers
There are so many safety concerns to be aware of in today's world.  In America, there are daily shootings and increasingly prevalent protests that sometimes turn violent.  In Europe, there are more terrorism attacks at places popular with tourists and Christians. The Azorean people are aware of it, but don't have the fear of terrorism that inundates the continent.  At 900 miles west of mainland Europe, the Azores are insulated from terrorism and migrant crises that consume Europe. Like in any free country, crime exists, but with minimal crowding, pickpocketing isn't a scourge.  Leave your money belt at home.
9. Temperate Weather
The average daily temperature in the Azores is 63 degrees Fahrenheit in January and 72 degrees Fahrenheit in July.  While some people may like a more intense heat, for many, these temperatures are ideal. As is often the case with mountainous islands, one side may be rainy while the other is bathed in sunshine. Because of the unscalable altitudes of the mountains, rain clouds may affect only one side of an island.  Trying to guess the weather in a particular part of an island? The Azores travel bureau provides a live webcam feed for your convenience.
Ideal for the cost conscious traveler, the thrill-seeker, or the multi-generational family, the tiny Azores deliver an astounding range of activities and vegetation within their small boundaries.  Iron rich hot springs, lush green pastures, and tide pools carved out of volcanic rock are all accessible in one day, freeing up the rest of your time to dig deeper into this hidden wonder of the Atlantic Ocean.