Haeundae is home to Korea's most iconic beach. It lies on the southeastern side of the peninsula and is a bit off the path. That doesn't' stop millions of locals and tourists from flocking there every year. You'll be spoilt for choice when it comes to restaurants, attractions and sites, but it's hard to know which ones are tourist traps and which are worth your time.
You're in luck! I've spent the last two years going there and have done the legwork for you.
Here are the absolute best things to do in Haeundae.
Let's get started!
Pick a side
There are two main sections of the beach according to me. There's the more active port side on the left side when you're facing the water and the more low-key and fancier Chosun Hotel side to the right.
If you're an extrovert, go left. For introverts, you'll want to head right. Trust me, it's better this way.
For those who are more well-balanced, somewhere in the middle will be just right.
Get some shade
The umbrella mafia that was active from only July to August has been put of business recently by the government. For those of us who miss their service with a smile, you're in luck! Many of the former workers have been hired by Haeundae-gu municipal office. The system is automated now so you can just pay at kiosk to reserve the umbrella of your choice.
If you want to skip all that, just simply bring an umbrella or sunbrella from home and stick it in the sand.
For more free shade and respite from the sometimes blazing sun, head back to path lined with trees right behind the beach. It's nice walkway with benches where you can relax and take in all the sites from a different angle.
Grab a coffee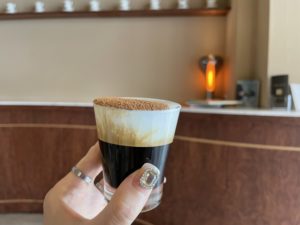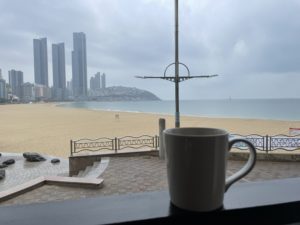 Depending on which side you pick, there's hip young cafe to the left for the more outgoing among us called, Rendejavous. It's 5 floors of trendy young 20 and 30 somethings from around the way and as far as Seoul. You'll get a vibrant atmosphere and some good people watching and photo opportunities. Some have described it as "Instagrammable".
23 Dalmaji-gil 62beon-gil, Haeundae-gu, Busan
For the more reserved, you'll want to check out the Chosun Hotel cafe with a great view of the water. It's a quiet and secluded spot that many miss despite the massive size of the hotel it's located in. The prices aren't as bad as you'd imagine, so feel free to stroll in and grab a coffee.
67 Dongbaek-ro, Haeundae, Busan

If you want even more hip places, check out Haeridan-gil located behind the Haeundae subway station.
U-dong, Haeundae-gu, Busan
Get something to eat
There are tons of restaurants to choose from, but the region isn't known for its culinary focus. Add in the fact that it's a touristy area and you might find yourself eating some subpar food. Here are the best restaurants I've found over the years.
Giyohang (기요항) is my absolute favorite new restaurant in Busan. Located in the Shilla Stay Hotel building, it's Japanese style Ochazuke with a Korean twist. You can choose from unidon, giyohang, and gyuudon in descending order of fish concentration. They're all worth a try, depending on how much you like seafood. I recommend going a little off peak lunch and dinner times to avoid crowds.
Busan, Haeundae-gu, Haeun-daero 570beon-gil, 46 신라스테이호텔 1층
Gaemi jib (개미집) is a great place to try a local delicacy, Nakgobsae. It's a combination of baby octopus, shrimp and beef intestines that tastes a lot better than it sounds. Gaemi Jib has the same festive atmosphere as a KBBQ joint. Wash some Nakgobsae down with a cold shot glass of soju for an authentic local experience.
34 Gunam-ro, Haeundae-gu, Busan
Badamaru Jeonboek Juk (바다마루전복죽) is a great breakfast place (opens at 7 AM) that serves a regional specialty. Abalone porridge is served super fresh early in the morning by a nice grandma. It's a small mom and pop shop, so go early to get a seat.
7 Dalmaji-gil 62beon-gil, Haeundae-gu, Busan
Take a walk
After all that food, you might want to walk some of it off.
If you head right towards the Chosun Hotel, you might notice some stairs if you continue past the cafe. Go up for some remarkable sea views and quiet time with nature on Dongbaek Island. The path will take you through some light houses, a great view of Gwangan Bridge and eventually to the front end of the Chosun Hotel where you can covertly use the bathroom. It helps to act like you belong there.
A. things to do in haeundae
B. 5 Awesome Things to do in Haeundae Beach, Busan, South Korea
C. Haeundae is always a good idea in Korea. Here are some fun things to do that you may not know about.