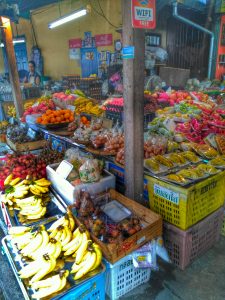 Anyone who has ever planned a visit to Chiang Mai has, most likely, come across the recommendation to experience one of the massive and remarkable markets. Whether doing research online or just asking others who have visited, tourists find that visiting a market while in Chiang Mai is one of the top things to do.
Whether it's due to the liveliness, inexpensive goods, tasty treats, or the fact that the temperature is perfect year-round and people want to get out and wander, these markets are packed most of the time. Even in "low season," one can have trouble navigating through the sea of people roaming these massive markets.
So what's all the "fuss" about? Well, here is a list of some of the most noteworthy markets categorized by their location in Chiang Mai. Enjoy!
Old City Markets
Sunday Night Market
This market is probably the most famous of all in Chiang Mai. Every Sunday night Rachadamnoen Road, in the Old City, transforms into what is known as "Sunday Walking Street." As you may have guessed, this means that only pedestrians are allowed on the street during this time.
The sidewalks are lined with stalls, spilling over into the street.
You can find pretty much all the souvenirs and gifts that you can think of here. If you are looking for a one stop shop for stuff to take back home, this would be it. It's a great market for those that don't really like shopping too much and want to find gifts to take back to family and friends in one spot.
Since it's only held on one night of the week, this market gets busy. Seriously, it's REALLY busy.
Be prepared to walk through wave after wave of humans from all around the globe. It's actually quite an interesting place to walk and just people watch, too. So, if you don't even want to shop, you can always grab a tasty snack (or two) from the plethora of stalls selling food and drinks and just walk around.
Location: Rachadamnoen Road, Old City Chiang Mai (start at Thapae Gate)
Open: Sunday nights
Shopping: Gifts, souvenirs, home goods
Massage: street-side massages available throughout
Food: snacks, smoothies, desserts
Crowd: 5/5
Somphet Market
Located just north of the famous Thapae Gate (about a 7 minute walk), this little market is a perfect location for grabbing some fruits or veggies.
The market is in a small alley (Soi 6), mostly covered, and not that big.
At times, you may find groups of people huddled over some of the vendor stations here, attentively listening to a guide explaining the "exotic" spices, fruits, and veggies. These groups are people attending Thai cooking classes. Tourists from all over (us included) partake in these fun classes that let you cook your own Thai food, and eat it, too!
This is a great little market if you want to try some fruit (that maybe you've never had before). They have cut up, packaged, fruits that are easy to eat with the provided wooden skewer.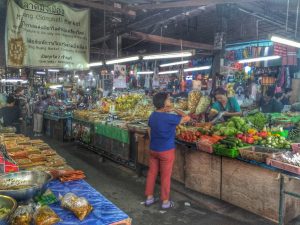 Maybe, if you take one of the Thai cooking classes, you'll even be inspired to purchase some of the spices and dried goods to take back and cook up later!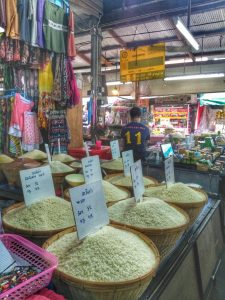 Location: Moon Muang Rd Lane 6 (follow the moat going north from Thapae Gate)
Open: Daily, until sundown
Shopping: fruits, vegetables, some meats, some clothing, spices, dried goods
Massage: n/a
Food: some fried snacks, smoothies
Crowd: 2/5
East Side Markets
Night Bazaar
If you're travelling to Chiang Mai and happen to not be here over a a weekend, then your best shopping experience can be had at the Night Bazaar. It's there every night!
While it may not be as massive as the Saturday or Sunday Markets, it's definitely not small, by any means. There are several other smaller markets that branch off from the main road where this is located, so maybe all in all, it IS bigger.
Anyway, the best aspect of this market is that it provides actual restaurants on the street. This may come in handy if some of your fellow travelers are not up for all the walking. They can go eat or get an hour massage, while you shop till you drop!
I would assume that the most sought after items in this market (by western tourists) are the knock-off handbags. You can find "brand name" bags, wallets, belts, and such at super low prices. Make sure to brush up on your bargaining skills, it can get a little tough in this market.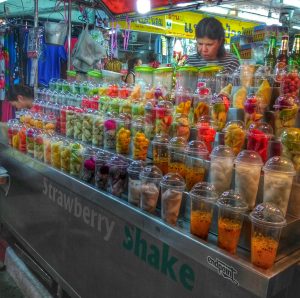 Location: Chang Klan Road (between Old city moat and Ping River, just east of Thapae Gate)
Open: Nightly, sundown to midnight
Shopping: shoes, hand bags, backpacks, wallets, belts, souvenirs, clothing
Massage: n/a (spas available on street)
Food: restaurants along street, snack stalls, smoothies, dessert
Crowd: 4/5
Anusarn Market
This is one of the markets that is an offshoot of the Night Bazaar. It's got two major pluses. One is that it's covered, so if there's a quick little tropical shower, it doesn't dirupt your shopping experience. The other bonus to this market, and my favorite part, is the "pan ice cream." If you've never heard of this, YouTube it. They pour flavored milk on a super cold surface and add all your desired toppings to make you fresh ice cream! It's sort of the same process as making a crepe, in a way, but cold.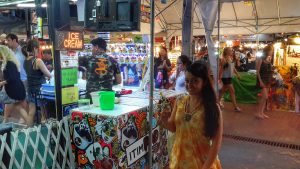 In my opinion, this market provides a slightly better quality of products when it comes to handmade creations. You can find great accessories here as well.
Since it's off the main road, you won't be "bumper to bumper" with other people as you browse and shop.
Location: Charoen Prathet Rd (South of McDonald's, off Chang Klan Road)
Open: Nightly, sundown to midnight
Shopping: clothing, souvenirs, dried goods, souvenirs, jewelry
Massage: Fish spa, foot massages
Food: restaurants, dessert stalls, smoothies
Crowd: 3/5
Muang Mai Market
If you love the tropical fruit in Thailand, this is the market for you.
The fruit stalls are lined along the street right next to the Ping River. Enjoy the fruit that is available to consume right away or take it home with you. You can get nicely prepared fruit in packages here. I would recommend the whole young coconut that is packaged with it's juice in a cup. Sip on this while enjoying the views of river cruises floating on the Mae Ping.
This area is just a fraction of this enormous market. In it's inner core lies the, seemingly endless, maze of local meat, seafood, and vegetables. Be advised that most are for wholesale purchase. This area is seldom visited by foreigners and is mainly for Thai locals purchasing for their food stalls, restaurants, and home consumption. It can be a bit overwhelming to walk through, but it's quite an experience.
Location:  Wang Sing Kham Road (west of the Ping River)
Open: daily until sundown
Shopping: fresh fruit, wholesales fruits and vegetables, meat, fresh seafood
Massage: N/A
Food: Some fried snacks, Thai sausage, Coffee stands
Crowd: 3/5
Warorot Market (Kad Luang)
Chiang Mai's oldest public market, Warorot Market, provides a little bit of everything. Except touristy-type souvenirs. Primarily a market for Thai locals, this place has all your shopping needs for more practical goods such as Thai kitchen supplies and casual clothing. Having said that, it doesn't mean that you won't find something to take back as a gift that can actual be used in the home.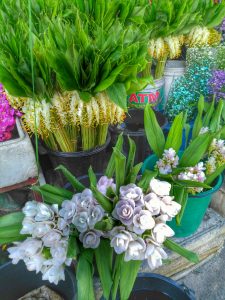 You'll find clothes and everyday items mainly on the second and third floors at Warorot Market. This market spans over several streets and is composed of indoor and outdoor shops. Some of the back streets have shops that sell Hill Tribe and handicraft goods, as well as textiles.
If you don't end up purchasing the items sold at this market, you might just be temped to try the delicious, prepared from scratch, northern Thai foods (like the Thai-style sausage). Other food-type items for sale include dried fruits, teas, and spices.
Just on the outer side of the main street, facing the Ping River is the Flower Market. A short stroll next to these flower vendors will be sure to brighten your day. The flowers here are super cheap, so if you stay in Chiang Mai long term, they can add color and life to your home (I try to get some every week!).
Location: Chang Moi Road (Almost next to the Ping River, just north of Chiang Mai Night Bazaar
Open: early morning to dusk
Shopping: clothing,  accessories, textiles, handicraft items, fruit, vegetables
Massage: N/A
Food: lots of food local northern Thai food options
Crowd: 3/5
South Side Markets
Saturday Night Market
The Saturday version of the Sunday night market can be enjoyed starting at Chiang Mai gate and moving south down Wua Lai Road.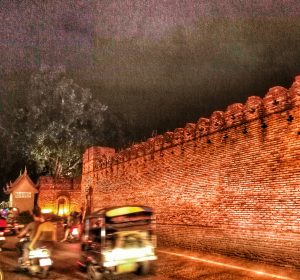 The street here is abit more narrow and crowds pack it, even on rainy nights! The good thing is, there are lots of smaller lanes that branch off, giving you a bit of relief from the traffic of people, and still providing a great selection of things to purchase and food to enjoy.
Location: Corner of Wua Lai Road and Chang Lor Road
Open: Saturday nights, sundown to midnight
Shopping: clothing, souvenirs, dried goods, home goods
Massage: street side massages
Food: fried snack, dessert stalls, smoothies
Crowd: 5/5
Chiang Mai Gate Market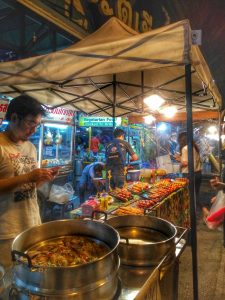 You can experience this market during the day as well as the evening. However, they are totally different. During the early hours of the morning, you'll find Thai locals purchasing fruits, vegetables, and meats here for the day. You probably won't see any foreigner travelers until mid-day. As soon as the evening hours hit, the market transforms into a haven for tourists looking for some yummy, and cheap eats.
On the moat side of the street you'll see tables and chairs set up for the noodle stalls serving tasty soups. On the the other side of the street is the area for more finger-food type of delectable. The crepes, potstickers, and fried egg rolls are some of our recommendations. Oh, and don't forget to grab a cold smoothie to cleanse the pallet in between treats!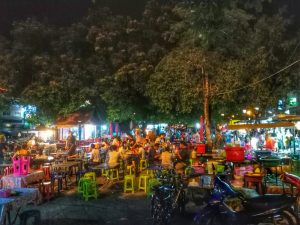 Location: Bumrung Buri Road, Chiang Mai Gate (east of Suan Buak Hard Park)
Open: Nightly, sundown to midnight
Shopping: food stalls
Massage: N/A
Food: fried foods, grilled seafood, noodle stalls, dessert stalls, smoothies
Crowd: 3/5
West Side Markets
Kad Na Mor (Chiang Mai University Night Market)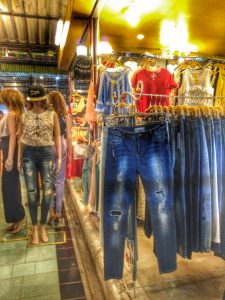 One of my favorite places to shop is this market right across the street from the university. You won't find many tourists here. Every night, this area is swarming with college students. They come for the trendy clothing and accessories as well as the food.
There is a "cafeteria style" area, taking up almost half of the space of this market, that is mostly comprised of hot-pot restaurants. The kind that allows you to cook your own combination of meats and vegetables at your table.
Location: Huaey Khao Road (accross the street from Chiang Mai University entrance gate, inside Malin Plaza)
Open: Nightly, sundown to midnight
Shopping: trendy clothing, souvenirs, shoes, souvenirs, jewelry, cosmetics, cell phone accessories
Massage: N/A
Food: snacks, hot pot restaurants, sushi, desserts, smoothies
Crowd: 4/5
Rincome Night Market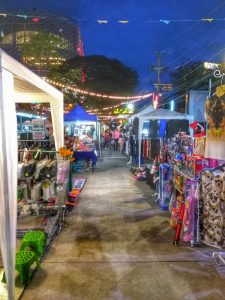 Located right next door to the Western-Style Maya Shopping Mall, is a little plaza with neone lights at the entrance. Here you will see mostly local college kids, similar to the market mentioned above. There aren't as many options of items for sale, but for the tourists staying in the Nimman area, this is easily accessible.
Those not wanting to make the journey across town to get to the night bazaar can still do some souvenir shopping here while enjoying the trendy Nimman neighborhood.
Location: Huaey Khao Road (Next to Maya Mall)
Open: Nightly, sundown to midnight
Shopping: clothing, school uniforms, souvenirs, personal items
Massage: n/a
Food: snacks
Crowd: 1/5