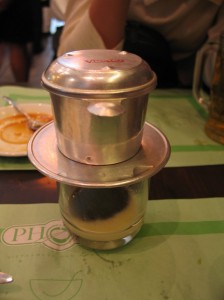 Vietnam's Traveler Cafes Offer Much More Than Just Joe
WEASEL COFFEE: $300-$600 A POUND
On the far shore of an artificial lake in Hanoi, Vietnam, I found a much-needed antidote to restaurant hell, with its reckless gastronomical woes on untranslatable menus (involving Indochinese delicacies like baked sparrows with the feathers still on, fried scorpions, sautéed snakes, roasted rats, and "No Cock, only Fanta Orange"). It was a coffee stand.
But not just any coffee stand.
Here they served the Vietnamese national drink and aphrodisiac: "Ca phe da." Which is basically Vietnamese coffee and canned milk poured over ice, in the same way scalding hot water is poured over meat resembling cannibalism to produce an unsavory soup called "pho."
In this land of rice and men, I considered Vietnam's number-two export (coffee) to be a safe bet–until I found out that their most-expensive joe is also made with number-two:
Poop.
"Our best coffee is called 'weasel coffee' and is made from shit!" Vo, a dissident member of th Caodai spiritism cult whom worship Victor Hugo as a saint, mentioned, getting down to brass beans with evident hilarity. "Drink shit and die, Joe!"
"Uhn, that sounds terrible, " I ickeyed.
"It is only for tourists: way too expensive for locals to buy: over fifty dollars a cup." Vo smoothed his Phil Lesh and Friends T-shirt, resembling liepidotera. "The Chinese like it a lot!"
"Weasel coffee" uses the best domestic Arabica beans, rather than the more common Robusta, which are consumed by wild "civets" (a kind of feral cat) who pass the beans through their digestive systems, where they partially ferment, and then the unsavory beans reappear in the unlucky beasts' bowel movements.
The next place they appear is magically in our cups. "Could I, er, have a crappucino?" I asked with relief resembling a laughing attack.
"I cannot sell such expensive coffee. I have to be careful: if I make too much money, the government would close me down," Vo voiced. (No last name is given). Vo had studied in London, so his RP accent came across like a calmed-down Russell Brand, the British MTV spokesperson who recently divorced blue-haired pop diva Katy Perry.
Hence, with rolls of communist red tape and only a rudimentary tourist infrastructure, Vietnam is nevertheless, I view, the perfect place for a coffee klatch, seemingly on every other street corner: most of them doomed to go out of business if they become too successful: an economic paradox perhaps, or the genesis of a capitalist fable.
It's still quite difficult to get there and travel around. The two official government tourist agencies, Saigon Tourist and Vietnam Tourism, offer prohibitively expensive and restrictive organized tours and accommodations in overpriced luxury hotels. Also, the mushrooming private "tourist agencies" are often corrupt and act like kidnappers.
Fortunately, independent backpackers can turn to "traveler cafes." Evidence of free enterprise–in a country still ruled by hardline communists–the cafes are more than just places to socialize and have a cheap meal (starting at around 5,000 dong, depending on moribund inflation and currency-exchange fluctuations). Vietnamese café society also provides centers from which to take cheap trips throughout Vietnam, including areas that are difficult or impossible to reach via the anarchic public transportation system. Foreigners can swap news and post messages; arrange transport and cheap accommodations; obtain visas to neighboring Laos and Cambodia; and rent motorbikes for about ten bucks a day. For more accommodation options, Google "Vietnam Hotels."
Remember, it is possible to travel from one end of Vietnam to the other for less than $200 using a combination of cafe tours. Most of them offer an open ticket that lets you get on and off wherever you want. The most common route is Saigon to Hanoi (or vice versa) via Dalat, Nha Trang, Qui Nhon, Hoi An, Da Nang, and Hué, using these stopovers as bases for shorter day trips. Because trips are mostly in crowded minibuses, it's best to use them for short hops rather than long hauls to, say, Tay Ninh, Cu Chi Tunnels, and Halong Bay. Good luck, smokers! No one is wild about stopping for a "smoko" on a landing strip through rice paddies filled with bamboo rat traps resembling a dire set from "The Deer Hunter."
To hook up with the loosely associated Indochinese traveler cafe network, jump in a cyclo (for a buck, literally) in one of Vietnam's two entry points: Ho Chi Minh City (Saigon) in the south and Hanoi in the north, with the name and address of a cafe in hand.
In Saigon, all of the traveler cafes offering organized excursions and transport are within walking distance of each other and near a cluster of budget hotels.
Influenced by their popular T-shirts, I decided quickly on The Sinh Café to try my first real Vietnamese coffee called "ca phe da" or "café da," which takes some getting used to for strictly Starbucks irritants. I decided upon "ca phe sua da" (Iced Coffee with Milk), feeling like a proud colonial Frenchman reminding the Vietnamese who first introduced coffee to this country in 1857. Or, Graham Greene's "The Quiet American."
The poker-faced barista, with poo-colored skin, convinced me to try "ca phe nau da" (Iced Brown Coffee), made with finely ground Vietnamese-grown dark roast coffee individually brewed with a small French drip filter (called a "phin") and poured into a cup containing a quarter to a half cup of sweetened condensed milk (from a can, of course), which is then stirred and poured over ice.
A true Vietnamese coffee contains no chicory. This was an additive invented by the Viet Kiew (overseas Vietnamese) in New Orleans. Indeed, today, "Café du Monde" blend (named after the famous French Quarter café) is the most popular brand.
If you mean business, though, your café will order from real Vietnamese coffee companies like Trung Nguyen, Indochine Coffee, Highlands Coffee, or—my favoite—"Phuc Long!" The best coffee is grown in the central highlands (Annan Plateau) extending from Dalat to the Laos border. Vietnamese coffee was considered an aphrodisiac by Uncle Ho, who was An Orwellian "plongeur" (dishwasher) in Paris before he became the dictator of Vietnam, and whose waxy effigy can still be viewed in Hanoi.
Nowadays, a visit to Vietnam drives in the fact that here religion is not the opium of the people, but instead real opium is. But uncontrolled caffeine is a close runner-up.
Finally locating a cup of "weasel coffee" at the Tintin Café (14 Hang Non Street) in Hanoi, I held up what appeared to be a little bit like a backed-up porcelain toilet bowl lifted from some Indochinese dollhouse. Ah, absolutely delicious! Looks like raw sewerage. But I was sure not to get addicted to drinking shit, especially when the next café I revisited my most likely be going out of business sometime soon. Enjoy your cup of "weasel coffee," close encounters of the turd kind, while you still can!
VIETNAMESE ICED COFFEE RECIPE (CA PHE SUA DA):
You have gotten the skinny, so now it is time to make your own.
INGREDIENTS:
*1 tablespoon (about 4 teaspoons) of Cafe Du Monde grind or non-chicory Vietnamese brand, such as "Phuc Long."
*1-2 teaspoons condensed milk: "Carnation's"
*1 Vietnamese "phin" (coffee filter)
*1 glass for the strange brew
*1 glass filled with ice
Prep time: 1 minute
Cook time: 2-5 minutes
Begin by boiling water. Remove the metal filter and pour in 1 full tablespoon of maybe "Cafe Du Monde" (about 4 teaspoons). Twist the filter on gently. Ideally you want to add the condensed milk to the cup first because the boiling water actually cooks it. To brew, pour a tiny bit of water in to wet and expand the grinds. Then fill the filter and let it drip. Correct brewing time comes to about 2 to 5 minutes. Put the cap on and watch the coffee dribble and drabble!
Most Vietnamese prefer the longevity brand of condensed milk, called "Sua Ong Tho." But I prefer "Carnation's" (available in most bodegas next to Pringles and Milo).
Strongarm the brew into a glass filled with ice and serve.
Grimace.