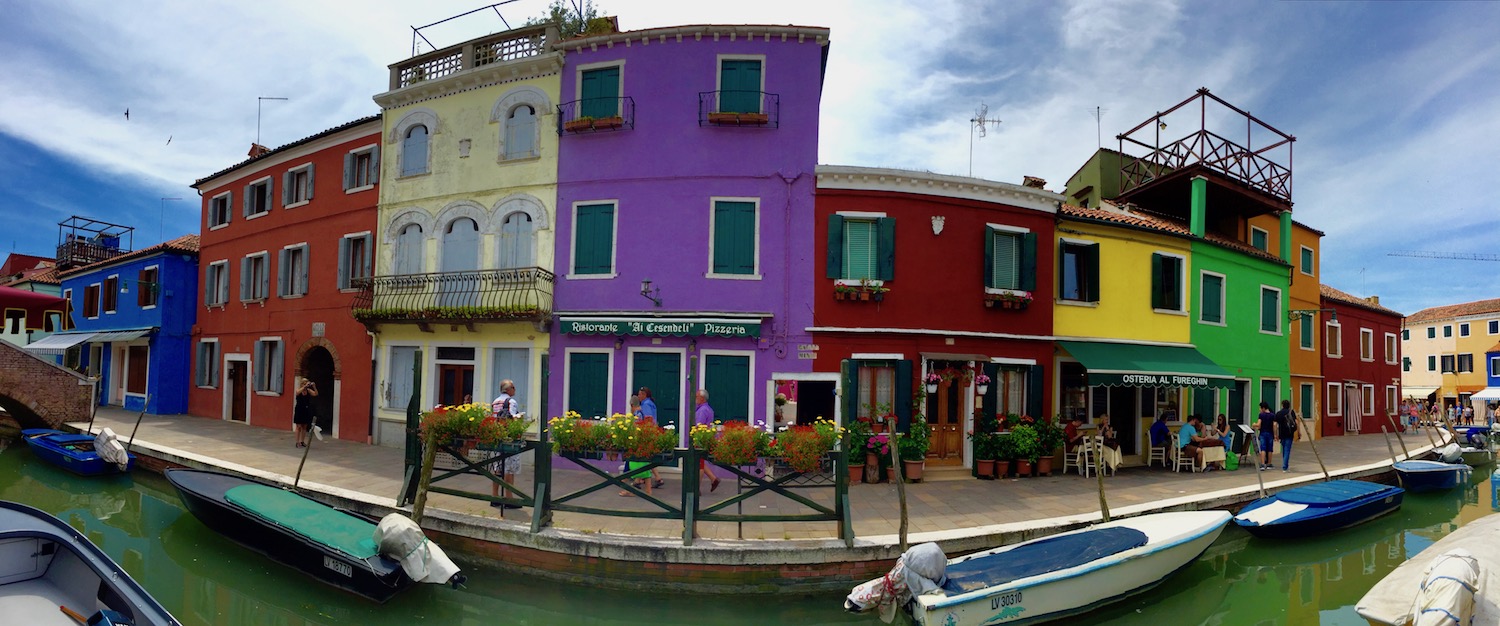 Fragile Art
When people hear the word Murano, they immediately think of glass. Artfully blown glass consisting of a rainbow of colors in whimsical shapes of fish, horses, chickens, unicorns and other creatures. Everyday items like bowls and mugs and plates come alive with images and designs never seen or even imagined.
Jewelry of every taste is also abundant in the many shops of Murano and Burano. As visitors  pass through the various shops and factories, they will not only see the creations, but also the creators. Attentive shoppers see craftsmen in action in the large factories or in small mom and pop stores.  There they ply their craft with blowtorches and the nimble touch needed to create the delicate pieces of art. Tourists can see examples of glass art in Venice, but there is something special about being on the small island of Murano where much of it is actually created. In addition, buyers can avoid the high markup of the more expensive Venice vendors.
A Vaporetto Ride North of Venice
We caught an early morning vaporetto around 8:30 on our last day in Venice to visit the islands of Murano and Burano. Murano is known for its glass, and Burano is best known for its lace and brightly colored houses. Note that the vaporettos that visit Murano, Burano and Torcello are different than those that service Venice proper. Therefore, tourists may need to walk or take a vaporetto to the north side of the main islands (to the Fondamente Nove stop), disembark, and then get on another vaporetto (number 12, for example) to continue on to Murano and Burano. Since we were staying in the middle of Cannaregio, we had a 10 minute walk northeast to our vaporetto stop on the north shore of Venice. By water, Murano is about 20 minutes from Venice, and Burano is about another 25 minutes.
An Island of Bodies
As we left the Nove stop we saw an island on our right, full of trees, a few buildings, and, we were told, many bodies. Yes, it is a giant cemetery. There are vaporettos that stop there (but not number 12) if you are so inclined. We did not stop, but we had a good view from the vaporetto and took several pictures of the intriguing cemetery.
We arrived in Murano at the Faro stop around 9:00 am. The town was just waking up. A few shops and cafes were already open, but many others were still asleep from the night before. We strolled through one large glass factory store, and saw some very interesting pieces. The owner showed us several beautifully crafted works of art, and assured us we could "inexpensively" ship anything we bought to the states. We thanked him and left to explore the smaller shops.
Chocolate Croissants Fresh Out of the Oven
On a charming little canal around the corner from the glass factory, we found a little cafe just opening up. As I walked through the open front door, I saw one of the workers removing a dozen freshly baked croissants out of the oven. Man, they smelled good! We ordered croissants and cappuccinos. Sitting outside at a small table on the canal, we leisurely enjoyed our breakfast while watching boats float down the canal lined with shops, churches, and other old buildings.
A Burst of Blue
After eating our croissant, we set out for the bell tower we could see from the outdoor café. As we got closer, we were intrigued by a large blue structure at the base of the tower. The closer we got, the cooler it became.  A starburst of light and dark blues glistened in the sun. This delightful creation is Simone Cenedese's "Comet Glass Star", located in the middle of Santo Stephano square.
Now mid morning, the area had perked up with shops opening and more tourists checking out their wares. Window shopping was fun, exploring shop after shop, and buying a few trinkets to take home. My wife found one particular jewelry shop that she really liked, and found some earrings and other jewelry for friends and family – and, of course, a little bit for herself!
All the Colors of the Rainbow
After spending a wonderful morning in Murano, we boarded the vaporetto for Burano. As we approached the island, we noticed the much publicized colored houses of Burano, with multiple hues of reds, blues, yellows, greens and others. Approaching noon, we walked along a canal in Burano, admiring the colored houses, the lace, glass and other merchandise in the shops. Several tempting restaurants caught our eye.  We decided to eat at an inviting café on the canal, decorated with a festival of brightly colored umbrellas and flowers.
A Toast to Burano
We enjoyed our pizza and grilled vegetables, and sipped on bright orange colored aperol spritzes (a tasty concoction of prosecco, aperol and seltzer) as we relaxed and enjoyed the scenery. With fond memories, we made our way to the vaporetto to head back to Venice. We were thankful we had that extra day to enjoy Murano and Burano – a nice respite from the larger crowds, hustle and bustle of Venice.
Scott Kendall
scottkendalltravels@gmail.com