Named best boutique hotel in the Hudson Valley for two years in a row, the Diamond Mills Hotel has become THE place to stay for discerning travelers and visitors.
Diamond Mills also has a 7000 square foot event space, and has become a popular destination wedding location. Another reason you'll want to book ahead.
Cradled between the Catskill Mountains and the Hudson River, Diamond Mills Hotel is ideally situated in the historic center of Saugerties, New York.
The Diamond Mills Hotel on Esopus Creek Falls the former site of a paper mill, which was operational from the late 1800's to the mid 1970's. The exterior honors the history of the location and the origins of the town, with paned windows and brick facade.

Proving that it's all in attention to details what I remember most about my stay at Diamond Mills was the radiant heat in the bathroom floors, the beauty lighting around the mirror in the vanity area, and the chocolate truffles and flowers they leave by your bed at turn down service
My room (and each of the thirty guest rooms) was very quietly elegant and comfortable. Special touches like velvety soft European linens and dimmers on the bedside lamps add to the ambiance of each room. At Diamond Mills, the staff is all about anticipating and exceeding guest expectations, and they do a great job.
Wifi is, of course, included with the room, along with other thoughtful extras like complimentary bottled water, fresh cream for your coffee, and a selection of local snacks.
The icing on the cake at this luxury boutique hotel is the view of the falls from every room. Talk about a room with a view!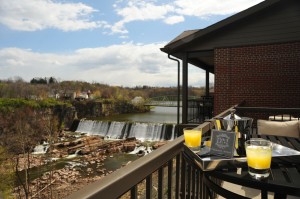 If you have some free time in Saugerties, and enjoy hiking and walking, ask the front desk staff for their list of recommended hikes. Suggested hikes range from as little as 20 minutes to an hour. I went to the Saugerties Lighthouse and had a lovely walk. It's a short drive from the hotel and the hike is super easy. It can be muddy, so wear appropriate shoes.
One thing you should know if you're planning on visiting Saugerties, it's the home of one of the top horse competitions in the country, HITS on the Hudson, producing hunter jumper horse shows. In all there are eight shows being produced in 2015 beginning in May and running through the first week of September. so if you plan to stay at the Diamond Mills Hotel be sure to book in advance.
My stay at the Diamond Mills Hotel was sponsored by Diamond Mills and Ulster Tourism. All opinions are my own.