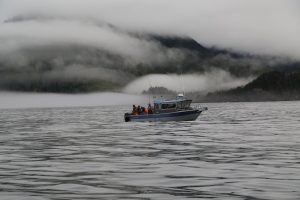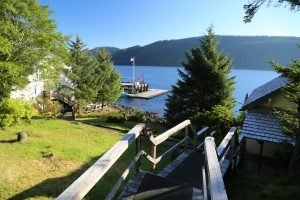 52-acres of wilderness await guests at Waterfall Resort – a private fishing lodge located on Prince of Wales Island near Alaska's Inside Passage. Seasonal runs of large numbers of fish pass through here including wild king and silver salmon, various size halibut (and this fish can easily get over 100 pounds), lingcod and numerous other types of fish.
The site of the resort was once a thriving cannery – founded in 1912 and operating through the 1970's. At its peak, the cannery produced a remarkable amount of salmon (222,000 cases). The resort itself has been operating since 1980 – taking the existing buildings and renovating them to create a more suitable environment for guests. The property features a beautiful lagoon and it's namesake – an impressive waterfall accessible via a hike along mostly raised boardwalk through picturesque scenery including a steam, a beach and when the salmon are running, bears come here to feed.
If you time your trip correctly with a quick stop in Ketchikan and a 45-minute float plane ride to the resort, you could have left your home on the west coast of the lower 48 in the early morning and be fishing at Waterfall Resort by the afternoon. Guests can also stay in Ketchikan a town that relishes in being the rain capital of Alaska, the fishing capital, the totem pole capital of the world and site to numerous float plane takeoffs and landings. It is a colorful town with a rich history – best explored on foot.
At minimum, the resort maintains a truly impressive one-to-one staff-to-guest ratio.
Fishing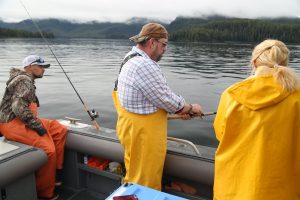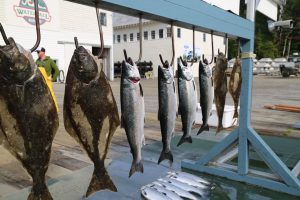 Early to bed and even more early to rise are important rules to live by while at the resort. Fishing boats often leave by 630am and return by 430pm. Every day is different on the water especially in regards to weather (can change dramatically even in the summer time). A diversity of surrounding inlets, bays and numerous islands are within short distance of the resort. The open ocean can even be reached from the resort as well.
Waterfall Resort operates the largest private fleet of fishing boats in all of Alaska. Their custom-built boats are state of the art, featuring heated cabins (quite useful during the often inclement Alaskan summers) and some serious shock absorbers in the seats!
The guides are experts in this environment. Each guide is U.S. Coast Guard trained and licensed and many have been guiding visitors to the resort for years. And they use secret codes to alert other guides at Waterfall Resort to areas where the fish are biting the best at any particular time.
It is a good feeling knowing that your primary responsibility on the boat is to fish, drink and have fun. The navigation, determining locations of the fish, your safety, baiting the hooks and providing insights into the area and fishing conditions are the responsibility of the guides.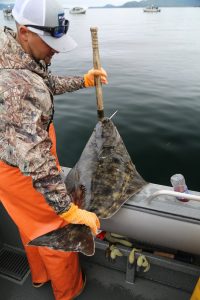 Halibut are big – and when you catch a sizable one you can expect a long and slow fight. Pulling up a large halibut is perhaps like pulling up a giant car door through the water while it lies flat. It is not uncommon for fisherman staying at the resort to land Halibut over 50 pounds (some are well over 100 pounds).
And then there are Coho's – also called 'silvers'. These beautiful fish are often in the 5 to 8 pound range. From personal experience, they can be a bit more difficult to hook (and keep on the hook), then say a Halibut.
Guests are all but guaranteed to catch fish. And when you return to the docks after a full day of fishing – you will be met by crew who will setup the largest of your fish for some good photo ops – and then begin processing your day's catch.
Lodging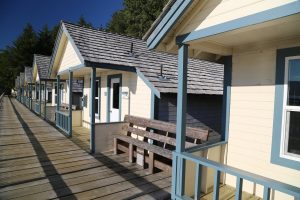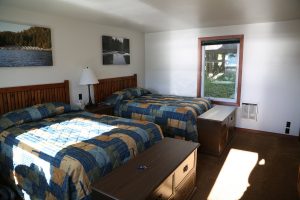 Cabins located along a wooden boardwalk that used to house workers of the cannery now accommodate guests of the resort. You probably won't spend to much time inside the cabins (since much of your day is taken up with fishing) but for the time you do spend inside, refreshingly there is no Television or Wifi inside. The room are clean, comfortable and come with heaters that work well. This is a cozy place to spend a cold rainy Alaskan evening.
And the cabins are within a short walk of the docks where the boats are anchored, the general store and the dining hall. With golf carts on site, guests can make special requests for pickup and drop offs as needed
Food & Drink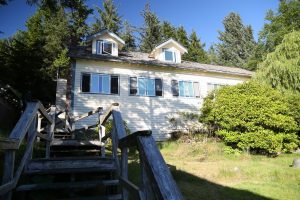 The dining hall is a time to catch up with friends, the latest fishing gossip and news and enjoy a buffet meal. The food covers a wide range of items – dinners often include fresh oysters to sizable steaks. The service really stands out – the servers are friendly, extremely well trained and empty plates almost 'disappear' as soon as you've taken your last bite.
And those who caught the largest fish of the day are recognized at every dinner.
Breakfast begins in the 5am hour – in time to get on the boats by 6am or 630am.
Although the Lagoon Saloon makes a highly tempting stop after dinner where Bartender Ron Koch has a number of ingredients at his disposal to whip up a memorable cocktail, one has to always balance sleep needed to be awake and alert early the next morning. Or maybe just drop by here in the afternoon after a day of fishing. And if you don't trust your alarm or spend to much time at the saloon the night before, put in your request for a wake-up knock – where one of the staff will personally knock on your door in the early morning.
Final Thoughts
A stay at Waterfall Resort is a complete package – with nearly 40 years of service and over 60,000 guests who have stayed here, Waterfall Resort has fine tuned the fishing excursions, the on property experiences and the logistics of getting to and from the resort.
The memories of your trip are rekindled every time you open a package of freshly frozen fish. The staff vacuum seals and freezes all fish caught – packages them in a special fish box guaranteed to keep the fish frozen for up to 24 hours and is sent to your final destination as checked luggage. An Alaskan Airlines representative maintains an office on site and streamlines this entire process – saving you time and hassle when you reach the Ketchikan Airport.
To book a fishing trip of a lifetime, visit: www.waterfallresort.com