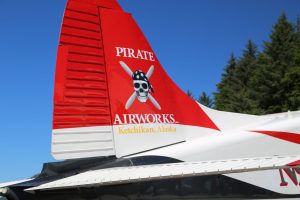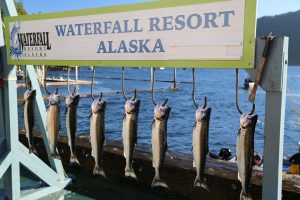 On an unusually clear day in Southeast Alaska, I find myself peering out the window of a float plane several thousand feet above a swath of wilderness alternating between dense forest and sparkling dark blue lakes. Our pilot was in shorts and a t shirt displaying a prominent skull decked out in a red bandanna framed by the 'cross hairs' of a propeller. I was with a group of journalists on a plane operated by Pirate Airworks. Our departure city was Ketchikan, the destination was Waterfall Resort, a 52-acre private fishing resort on Prince of Wales Island near the Inside Passage.
The energy was high from the warm and unexpected sunshine and from the anticipation of catching Alaskan salmon. Once we had our paperwork taken care of including our Alaskan fishing licenses we soon met our fishing guide Brian at the edge of the resort's floating dock. Waterfall Resort maintains the largest fleet of fishing boats in Southeast Alaska (27 at last count). Not that we needed it today, but each of their boats comes with heated cabins (often used during the cold and unpredictable weather of the several month long fishing season).
Our first day here was the last day of the King Salmon Season. We caught none on our boat this day – word must have gotten out to the King Salmon – we caught a number of them during the subsequent days after the end of the season, but had to release them all. The fight on these giant salmon was adreniline inducing – they don't give up easy.
It is a good feeling knowing that your primary responsibility on the boat is to fish, drink and have fun. The navigation, determining locations of the fish, your safety, baiting the hooks and providing insights into the area and fishing conditions are the responsibility of the guides. And they know what they are doing (each guide is U.S. Coast Guard trained and licensed) and many have been guiding visitors to the resort for years.
Halibut are big – and when you catch a sizable one you can expect a long and slow fight. One fisherman caught an estimated 52 pound halibut on our boat – and it took him over 20 minutes to pull it in. Initially we thought his hook was snagged on the bottom – pulling up a large halibut is probably like pulling up a giant car door through the water while it lies flat. And ours was only a 50 pounder or so – several other fisherman pulled up halibut that were well over 100 pounds.
And then there the Coho's – also called 'silvers'. We caught many of these beautiful fish – often in the 5 to 8 pound range. These were a bit more difficult to hook (and keep on the hook) then some of the other fish we caught.
One comes here for the legendary fishing but one also comes here to be surrounded by the natural world and the ever changing beauty of an Alaskan summer day. The weather can change dramatically – we experienced short sleeve and t shirt sunny weather, winds, etheral fog and rain. And with 52 acres one has plenty of property to explore during the fishing downtimes.
The namesake for the resort is a beautiful waterfall located about a mile away from the resort via mostly wooden raised walkways. Part of the path is along the beach – with a maximum of only 92 guests on the property – it is easy to discover your 'own' part of Alaska on this hike. It partly follows a creek inland – when salmon are moving upstream it is common to see bears feeding along it's banks.
For more information and to reserve a fishing trip of a lifetime visit: www.waterfallresort.com