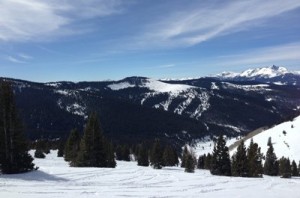 Breckenridge, Colorado is known for it's quaint historic downtown and it's epic 2,358 acres of skiing. Tucked away in the Rocky Mountains, it's a small town that offers a lot.
My husband's family owns a small condo in Breckenridge, so we find ourselves up there quite often. It's the perfect place to get away from the city life of Denver and relax. Over the years of visiting, we've discovered the best Breckenridge has to offer during both summer and winter.
Summer Activities
Rubber Ducky Races
Yes, you read that correctly, rubber ducky races. Each year The Summit Foundation hosts The Great Rubber Duck Races in Breckenridge, Colorado. This past summer marked the 26th year of racing, and it did not disappoint. With hundreds of spectators cheering the little quackers on, thousands of rubber ducks were sent racing down the river. It's a sight unseen and worth seeing at least once in your lifetime!
Golfing at the Breckenridge Golf Club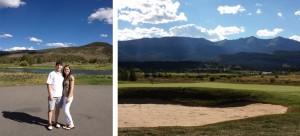 For golfers of all skill levels, the Breckenridge Golf Club is a must. The stunning golf course offers 27 holes available for play, including three nine-hole courses named the Elk, the Beaver and the Bear. I'm not a golfer myself, but I've gone along for the ride several times for two reasons. One, driving the golf cart is a thrill! And two, the scenery is breathtaking. With the course lying in a mountain valley at an elevation of 9,324 feet, you are surrounded by both snow-capped mountains, lush green forests and blue skies. It's truly beautiful.
Walk Main Street
Main street in Breckenridge is the epitome of "charming". With boutiques, museums and restaurants lining the streets, there is plenty to keep you busy. More often than not, there is also music or other entertainment being held in the city center. While strolling along, be sure to stop by Mary's Mountain Cookies for a treat. Their cookies are delicious! Or if it's close to lunch or dinnertime, stop by Downstairs at Eric's or Empire Burger, a few of our other favorite joints.
Kingdom Days
Ever seen outhouses race each other? Didn't think so. Well, each year Breckenridge kicks off the summer months with Kingdom Days. It's a weekend festival full of fun and "unexpected" adventures. Besides the infamous outhouse races, it also marks opening day of Breck's Fun Park, which contains the Alpine Slide, the Gold Runner Coaster and more. This year it's scheduled for June 14th and 15th, so mark your calendars!
Other Fun Summer Activities:
White Water Rafting down Clear Creek, Numbers and The Blue River.
Go on a hike. There are tons of trails!
Fly Fishing. Summit County is known for it's Blue Ribbon waters.
Rent a bike and go for a ride. There is some great mountain biking available. Or there are several paved trails for families with smaller kids and less experienced riders. We enjoy driving up to Vail and biking from Vail to Frisco on the paved trail because it's mostly downhill!
Attend a National Repertory Orchestra performance at the Riverwalk Center.
Enjoy the Peak 8 Fun Park
The Steven C. West ice rink is open year round! The winter outdoor rink turns into a put put golf course during the summer as well, while the indoor ice rinks stays open to skate
Fourth of July 10k. It's a non-timed race, but it's a fun way to start the Fourth of July. Our family ran this last year and let me tell ya, it's straight up hill for the first 3 miles and bottle necked for the first mile, since it's tons of people on one small path up the mountain! But it was still fun.
Fourth of July Parade. Lots of candy for the kids here!
Winter
Skiing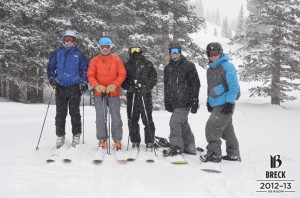 one seems obvious, but it's essential. Breckenridge has long been known as one of the best ski resorts and mountains in the United States, boasting the highest chairlift in the country. The mountain expands over 2,901 acres and consists of 33 chairlifts, 187 trails, 1061 acres of back bowls, and 4 terrain parks. This year they are also opening a brand new peak, Peak 6, which looks like it's going to be epic! There is literally something for everyone and every level. I'm a "blue run skier" and I love the Breck Mountain. And while the last two years haven't proven to be the best snow wise, all of us Coloradans believe this is the year of powder goodness. The slopes opened November 8, 2013, so hurry and join the fun!
Gondola Ride
Take a relaxing ride up the Gondola with the entire family, whether you plan on skiing or not. It's completely free and the kids love it! Once you reach the top, explore the base of the mountain with some hot cocoa or coffee in hand. People watching on the mountain never gets old.
Sledding at Carter Park
Carter Park is our favorite sledding hill in Breckenridge. It's free for everyone to enjoy at their own risk and offers a great hill, as it use to be an old ski slope. Be sure to bring your own sleds and tubes though, as the hill is an all for one and offers no rentals.
Snow Sculptures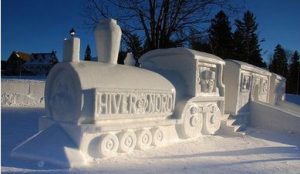 One word: AMAZING. Since 1991, Breckenridge has hosted the International Snow Sculpture Championships, where talented sculptors from around the globe come and compete. Countries including China, Russia, Mongolia, Mexico, Finland, New Zealand and more join in on the fun. These professionals build snow sculptures beyond anything you could imagine. This year the competition will be taking place January 21, 2014 to February 2. During the first five days you can visit while the sculptors are hard at work. Or if you'd prefer to just view the finished pieces, visit between the 26th and the 2nd. These masterpieces will blow your mind! I promise.
Torch Light Parade for New Years and Fireworks
There is no better way to ring in the New Year than with Breckenridge's torchlight parade. Starting at 6pm, volunteer skiers and snowboarders head down Peak 9 with torches in hand, lighting up the mountainside in a vibrant red-orange color. Following the parade, Breckenridge puts on an awesome fireworks show. It can be seen from most places in Breck. But for those that can brave the cold, it's worth going out and getting a front row seat!
Other Fun Winter Activities:
Cross country skiing
Snowshoeing
Snowmobiling. Warning: we did this once with a company and it was called an "extreme adventure." However, it was far from extreme! So if you want extreme, rent your own and take them out, don't do a tour with a company.
Lighting of Breck in December or a least just admiring the lights in town
Play wally-ball at the rec center. This is seriously one of my all time favorite things to do with my family when we are there! You can also play tennis, racquetball, basketball or rock climb. Be sure to call ahead though to make sure the courts are available and you do have to pay a fee to get in.
Breckenridge, Colorado is truly a little gem in the Rocky Mountains. I love visiting during both Summer and Winter, as the fun never stops. If you haven't had the chance to visit for yourself, I suggest booking yourself a condo in Breck and visiting. It's a town with a little bit for everyone.