When one mentions vacationing in Mexico, perhaps a few of the more well-known destinations such as Cancun, Los Cabos, or Acapulco come to mind. Every place has its own unique charm, but I often find myself yearning for a more remote and undiscovered destination. So when I received the invitation to visit Huatulco in Mexico, I was excited to have the opportunity to familiarize myself with this unknown location. The mere fact that I had never heard of the name before was convincing enough to get me to pack my suitcase.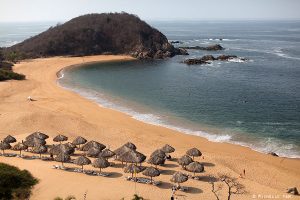 Fortunately, there's more to Huatulco than just the draw of its exotic name waiting to be explored.
Spanning over 20 miles along the Pacific coastline, Huatulco is one of Mexico's most southern resorts located in the state of Oaxaca. Approximately 270 miles south of Acapulco and less than an hour flight from Mexico City, this resort town has been gaining popularity as a vacation destination in recent years.
Flying in from Los Angeles with Aeromexico, I arrived at the Huatulco airport — a small, convenient, and charming one — to the welcoming sight of breezy palm trees and open air palapa buildings. Obviously, all that's needed are some structures with a thatched roof to immediately transport me to resort vacation mode. Our driver picked us up, and approximately twenty minutes later, we arrived at our hotel, Las Brisas. We were greeted with cold towels and fruity drinks. It was definitely vacation mode time.
With a series of nine bays and 36 stunning beaches surrounded by pristine landscape and vegetation, Huatulco offers much to see and experience. One of the many activities I enjoyed was taking a motorboat excursion around the bays. Our tour operator, Jaime, shared so much history and insight on Huatulco that it made the boat ride not only enjoyable, but also educational.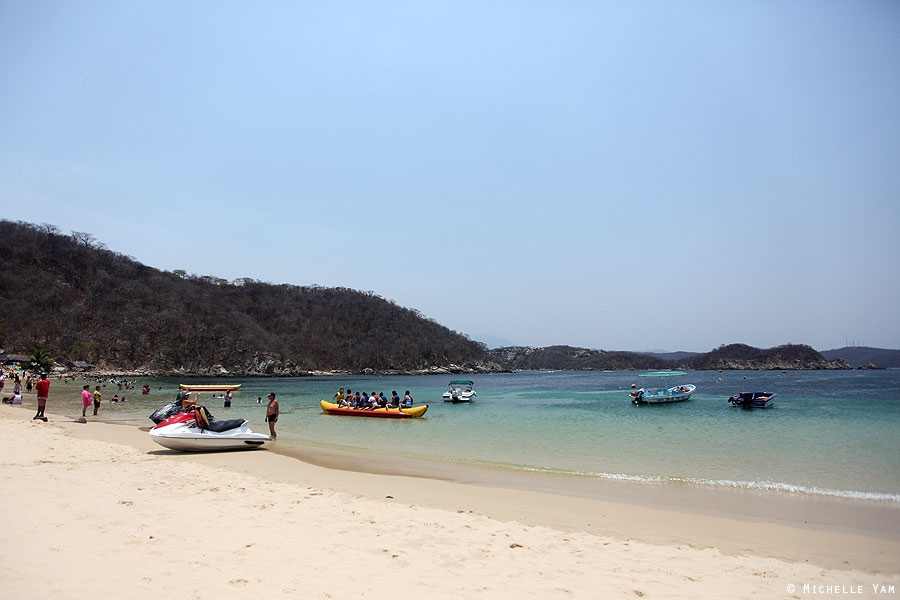 In fact, I learned that tourism is the biggest industry contributing to Huatulco's economic growth. In the 1980s, Fondo Nacional de Fomento al Turismo (FONATUR), the government tourism development agency, began to focus its efforts to plan and promote this remote coastal town. While the growth of tourism is essential to help sustain the local economy, the people here also understand the importance of preservation and responsible environmental impact. In most of the areas, the water is treated so that it can be consumed directly from the tap and no sewage goes into the bays. Because of its commitment to the environment, this resort town was awarded the Green Global International Certification as a sustainable tourist destination and has also received an EarthCheck Gold Certification. In addition, there are areas that are set as ecological reserves and are being protected from development.
According to Pia Oberholzer, the General Manager of the Huatulco Hotel Association, Huatulco is all about "preserving history, customs, and culture but also allowing the economy to grow so locals can survive." And with that, I am glad to have discovered Huatulco, a place that is much more than just an exotic name.

Things to Do
Take a boat tour of Huatulco's bays and enjoy other water activities such as swimming, snorkeling, jet-skiing, windsurfing and sailing.
Enjoy restaurants, nightclubs, and souvenir shopping in the town center La Crucecita.
Visit the Copalita Eco-Archaelogical Park.

Places to Stay