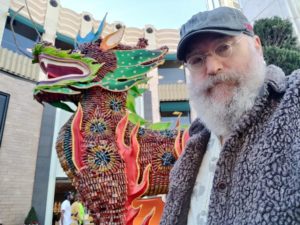 When most people think of LA, the very first thing that comes into mind is Hollywood and celebrities. That is a stereotypical way to sum up LA because Hollywood is actually a very small part of a larger whole.
As an actor, Daniel Will Harris has been in many movie studios. If you are visiting from out of state or abroad, Daniel recommends Warner Brothers Studio Tour.  Unlike Universal, which is literally a theme park with very loud buses that only ferry curious visitors to the backlot, the Warner Brothers lot is more of a working movie studio. One can ride on a small open bus and visit locations of many classic favorite movies and TV shows.
With year-round warm weather and a melting pot of cultures, LA offers an array of sightseeing, shopping and eating options. Daniel breaks down his top picks for places to see, shop and eat in LA.
 "The traveler sees what he sees, the tourist sees what he has come to see."
– Gilbert K. Chesterton
What tops Daniel's list of sightseeing?
"It's gotta be Hammer Museum – a small modern art museum in Westwood. The art changes every few months, and there's a small selection of truly wonderful classic art collected by Armand Hammer."
Are you a museum buff? If you are, then keep reading …
"Valley Relics museum of the San Fernando Valley – A very LA, off-the-beaten-track museum. If you like history (and neon) then you'll find this museum fun and fascinating"
"LACMA (Los Angeles County Museum of Art) used to be a great art museum but it's been demolished for rebuild and won't be reopened years from now. But, in the same stretch of Wilshire is the brand-new Academy Museum (the Motion Picture Academy), aka "The Oscars" offering the first in-depth museum of film in Los Angeles. It opens September 30."
"If you are a car lover, you must not miss out on the Petersen Automotive Museum. Their regular collection, and ever-changing shows, highlight California Car Culture."
"A lesser known museum with older cars (and spectacular music room) is the Nethercutt Collection. A large museum of classic cars, and a building that recreates a luxury car dealership from the 1930s and features art and a one-of-a-kind music room with mechanical instruments. If you are into machines and music, this is a rare place to see them in action."
You don't want to miss out on these places too ….
 "Mulholland Drive – I can see it from my window and I still enjoy driving down the windy and scenic road. There are lookout points to stop for a quick panoramic view the city and valley. It is picturesque both day and night."
"If you're interested in fashion or movie and TV costumes and happen to be in downtown, walk two blocks to the Fashion Institute of Design and Merchandising – they feature collections of exquisite vintage and antique clothing, as well as regular shows featuring Oscar™ and Emmy™ nominated costumes."
"Also check out live theaters and music venues in town, from the glorious Hollywood Bowl to the Center Theater Group for the best plays and musicals, to LA's many great small theaters, like the Sacred Fools, and the Skylight."
"Whoever said that money can't buy happiness, simply didn't know where to go shopping."
– Vicki Archer
Two of Daniel's favorite go to shops when it comes to shopping….
"My favorite thrift shops are in the Valley, Sherman Oaks: the American Cancer Society "Discovery Shops" and Buffalo Exchange – a great place to buy (and sell) vintage pieces."
Fancy a little shopping? Check out these places too ….
"Burbank is also great for vintage clothes. First, have lunch at Porto's bakery. Forget the diet and try a big selection of delicious pastries at reasonable prices. Expect a line outside."
"While you're there, check out "IT'S A WRAP!" – they sell clothing that's been used as costumes in TV and movie productions.  Playclothes Vintage is another store that sells rare vintage clothing and accessories from the 1920's through the 90s."
"I like shopping on Melrose, which is funky cool. If you love eyeglasses, "LA Eyeworks" has some of the coolest frames you'll find anywhere."
"If you like flea markets,  Melrose Trading Post is fun on Sundays. The Rose Bowl Flea Market is the largest in LA and open the second Sunday of each month. It's huge (and it can be hot in Pasadena in the summer) – If you're interested in antiques, stick to the area at the front of the bowl, as the vendors along the side tend to sell new items."
"A smaller (and sometimes just as interesting) Pasadena flea market is at Pasadena City College – Check their website to see when they reopen."
"The Hollywood Night Market is at the historic Yamashiro restaurant in the Hollywood hills. It takes place Thursday nights and features local artisans and food."
"To eat is a necessity, but to eat intelligently is an art."
– François de la Rochefoucauld
Where does Daniel go in LA to grub to his heart's desire?
"I love the Original Farmers Market in the Fairfax district – A huge variety of foods from around the world. I am spoiled for choice! I love the Pampas Grill at the market. The Brazilian Churrascaria buffet and grilled meat are to die for. You can't go wrong at any of the restaurants there – Mexican, BBQ, pizza, and wonderful pies and baked good. Next door is "The Grove" an upscale outdoor mall that looks like an art deco street full of interesting shops and a fountain of dancing waters."
"The best fresh Drive-through hamburgers are from In-N-Out Burger – They have locations all over California. I also love The Original Pantry Café – The place is infused with a sense of nostalgia.  It's like going back in time to the 1920's with huge portions of good food, often shared at communal tables. It is the oldest continuously operating restaurant in LA. Until the pandemic hit, it had never been closed or without a customer since 1924."
Next time when you happen to run into Daniel in LA, please come forward and say hello to him. He will be more than happy to point you out in the right direction to let you see the more offbeat LA.
"Los Angeles Is Like A Beauty Parlor at The End of The Universe."
– Emily Mortimer
All photographs credit: Daniel Will Harris