Delicious food, wine, culture, history, outdoor adventures and nature: here is my ultimate Winnipeg travel guide!
Ultimate Winnipeg Travel Guide!
Winnipeg was once open prairie land, a region that aboriginals used as a trading center long before the arrival of Europeans. Situated at the bottom of the Red River Valley and Assiniboine River, Winnipeg's landscape is still as beautiful today as it once was. Named the "Chicago of the North", just 70 miles north of the US/Canada border, Winnipeg is a gateway into western Canada.
The name "Winnipeg" derives from the "Western Cree" words for "Muddy Water".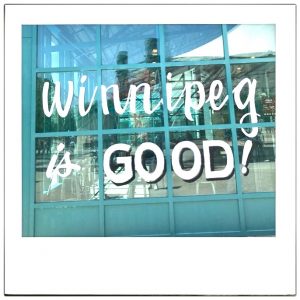 Winnipeg is the capital of Manitoba Province, the 7thmost populated municipality in Canada. It is an unassuming small town often overlooked by tourists visiting Canada. These are the types of destinations I prefer to visit. It was the solo weekend getaway I truly needed for mental and physical rejuvenation away from the United States. And what a refreshing trip it was – the perfect weather in May, a Nordik Spa day, boutique hotel on the waterfront, farm fresh restaurants, crisp micro-brews, friendly people and a nourishing cultural immersion.
WINNIPEG NAMED AS ONE OF THE "BEST TRIPS ON EARTH" by National Geographic
Canadians are known to be friendly people and that stereotype certainly held true throughout my week and a half trip in both Winnipeg and Calgary. Named by National Geographic as one of the "best trips on earth", I would recommend at least 3-5 days in Winnipeg. A city filled with culture, history, nature, perfect for ice hockey-lovers, a vibrant food & night life scene and some of the friendliest people around.
Chat with any of the locals raised here and you will truly feel their deep love for this part of the country. While some people leave for college, most do return home. There's no place like it they say. One resident told me, "We Winnipeggers have a special bond here, we survived the winters together." It's a small town with only 812,000 population that most people claim they are separated with one another by only one degree.
LANGUAGE
Canada's 2 official languages are English and French but English is the predominant language in Winnipeg making it easier for American travelers.
A LITTLE HISTORY ON WINNIPEG
Winnipeg is on the eastern edge of the Canadian Prairies in Western Canada and is known as the "Gateway to the West". The region was once a trading center for aboriginal peoples long before the arrival of Europeans. French traders built the first fort on the site in 1738 which resulted in founding St. Boniface (the only predominantly French-speaking neighborhood in the city).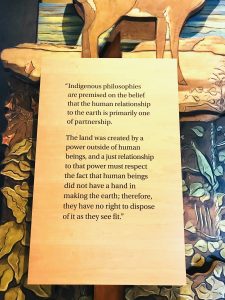 Winnipeg has the largest "First Nations" population in all of Canada. "First Nations" refers to the Indigenous people who were the original inhabitants of the land. Like the Native Americans, they have suffered tremendously at the hands of foreign invaders taking over their land. The Canadian government, especially under the recent leadership of Justin Trudeau, has been implementing initiatives to repay and restore the atrocities to the First Nations people. This includes rehabilitation programs, job training, housing grants and more.
Winnipeg is a land of diversity. Once a prairie, now an up and coming city with a multi-cultural background. There are a large population of Ukranians, many who came to work on farms. In the International district, there is Saigon Park, as well as beautiful graffiti art honoring all the other recent immigrants and their respective countries that reside here including those from India, Vietnam, Phillipines, Poland and others.
THE BEST TIME TO GO TO WINNIPEG
Winnipeg truly enjoys four seasons. The winter sees temperatures below 0 Fahrenheit and summers close to 80. Due to Winnipeg's northern location, the city boasts 2300 hours of sunlight each year which entails 16 hours of sunlight during the summer months.
Spring/Summer: Being a California girl, I try to travel during the warm season at my destination. On the cusp of Summer, May is the perfect time to visit, with an average temperature of 75-80 degrees. Just warm enough to enjoy the outdoors, go boating, cycling and dipping in the lake.  I also caught the Table for 1200 annual event which is Winnipeg's annual ticketed dinner party honoring design, art, culinary specialties while giving back to special causes. Each year, the attire is all-white which makes for beautiful photography. Delicious food and copious amounts of wine are provided along with global music by a French DJ.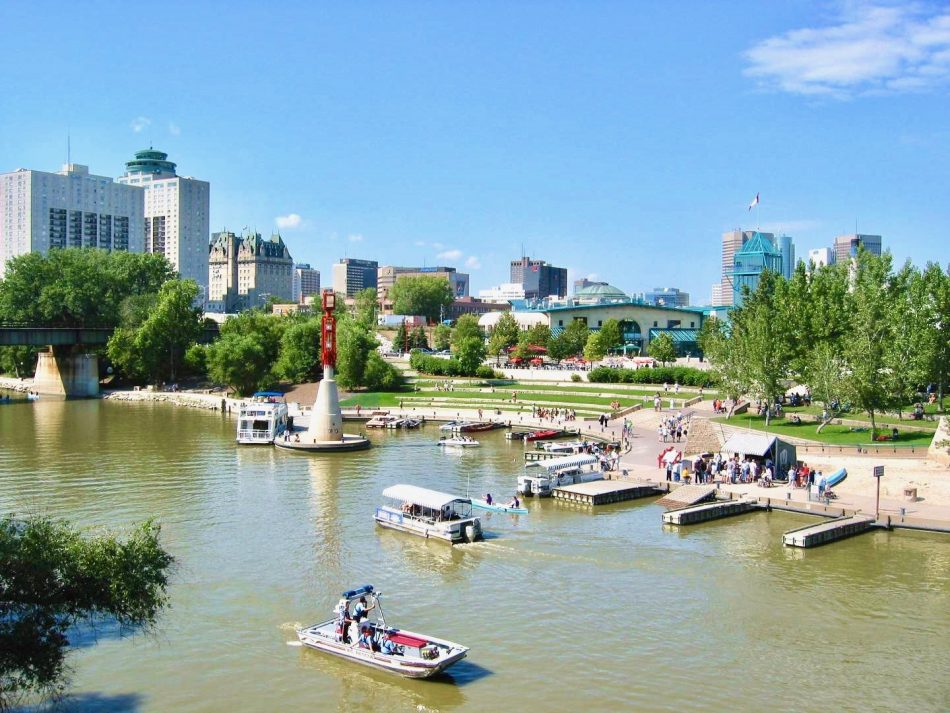 ICE SKATE & PLAY HOCKEY IN THE WINTER!
Arctic Glacier Winter Park at The Forks includes close to 1 mile of skating trails and fun activities for the family. Snowshoe by Moonlight and enjoy eating syrup with the fresh snow. Enjoy the beautiful Christmas Decorations.
WINNIPEG REAL ESTATE
A gateway to west Canada, Winnipeg is a thriving, growing and vibrant city in the heart of the country. Hint hint: maybe a good place to look at for various real estate investments. Downtown Winnipeg has seen over $1 billion in private sector investment in the past few years. With affordable housing prices, businesses from neighboring Canadian states have been moving here. And one thing was agreed upon by many I talked to of all ages: it's a great place to raise kids.
BEST HOTEL TO STAY IN WINNIPEG
Mere Hotel is located on Waterfront drive. Modern, simple, beautiful, new, chic boutique hotel in downtown Winnipeg's hip and vibrant Exchange District. Central to everywhere you need to go and right on the water.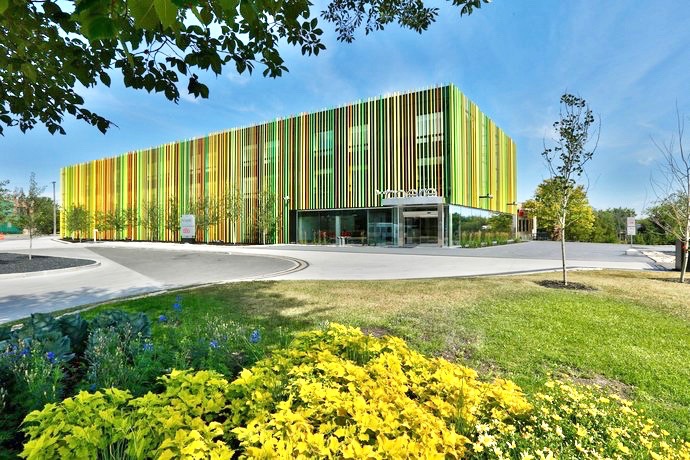 RELAX AT THERMËA SPA
Located next to the Crescent Drive Golf course, this Nordik spa is just a 25 minute drive from Downtown Winnipeg. Thermëa is the perfect spot to relax in the late afternoon well into the late evening. Thermëa is a form of mini-paradise. Spas include 6 Thermal pools, Finnish Saunas and Luxurious Steam Rooms. Want to splurge a bit? Book a Massage or Body Treatment by one of their professional masseuse! The best part is their restaurant, Restö, where you can enjoy a savory meal in your bathrobe. The best part? Features a full bar where you can enjoy wine and cocktails at the spa.
Visit the Tourism Winnipeg Website for a full calendar of year-round festivals, art, museum, restaurants, sports games and cultural events: TourismWinnipeg.com.