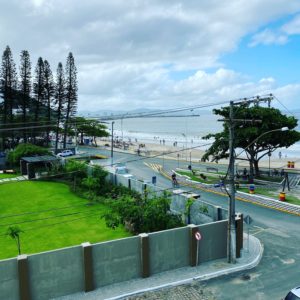 I departed Nova Petropolis at 6:30 am. There were so many more things to see in Rio Grande do Sul, of that I was sure. But I had to get on the road, appreciate the tight curves and tailgaters for one last time. The nearly two hour drive back to the airport in Porto Alegre was relatively uneventful, fortunately.
I'd chosen to fly with Gol for my entire trip, though I realized after I bought my tickets that it might have been better to mix up my airline choice just a bit, not least of all because there were no direct flights between my destinations. My flight that day took me through Guarulhos, the international airport in Sao Paulo.  I had nothing against Guarulhos, but the extra leg added a couple of hours to my total travel time.
The second stage of my travels took me to the state of Santa Catarina and its capital, Florianopolis. An uneventful series of flights put me in on time. The airport was modern and pleasant, with bustling stores and restaurants. Around the airport, green mountains rose into the shimmering blue sky. It was nearly 1 pm when I got my rental car and started my journey to Itajaí, my homebase for the next few days.
My route took me through downtown Florianopolis, which reminded me a bit of Rio, with its mountain views and ocean access. The traffic remained heavy throughout my journey, which took me up the coast, through industrial and retail areas.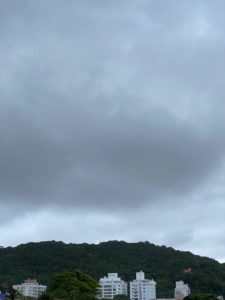 Clouds gathered overhead and a light rain began to fall. A traffic accident delayed my arrival by nearly 40 minutes. By the time I got to Itajaí it was after 3 pm. I don't quite know what I'd been expecting, but what I found was a large, bustling city, with skyscrapers and wide streets. I'd determined to stay near the ocean, in the relatively quiet neighborhood of Cabecudas. Hidden from the city by a series of tree-covered mountain ridges, the neighborhood was filled with low-slung homes and a narrow beachfront.
I stayed at the Hotel Marambaia, a pleasant yet dated hotel, where all rooms overlook the water. Once I'd settled in, it was nearly 4 pm. I realized on my flight that I'd made a bit of mistake on this leg of the trip. Like my stop in Rio Grande do Sul, I'd wanted to get off to a fast start and head out to a distillery.
But, given that the distilleries I wanted to go to were more than an hour away and that it was so late, I didn't really think it was worth my time to make the drive. Instead of despairing, however, I determined to enjoy myself in front of the beach.
I walked along the sidewalk as beach-goers, purveyors of sunglasses, and various and sundry dogs made their way past me.  The beach was so narrow that the relatively calm waves made it almost all the way to the sidewalk. The day had become overcast, but was still pleasant enough.
There were plenty of restaurants tucked in beside a main road that ran one way from right to left along the beachfront. I wanted to get some writing in again and wasn't looking for a place that was particularly crowded. I found that Restaurantes Brasileirinho fit that need well. It wasn't remarkable besides its central location and raised veranda.
I looked for cachaça on the menu, as I had during my previous stops in Rio Grande do Sul. But it wasn't there. However, the waiter assured me that they had artisanal cachaça straight from Luis Alves (where I'd be going the next day). He even brought me a sample to prove it. The cachaça, which came from a large bottle or garrafão was fine for what it was. But rather than ask for another dose, I ordered a caipirinha as well as a hamburger. The restaurant was practically empty, but provided a nice view of the gray ocean, as well as the mountains that rose around us.
I sat for several hours, people watching, until I realized how tired I was. Travel had worn me out, plus I really missed my family. It wasn't late by any means, and it was nearly Saturday night. I should have wanted to get out and explore the city. But all I wanted to do was rest.
The next morning, I was up early.  The beach was quiet as I made my way down for breakfast, a solid spread with plenty of fruit, eggs, sausage, sandwich makings, cakes, juices, and good coffee. It was a Sunday, which is normally a pretty strict day of rest in Brazil. But there was one distillery that would be open in Luis Alves, and I wanted to see it.
The town of Luis Alves is a well-known producer of cachaça in the state. Multiple distilleries in the area make it a destination for those who are looking to try various artisanal cachaças.
It was about an hour drive along the practically empty two-lane roads. Once I made my way into the center of Luis Alvez, I wasn't disappointed that I  had decided to stay in Itajai, despite the distance.
Bylaardt distillery appeared out of nowhere, a large sign announcing its presence along the side of the road. It was barely 9 am, so the parking lot was empty. Though because it was only open for two hours on Sunday, I was quite certain that others would be there soon. The distillery was set amidst the mountains, a series of white buildings, including a private home, dotting the fenced-in land.
Márcio Bylaardt, the owner, proprietor, and third generation producer of his name-sake cachaça entered the store not long after I'd gotten there. I told him who I was and a little bit about what I was doing. The first thing he did was to offer me a sample of his 18 year oak-aged cachaça.
I don't pretend to be an expert on distilled spirits, though,obviously, I'm learning quite a bit. However, one thing that I can say with certainty is that this 18-year-old cachaça is among the top that I've ever had.
The distillery works exclusively with oak and producers 5, 10, and 18 year old cachacas, creating nearly 2,000 liters per day. They produce year-round and focus on their consistency and quality. In addition to the cachaça, they produce about a dozen liqueurs.
Márcio is an interesting man with an interesting approach to his cachaça, which might put him somewhere outside of the mainstream. He makes an exceptional product. For Marcio, being an excellent producer is all he needs. He doesn't advertise. He doesn't participate in the big cachaça competitions such as the bi-annual Cupula da Cachaca, which was happening during the time I was there.
He's confident in what he does and lets the product speak for itself. And indeed, the distillery seems to be doing well. While I was there, at least a half dozen groups came in to make purchases. They even fill garrafãos for their regulars.
Márcio took me back through the aging area, even showing me barrels with 30 year old cachaça, which they are likely to release in the next couple of years. It was a really special tour, and when we were done, because the distillery was getting ready to close for the day, he invited me back to show me the actual production process. I immediately accepted, because, despite having seen the production equipment in other places and understanding a bit about the process, I'd never actually seen cachaça being made before.
I thanked Márcio for his time and left. I thought about eating lunch in Luis Alvez, but because it was Sunday, everything was closed. There were few people walking on the streets. Instead, I thought, since I was staying near the beach, I might as well go back and enjoy it a little bit.
Back in Itajaí, people crowded Cabecudas. Every inch of the narrow inlet held a towel or a chair or people playing beach tennis. Since there was no place for me to lounge on the sand, I decided to hit another restaurant. Rico Bar was about the same quality as the previous one, and I ate lunch there and drank beer.
I was there for a couple of hours when it began to rain hard. Everyone from the beach stormed inside, screeching and looking for a place to get dry. The rain didn't let up for quite some time, quickly filling every flat part of sidewalk and road.
I didn't lament the rain. I embraced it. I kept my table and kept watching the circus until late in the afternoon when the rain had finally stopped and the locals and tourists began to head back to their respective lodgings. Not long after that, I paid my bill and headed back to the hotel for a good night's sleep.