It was late afternoon when I left Weber Haus. On the twisting roads, cars tailgated me. Geez, I get it. You guys like to go fast around tight curves. Small towns appeared, seemingly out of nowhere, with homes and other buildings popping with bright pastel colors. Unfortunately, I couldn't much turn my head to get a clear glimpse at most of these places, because if I had, I probably would have either gotten rear-ended, or run off the road.
It was around 5 pm, when I made it into Nova Petropolis. I'd chosen the town as a base almost at random. Of the four distilleries I planned on going to, the town seemed like it was within striking distance of them all. The main street was quiet as I pulled in, small shops and restaurants silent. The sun was still up in the sky, though beginning its descent. It was still summer, after all, and there would be another few hours of daylight, for sure.
I'd booked a room at a pousada or inn, not more than a few blocks off the main road. That street was lined with a few shops and relatively small apartment buildings. Children played in a park a block away as parents sat chatting on park benches.
The proprietor at Pousada Serrana was a young man of not more than thirty. He collected my information, paused for a moment, as he looked at my Brazilian identification, and said, "You're American?" He tossed a few English catch phrases at me and then added that there was a gentleman who had lived in the US for decades and had retired to Nova Petropolis. He would be very interested in practicing his English with me. I told the proprietor that I'd be happy to meet with him. The proprietor smiled and offered me an "upgrade", which I found out simply meant that instead of a twin bed, I'd have a full.
While I unpacked, I felt a hunger pang. I hadn't had anything since that morning when I'd bought pao de queijo and eaten it on the plane. It was then almost 6. I realized that if I didn't eat soon, I'd go on a rampage and destroy the quaint, if uninspired room.
Pushing my way out of the hotel, I caught the proprietor standing outside on the quiet street, examining his phone. I asked for tips of places to eat. Google had told me that few restaurants were open, but I knew that, in a small place like this, locals likely had more insight than the internet.
He pointed me in the direction of a coffee house, which didn't sound horrible, but was not what I was in the mood for. I was on a trip exploring cachaça, damnit. I wasn't going to a coffeehouse. I needed a bar.
I walked to the main street, past an empty lot and a chic hotel that was closed. There appeared a European-looking castle. I realized, quickly, that this German-style building was now home to a shopping mall called the Galeria Imigrante, which also appeared closed.
Hunger gnawed at me. Desperate, I found myself looking for any indication that any food-serving establishment was open. I stood on the corner by the mall observing people in an elevated building across the street. I'd found my place.
I scampered across the car-less street and entered Simba Sports Bar. Internacional, a soccer team from Porto Alegre was playing in the state championships and a number of groups huddled around small tables, pints of beer in front of them, watching the match.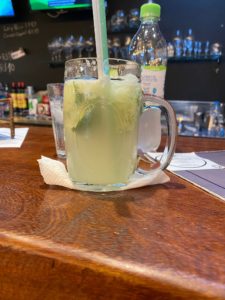 I opened the menu as I sat down at the bar. I scanned the drinks and realized that there was no cachaça on the menu. I take that back. There was cachaça, but only if one ordered a caipirinha. With no alternative, I ordered one from the barman, as well as an order of chicken tenders, since the menu seemed to consist primarily of items that would be good for someone who didn't have lactose intolerance like me.
The caipirinha came rather quickly. It was sweeter than I'd hoped for. It took about 45 minutes for those chicken strips to come, though the soccer match was sufficient entertainment. The tenders were hot and covered in batter, but all in all, satisfied a hungry man.
The football game ended in a tie. The bar emptied. I was the last patron there, and realized that I should pay my bill. I did and headed back to the pousada.
What a day it had been. I felt tired, but knew that I would be up early. I wanted to get on the road to Casa Bucco so I could be there when it opened. I needed a good sleep. But when I walked through the door of the inn, an older gentleman was sitting in the reception area. I knew immediately that this was the man the proprietor had been referring to.
His name was Hans, and he had been an immigrant to Brazil from Austria during World War Two. His parents had, after a few years, decided to move to the US. He'd lived there for a great portion of his life and had married and raised a family there. He'd been a bus driver in Minneapolis for over 40 years.
When his wife had gotten Alzheimer's, they'd moved to Brazil because they'd been able to get access to medications they couldn't in the US. But in the end, as we all do, she succumbed. Despite living alone in Nova Petropolis, he said that he quite enjoyed himself. He even had a small cabin about 30 km away from the city which he said I should visit if I had time.
We spoke for more than an hour, and by the time 9:30 rolled around, I could feel sleep calling me. We bid each other goodnight and promised to meet again, though we would not. I headed off to bed, knowing that I had 10 days of activity ahead of me and needed all the rest I could get.