Heli-Skiing: An Incredible Way to Experience the Andres Mountains
"Never Summer" is a motto for some of us winter sports enthusiasts, and if you're like one of us, heading to South America in the summer is the perfect way to scratch your "winter sport" itch.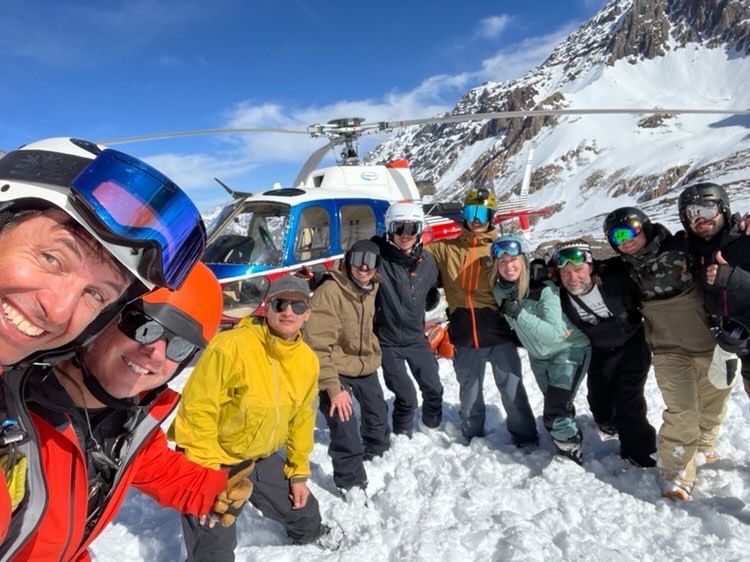 Ski Trip in Chile
I planned a ski trip to Chile in August 2022, which was incredible. The highlight of the trip was, of course, heli-skiing. Although we tried to heli-ski at Ski Portillo (a resort northwest of Santiago), it just didn't work out.
And luckily, there was a slot open to heli-ski at Valle Nevado after I called and begged for days. The person who answered the phone casually agreed to let us join another group going up tomorrow and gave us some info.
In the morning, we drove up the mountain pass and met up with the others in the group, all from North America. After a short safety debrief, we fitted our airbag backpacks, beacons, shovels, and probes.
Our helicopter pilot was Yuri Cordeiro from Brazil – who we also found out was a skydiving enthusiast like me and had hundreds of jumps under his belt. The guides were Claudio Iglesias and Gaston Ortiz de Rozas. Claudio is a local legend in Chile, and he's been running the heli operation there for many years.

Yuri and Gaston
Skiing in the Andes is another otherwordly experience. The sheer size of the mountains is breathtaking, but almost all skiable terrain is above the tree line. This means that the runs are wide open, except for the sharp rocks that seem to come out of nowhere.
Our First Run
Our first run was at a shallow angle and mellow as the guides assessed our capability to ski and ride. The other members in our group (Takis and his dad) were experienced skiers and had no problem skiing expert turns. We all took turns one by one and slashed fresh powder down to the bottom of the gully.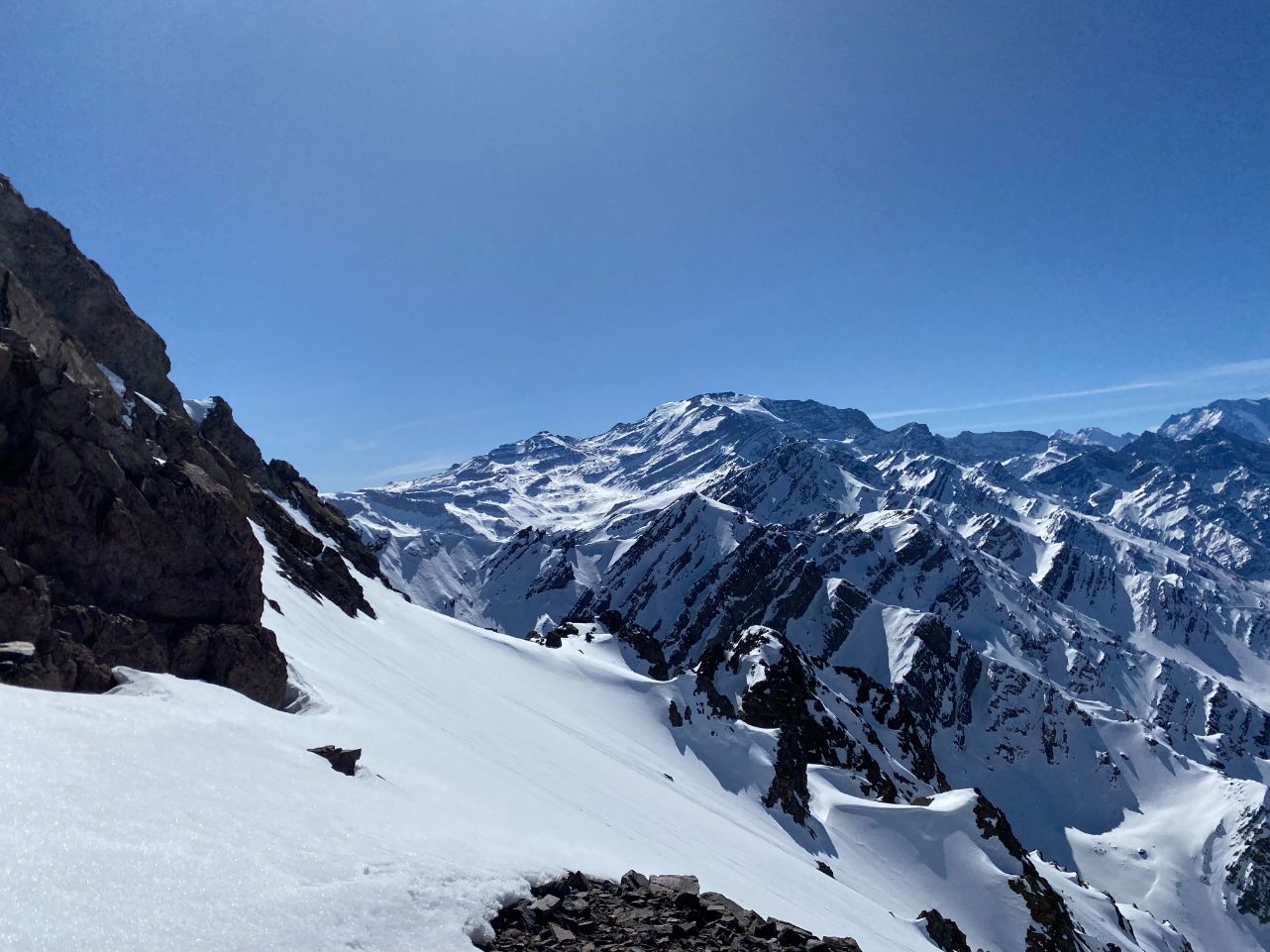 Our Second Run
On our second run, we realized that we would all suffer many core shots on our boards and skis. Even though it was their best snow year in a decade, there were still many rocks, some visible and others just underneath a thin layer of snow. We skied through a medium-sized chute and met at the flat area about 2,000 feet to eat lunch and talk about the rest of the day.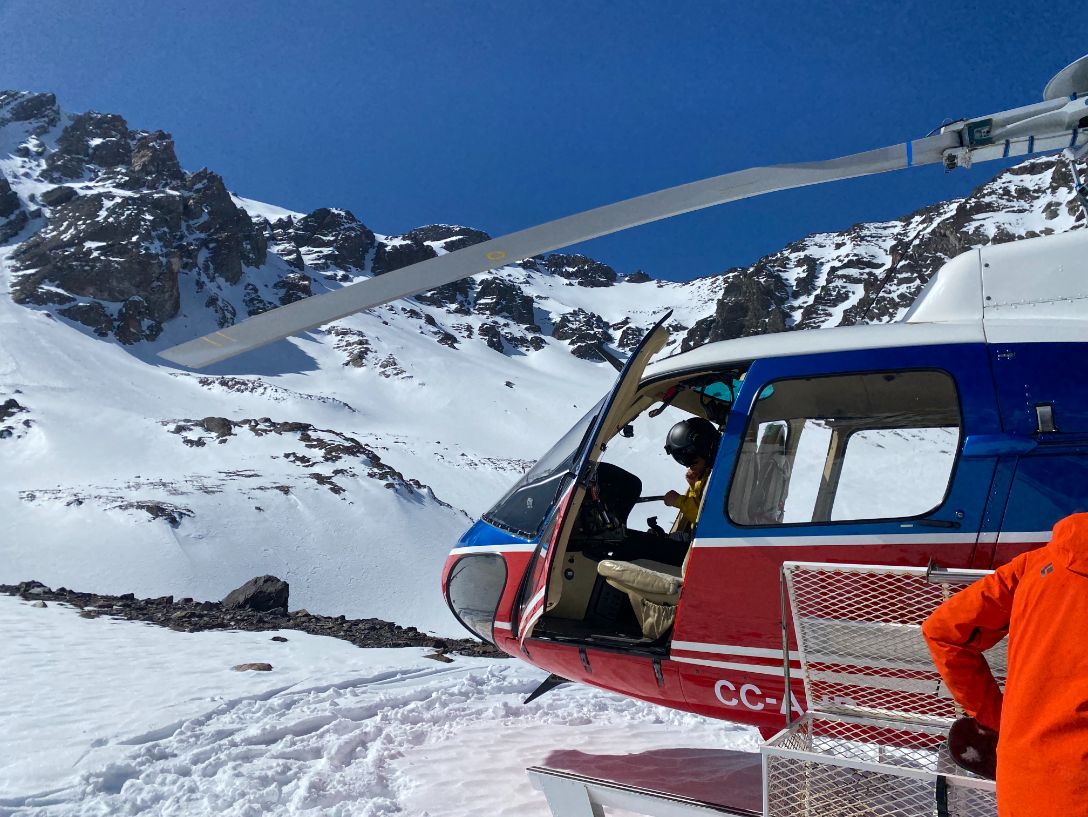 Our Third Run
Yuri dropped us off at the very top of a mountain peak. It was a wide-open bowl with untouched powder, and we were thrilled to take our turn. The run was about 3,000 feet, and a smooth ride with a few rock bumps here and there. Toward the bottom of the bowl, the snow crusted out a bit.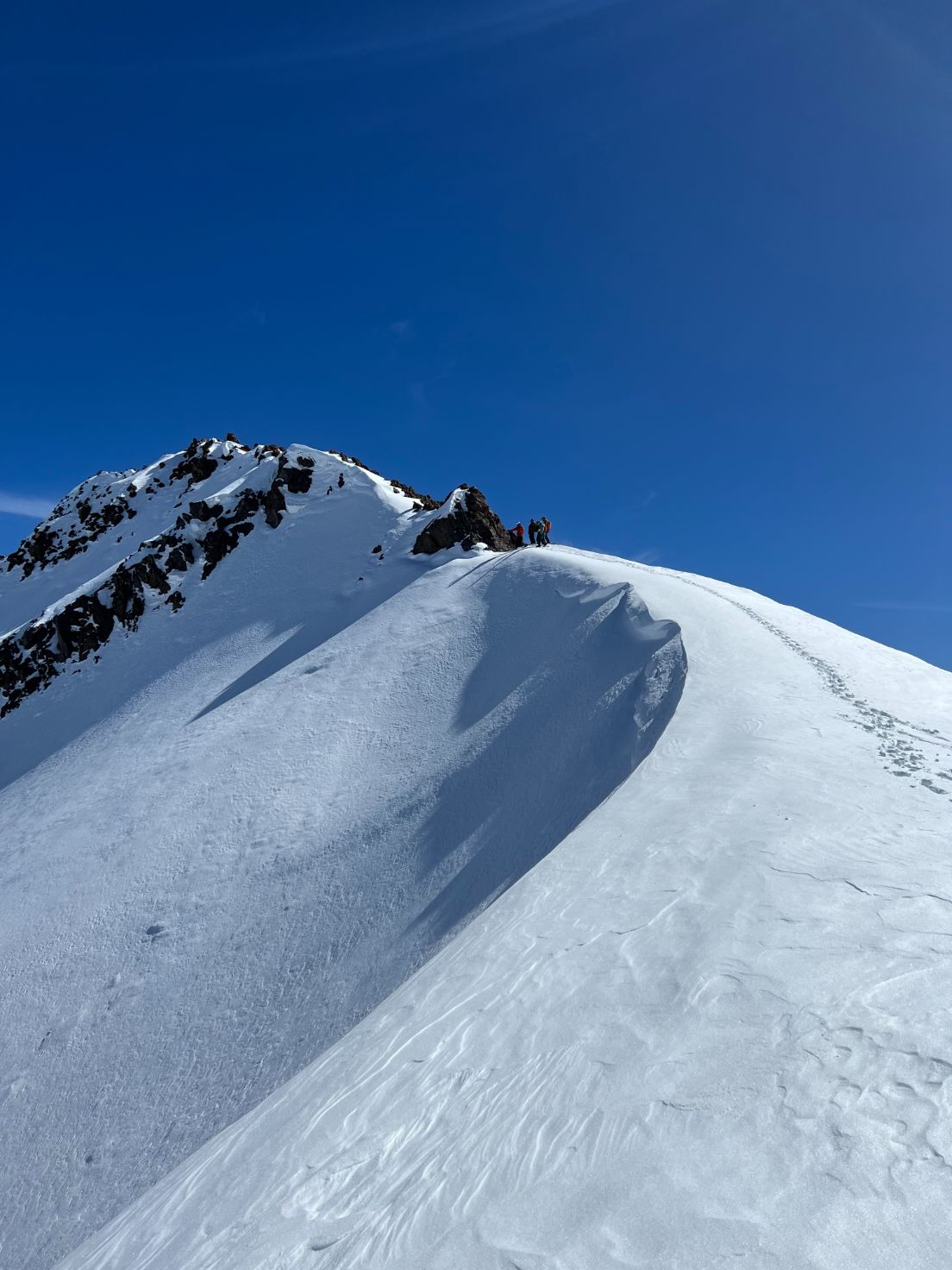 Our Fourth and Final Run
Claudio and Gaston asked if anyone wanted to ride alone in the helicopter, and I volunteered. Due to the elevation and weight, we had to break up our groups into three.
Claudio and I rode up with Yuri. Claudio pointed to a narrow mountain chute during the ride up and said that's where we were heading. My heart sank a bit – I'm still new to snowboarding (4 years) and was a bit nervous! I ducked down and exited the helicopter while Claudio passed bags and gear to me. I drank in the views at the top until the rest of the group got rides up to join me.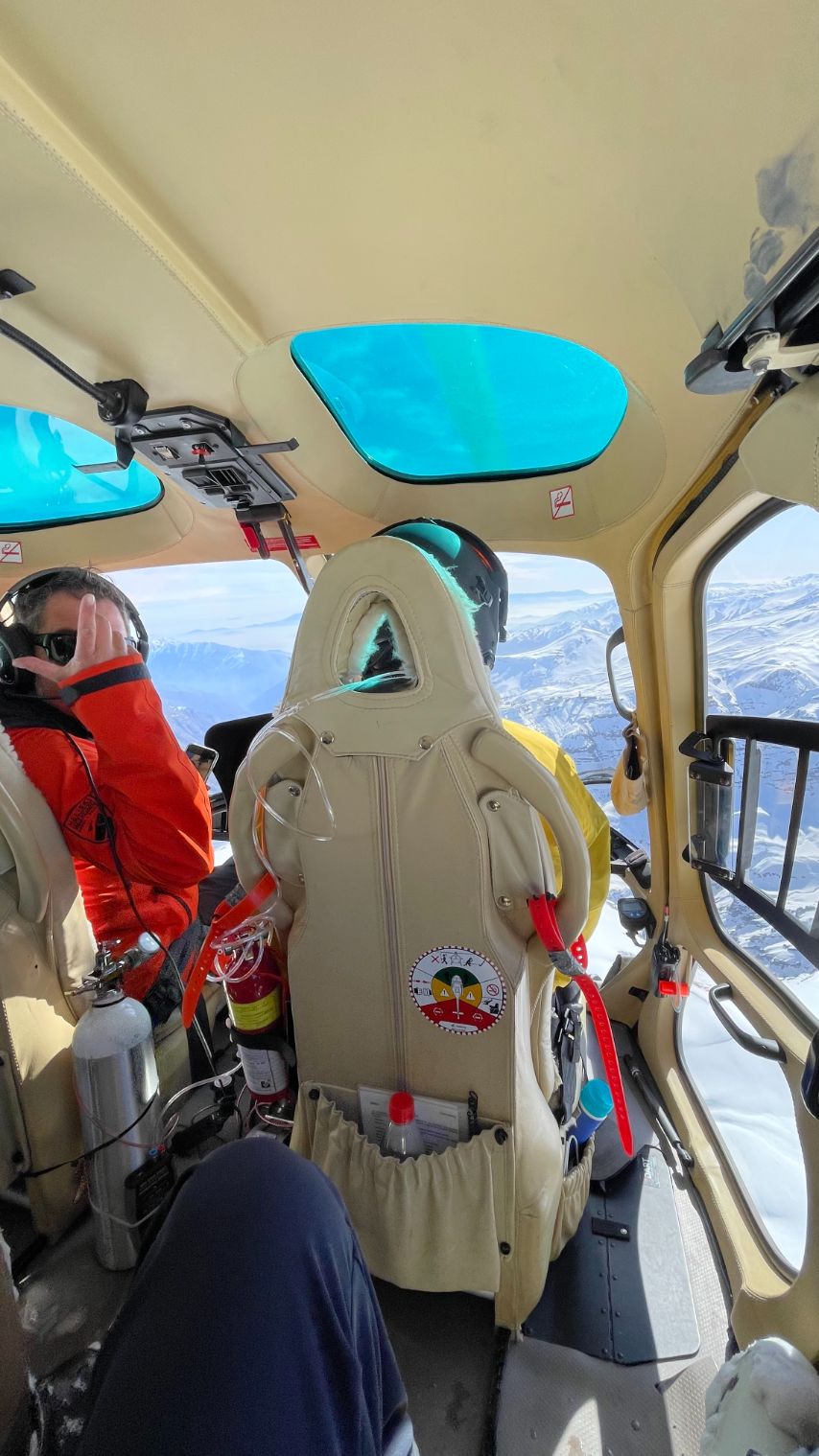 Gaston emphasized the importance of making reserved and controlled turns down the chute. Because I hadn't been the first down any of the runs yet, the guys all agreed to let me go first. With a little push from Jesse, I started descending this narrow chute, and honestly, it was alright. It was one of the best runs of my life.
Toward the bottom, I waited for the group and filmed them all skiing by me one by one. We all gathered together and rode back to the helipad.

The fourth run – see that skinny chute? We did that 🙂
Apres Ski
Heli-skiing is an incredible bonding experience. The exposure and adrenaline are something intimate and incomparable. When you experience an adventure like that, you make lifelong friends. After our adrenaline rush, we all met up for apres and drank until the sun went down. Saying our goodbyes, Jesse and I drove back to Santiago.
Our friend Caleb, from our Chile trip, recently visited Jesse and me in Jackson Hole, WY. We wanted the trip to be another incredible experience for him since he lives in Georgia and doesn't get spoiled by as much snow as we do. We took him on a boot pack up Mt. Glory in Teton Pass and skied 2,800 feet down to the Coal Bank parking lot. It felt so rewarding to meet up with a friend again that we share that same interest and connection and our little slice of heaven here in the Tetons.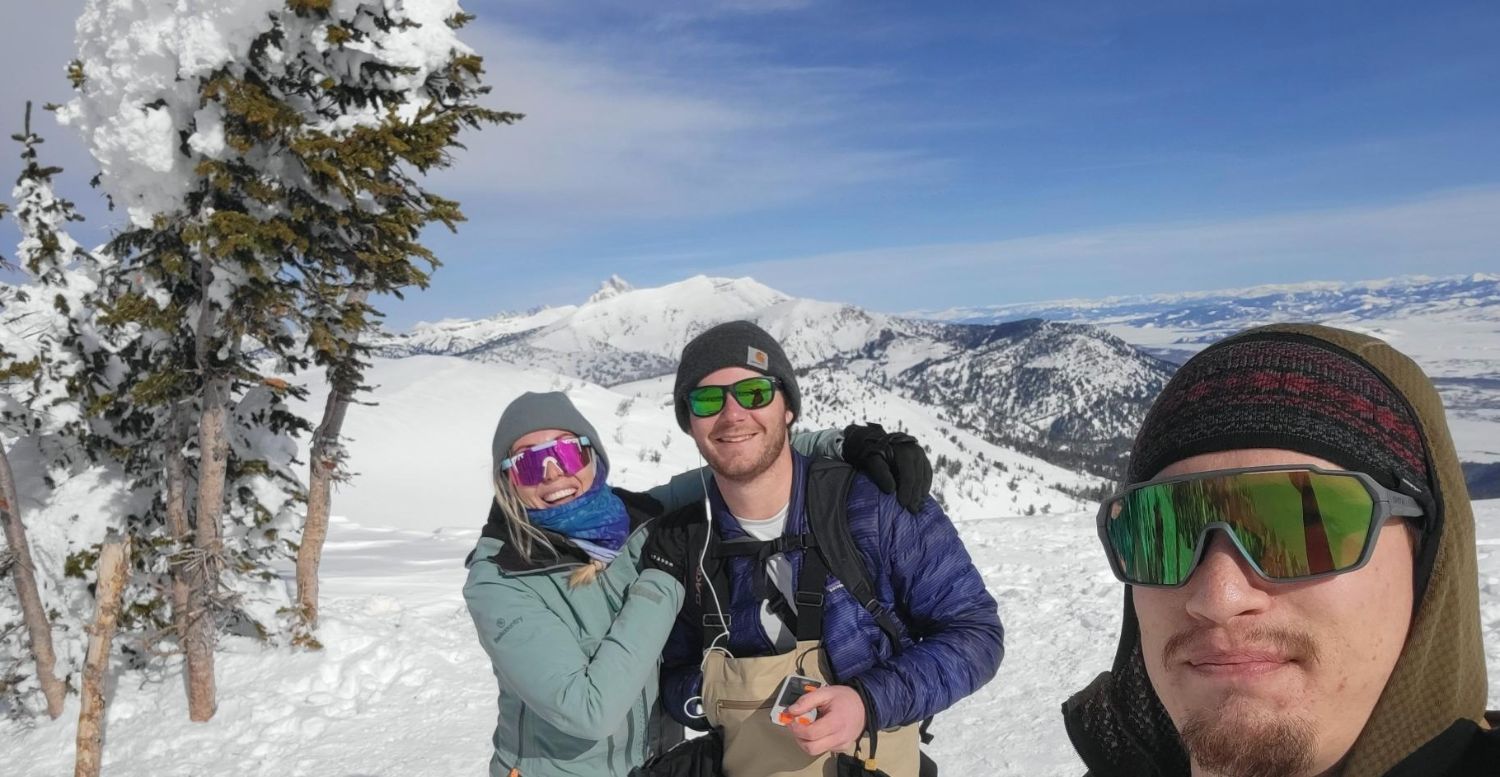 Caleb, Elizabeth (Author), and Jesse (black and red headband)
Quick Facts:
The helipad is adjacent to the main area of Valley Nevado ski resort, so it's easily accessible.

Valle Nevado guides have access to over 22,000 acres of skiable terrain. 

Price: $1,300 for the entire day as of 2023 (about four runs)
If you find yourself dreaming of a ski trip to Chile and start planning it, don't leave out a heli-ski trip at Valle Nevado – you won't regret it.