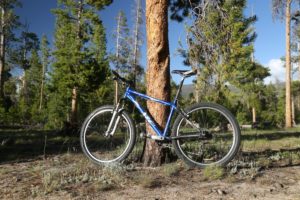 Preparing for your first camping trip is undoubtedly exciting. However, don't forget to plan ahead for what activities you will be doing. This last thing you want is to get bored because you didn't pack the right equipment!
Luckily, there are limitless possibilities to choose from. No matter what age group, there are different options that everybody can enjoy.
Below we are going to take a look at twelve fun activities for your first camping trip.
Sound interesting? Then let's get started!
Fishing
Camping and fishing always go hand in hand, and you don't need to be an expert to get started. You can pick up affordable fishing poles just about anywhere, and applying for a license is usually an easy process.
Just make sure that you have some general knowledge first so that you know how to get started. If you're lucky, you may even be able to take your catch back to your campsite and grill it for dinner. It doesn't get much better than that!
Hiking
If you really want to experience everything that nature has to offer, hiking is one activity that has to be on your list. You'll be able to experience absolute peace, all while getting in an excellent workout.
You do, however, need to be careful. When hiking, you'll have to follow a few safety tips: Some of which include:
– Only hike to your capability.
– Avoid hiking alone and stick to the designated trail.
– Bring a paper copy of a map.
– Check the weather forecast in advance.
– Wear appropriate hiking gear.
– Pack water and rations.
Want to learn more critical advice? Check out these great camping tips and tricks for more information.
Swimming
Obviously, one of the most fun activities to do if you are camping near water is to go swimming. So remember to pack plenty of sunscreen, a swimsuit, and a towel.
Alongside being a great way to unwind after a long day, it may also become your new way of "taking a bath." Unfortunately, some more deserted campsites will not have shower facilities.
Water Sports
If the weather is nice and you're willing to do a little more than just swimming, you might also consider trying out a few water sports. These include things like:
– Canoeing or kayaking.
– Bodyboarding and surfing.
– Snorkeling.
– Paddleboarding.
Depending on where you are staying, some campsites will not only hire out gear but give you lessons so that you can have as much fun as possible. Although, you can save money by bringing along your own equipment.
Campfire Stories
Sometimes, after a long and busy day, you just want to relax near the campfire. After all the action, end with some music, games, and storytelling to prepare everyone for bed.
Don't forget to bring a bag of marshmallows too! Roasting them around the fire is one camping tradition that everyone has to get involved in. If you want to go one step further, you may even make some smores too.
Geocaching
Geocaching is a type of treasure hunt that uses GPS. Containers called (caches) are hidden around the world and marked by coordinates.
While you're on your camping trip, it's worth downloading the app and seeing if there will be any near you. It makes for a great activity, and you can even bring items to trade inside the cache.
Cycling
If you're not a fan of hiking, another one of the most popular activities that many campers participate in is cycling. There are so many great trails around the US to choose from, and each of them has different difficulty levels.
If you don't own a bike, you may be able to hire one from the campground. Just make sure you do a quick google search online first.
Shelter Building
Have you ever watched an episode of a survival show and wondered how you would do? Well, now is your chance! With all the natural resources around you, you and your friends can have a go at creating your own shelter.
To make things more interesting, you could even divide yourself up into teams and set a time limit. The best one wins!
Star Gazing
Our galaxy is certainly incredible. If you live in the city, you might not get the opportunity to see how beautiful the night sky really is. Therefore, star-gazing makes for an excellent activity to add to your trip.
While you can choose to do it without anything, if you have time, it's worth investing in an affordable telescope. You would be amazed at what you can discover, even without any previous experience.
Check out these stargazing tips for more information on getting started.
Bird Watching
The great outdoors is full of incredible wildlife, so why not take the opportunity to see what you can discover. Birdwatching is an excellent activity for campers, as you get to see how many unique species you can cross off your list.
You don't have to limit yourself to just birds, though. From tiny insects to bigger critters, including rabbits and deer. It's incredible to see them thriving in their natural habitat.
Tree Climbing
You're never too old to climb a tree. If you want a thrilling activity to make you feel like a big kid, see what you can find by reaching new heights.
Keep in mind that you will always need to be careful. Since tree climbing can be dangerous, it's always wise to have a friend nearby in case of any accidents.
Children's Games
The classic children's games are often the most fun, and you don't need to be a kid to get involved. Hide and seek, a scavenger hunt, capture the flag, and even basic tag are all wonderful options.
Alongside this, you can always make a competition out of it. The winning team could get the night off from any chores.
Final Words
And that's it! These were twelve activities that are perfect for your first camping trip away. Always remember to stay safe, and most importantly, have fun!