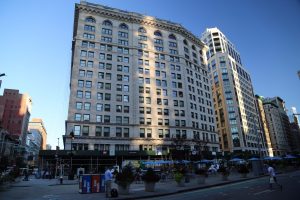 New York City has become famous for several reasons. The Statue of Liberty, Madison Square Garden, and the famous New York pizza are just some of the attractions that come to mind.
The truth is, the city known as "The Big Apple" has so much more to offer. If you're planning a vacation or a quick weekend getaway, below are some of the activities you may consider adding to your itinerary.
Enjoy a Boat Ride Around Manhattan
There's no question that New York City has a ton of spectacular views to captivate you, and one good way to experience its beauty is via a boat ride around Manhattan.
The good news is you've got a lot of options to choose from if you decide to go this route. There's the hop-on-hop-off all day boats, single ride tourist boats, sailboats, and speed boats.
You also have the options for music cruises and nighttime rides if you want to see what New York looks like under the moonlight. If you're short on budget, there are also free boat rides available, including the famous Staten Island Ferry.
Take a Walk Around Central Park
At 843 acres, one can only imagine how massive Central Park is. Unlike other parks, however, there's more to it than just lawn and trees.
The wide-open spaces, beautiful ponds and lakes, magnificent sculptures, and a fantastic zoo provide visitors more ways to enjoy Central Park. If you have kids, there's a century-old carousel waiting for them.
Experience a New York City Scavenger Hunt
Touring New York City can be tiring as you hop from one place to another, but you can spice things up a little by incorporating a scavenger hunt.
Fortunately, companies like CityHUNT exist to make this happen. By customizing scavenger hunts according to your preferences, you and the rest of your family and friends will find exploring New York even more exciting.
See a Broadway Show
Another attraction that makes New York so popular is Broadway. With dozens of Broadway musicals to choose from, your family is guaranteed to have a good time after a long day of touring the rest of the Big Apple.
Some of the best shows to watch out for are musical productions of Aladdin, Frozen, and Pretty Woman. A night in Broadway is something the family cannot afford to miss. It's one of those things that you have to see live to appreciate.
Visit the 9/11 Museum
The events of 9/11 are, without a doubt, one of the most tragic in all of American history. As a tribute to the men and women we lost that day, the 9/11 Memorial and Museum was established in their honor.
This spacious plaza located in Lower Manhattan has since become one of New York City's most prominent features, providing visitors a first-hand look at some of the most important artifacts, documents, and films that tell the story of that tragic day.