Snowmobiling Vacation In Montana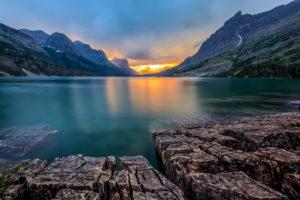 Whether you're new to the sport or an avid snowmobile rider, snowmobiling in Montana is sure to offer you a wealth of enjoyable experiences. You might prefer the thrill of cutting your own trail through freshly fallen snow, or maybe you look forward to a relaxing ride along with renowned scenic natural vistas instead. Whatever it is you're looking for in an outdoors winter vacation, the right gear at Composit Snowmobile Tracks and preparation of Montana's resorts and backcountry can make for some of the most enjoyable riding in the country.
How We Prepared for Our Snowmobile Trip in Montana
Montana State Parks make up a vast 4000 miles of groomed trails open for winter travel and exploration. When traveling along these snowy trails, you are sure to come across isolated areas of wilderness as well as areas shared by other outdoor enthusiasts, from fellow snowmobilers to skiers and hikers. For the best snowmobiling experience, it is essential that you be mindful of others and your surroundings at all times to ensure your own safety and the safety of others.
However, winter offers certain challenges that require snowmobilers to take precautions. Here are a few tips you can follow so that your Montana winter vacation is fun, memorable, and, most importantly, safe.
Protect the Environment
● Pristine natural environments are what make snowmobiling the amazing sport that it is. Don't litter.
● Avoid causing damage to plants and natural features.
● Avoid harassing wildlife. Stay away from areas reserved for the protection of wildlife.
● Regularly maintain your snowmobile to minimize pollution.
Be Mindful of Others
● Be considerate of other outdoor enthusiasts. How you act can affect others' perception of all snowmobile owners.
● Do not violate the personal and property rights of others.
● Do not interfere with other winter sports enthusiasts unless you are certain that they are in clear and present danger.
● When near other recreationists on foot, operate at the minimum speed and only accelerate when you are a safe distance away.
Practice Proper Safety Procedures
● Always be prepared. Don't take unnecessary risks.
● Before every ride, check for the most recent ice and weather conditions so you can ride safely and dress appropriately.
● Never ride when you are under the influence of any substance or lacking sleep.
● Always inform others where you are going. Avoid traveling alone whenever possible.
● Inspect your snowmobile regularly to ensure you avoid equipment failures.
Understand the Rules for Riding on Ice
● Avoid crossing lakes or rivers whenever possible. Drowning is one of the leading causes of death among snowmobile enthusiasts.
● If you have to cross-ice, make sure the ice is thoroughly frozen. Be aware of your machine's reduced traction for maneuvering, and be extra cautious to avoid collisions with other riders on the ice.
● Know what to do when you've fallen through the ice.
Be Avalanche Aware
● Whenever available, review the local avalanche advisory when planning your ride.
● Learn to recognize areas at risk of avalanches and how to safely avoid them.
● Never ride without proper avalanche rescue gear. At the very least, bring a cellphone, a shovel, a probe pole, and a transceiver. Other gear worth considering includes inflatable backpacks, reflectors, and first aid kits.
● Take an avalanche training class. Training will give you an understanding of what effects the weather and snowfall have on avalanche risks and how you should respond if caught in an avalanche.
Best Snowmobiling Trails in Montana We Have Been To
For snowmobiling in Montana, you can access the full Montana snowmobile trail map for an interactive display of all the snowmobiling trails in the State. You'll get up-to-date avalanche advisories and weather updates for each so you can safely plan your ideal snowmobiling vacation in Montana. Below you'll find a list of a few of our favorite Montana snowmobile trails in no particular order. All of which we highly recommend for your next trip.
Seeley Lake/Ovando
The Mission and Swan Mountains of Western Montana offer some of the nicest riding in the State. Here, you'll find vast, scenic expanses of pristine wilderness and groomed trails to satisfy your cravings for exploration and speed. Get trail updates on the Drifters website.
Lolo Pass
The Lolo and Clearwater national forests that grow along the Montana-Idaho border are interconnected by 250 miles of weaving, groomed trails that offer sweeping mountain meadows and challenging backcountry terrain. Afterward, you can relax in the refreshing Lolo Hot Springs. Trail updates available from Missoula Snowgoers.
Kootenai County
Traveling through Kootenai County, you can find a number of scenic trails offering views of the Cabinet Mountain wilderness, taking you across frozen alpine lakes. For a fun ride and a cozy reception, you can ride from Troy to Libby. Get trail updates on the Troy Snowmobile Club website.
Hamilton/Skalkaho Pass
Here, you'll find both groomed and ungroomed trails with varied terrain connected with open areas. This less crowded trail system between the areas of Hamilton and Georgetown Lake is ideal for groups with beginner snowmobile riders and families.
Cutbank/Browning
For intermediate and expert snowmobile riders, this rugged trail system of groomed and ungroomed trails is a favorite for challenging journeys. Popular routes include Pike Creek and Skyland. It's recommended that you take a local guide to avoid the worst hazards of the area's steep slopes and extreme weather. Trail updates are available from Summit Snowgoers.
Haugan
Haugan is an ideal destination for large groups with individuals of differing levels of experience. There are easier, groomed trails like Packer Creek/Randolph Creek, Big Creek, and Ford Hill, and also more challenging trails for intermediate and experienced riders like Milwaukee/Dominion, Taft Summit, and Up Up. Trail updates available from the Montana Nightriders Snowmobile Club.