Natalie Portman and Magic Johnson bring largest youth empowerment event to California featuring Selena Gomez, Seth Rogen and Orlando Bloom
– First-ever We Day California will bring together 16,000 students and teachers on March 26 –
San Francisco, CA – International charity and educational partner Free The Children announced that its stadium-sized youth empowerment event, We Day, is coming to California for the first time on March 26, 2014 at Oracle Arena with the support of Co-Title Sponsors Microsoft, Allstate and Unilever. Selena Gomez, Seth Rogen and Orlando Bloom were among the first revealed as part of the star-studded lineup of speakers and performers who will take the stage at We Day California alongside 16,000 students from over 400 schools across the state.
Organized by Free The Children, We Day is taking the philanthropic world by storm and going global with events in the United States, Canada and the UK. Over 180,000 youth this school year alone will come together to take part in an unprecedented educational initiative which inspires students to become active local and global citizens.
Spearheading its arrival in California are long-time Free The Children supporters and We Day California Co-Chairs, Natalie Portman, and Magic Johnson along with philanthropic thought leaders Jeff Skoll, Founder and Chairman of the Skoll Foundation, Participant Media and the Skoll Global Threats Fund and Daniel Lurie, CEO and Founder, Tipping Point Community. National businesses are also lending support to We Day including Co-Title Sponsors Microsoft, Allstate and Unilever, and professional sports teams including the Oakland Raiders, San Francisco Giants, the San Jose Sharks and the Oakland Athletics.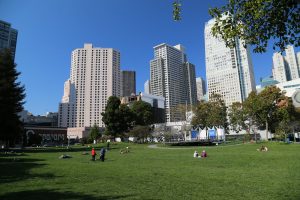 "I believe in the power of young people to change the world, but they need support and guidance to do so" said Natalie Portman, Academy Award-winning actress, Free The Children ambassador and Co-Chair of We Day California. "We Day helps to bring that passion to life, encouraging young people to take meaningful actions towards the issues they care about and giving them the tools to make it a reality. I'm so honored to help bring this truly impactful youth-led movement to the state of California."
The first round of speakers and performers set to attend We Day California was announced today by co-founder of Free The Children, Craig Kielburger. To date, the lineup includes:
· Selena Gomez (@SelenaGomez) – Actress and multi-platinum recording artist
· Seth Rogen (@SethRogen) – Canadian-born actor, writer, director, and producer
· Magic Johnson (@MagicJohnson) – NBA legend, two-time hall of famer, philanthropist and co-chair of We Day California
· Orlando Bloom – Actor and UNICEF Goodwill Ambassador
· Martin Luther King III – Human Rights advocate and eldest son of the late Dr. Martin Luther King, Jr.
· Lauren Miller (@IAmLaurenMiller) – American actress and screenwriter
· Martin Sheen – Emmy® and Golden Globe® Award-winning actor and activist
· Jesse Giddings (@JesseGiddings) – E! News correspondent and Free The Children ambassador
· The Tenors (@TenorsMusic) – Award-winning, multi-platinum vocal super group joined by up-and-coming hip hop sensation, Young Stitch (@YoungStitchSS)
· Craig and Marc Kielburger (@CraigKielburger) – Co-founders of Free The Children
· Spencer West – Me to We inspirational speaker, Free The Children ambassador, author and double amputee who climbed Mt. Kilimanjaro
· Molly Burke – Visually impaired Me to We inspirational speaker, Free The Children ambassador and author, who speaks about bullying and the power of hope
· Hannah Alper – 11-year-old Me to We inspirational speaker, Free The Children ambassador, blogger and youth activist www.CallMeHannah.ca
· …with more to be announced soon
"We are so thrilled to bring We Day to California for the first time. Since 2007 alone, youth involved in the program have raised $37 million for over 1,000 local and global causes and logged more than 9.6 million volunteer hours," said Craig Kielburger, co-founder of Free The Children. "The enthusiasm students across the state have already shown for making a difference here in California and globally is incredible and we can't wait to see what new initiatives will be sparked."
Students can't buy a ticket to We Day; they earn it through service by making a commitment to take action on at least one local and one global initiative of their choices as part of the year-long educational program called We Act. The We Act program supports students and educators with free educational resources, student-led campaigns and support materials to help turn the inspiration from We Day into sustained activation. The program enhances a school's existing service learning initiatives or sparks new ones.
World-renowned leaders and A-list entertainers have added their voice to the We Day movement, coming together to address pressing world issues and ignite students' passion to be a part of the solution. Past of guests of We Day include Sir Richard Branson, Queen Noor, Kofi Annan, Martin Sheen, Demi Lovato, Imagine Dragons, Jennifer Hudson and cast members from Glee, among many others.
About Free The Children
Free The Children is an international charity and educational partner. Founded in 1995 by international activist Craig Kielburger, Free The Children believes in a world where young people are free to achieve their fullest potential, and empowers youth to remove barriers that prevent them from being active local and global citizens. The organization's domestic programs – which include We Day, Free The Children's signature youth empowerment event – educate, engage and empower 2.3 million youth across North America and UK become engaged global citizens. Its international projects have brought more than 650 schools and school rooms to youth and provided clean water, health care and sanitation to 1 million people around the world, freeing children and their families from the cycle of poverty.
The organization has received the World's Children's Prize for the Rights of the Child, the Human Rights Award from the World Association of Non-Governmental Organizations, and has formed successful partnerships with leading school boards and Oprah's Angel Network.
About Dave's Travel Corner

Dave's Travel Corner is a travel content, resource provider and community (founded 1996) providing travel
Guides
written about Dave's personal travel experiences and
Journals
, pages that contain trip summaries and experiences written by fellow travelers. We spotlight locations and attractions with an article linked directly from our homepage including content across our blog, photo and video galleries. We use a combination of social media, written content, photography and videos to promote locations. Not only does the content appear on this site but we have direct partnerships with other well visited travel sites for placement of the content. Since 1996, we have also established hundreds of relevant link exchanges with other travel sites.
Visitors to Dave's Travel Corner will also find thousands of travel related links organized by categories on the
Resources Page
, a
Photo Gallery
containing International travel photos,
Book Reviews
, and
Product Reviews
focusing on products useful for travelers, fully automated
Forums
,
Tour Bookings
offering over 4400 unique tours around the globe,
Interviews
with those making news in the travel industry and
Videos
- specializing in International travel videos as well as home of the
Dave & Jim Show
.
Dave's own travel blog is
Above the Clouds
which focuses on International Travel & Lifestyle.
For information on advertising please choose from a variety of
advertising options here
.
Contributors are welcome

Learn how you can contribute
About

www.davestravelcorner.com/about