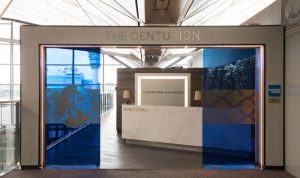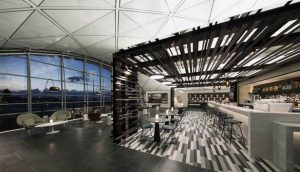 NEW YORK–(BUSINESS WIRE)–American Express (NYSE:AXP) today announced the expansion of its signature airport lounge network, The Centurion Lounge, with two new locations in Hong Kong and Philadelphia International Airports. Hong Kong, which opened in October , marks the first Centurion lounge in Asia, and Philadelphia, opened in early October, marks the 8th U.S. location of this growing network of premium airport retreats.
"We are excited to introduce our first Centurion Lounge in Hong Kong, which continues to be a top destination for our Card Members and an epicenter for contemporary culture"
"We are excited to introduce our first Centurion Lounge in Hong Kong, which continues to be a top destination for our Card Members and an epicenter for contemporary culture," said Janey Whiteside, executive vice president and general manager of Global Charge Products, Benefits & Services, American Express. "We're equally thrilled to expand our offerings in the U.S. with the opening of a Centurion Lounge location in the growing travel hub of Philadelphia. These two new additions to our Centurion Lounge offerings and broader Global Lounge Collection build on our ongoing commitment to provide our increasingly global Card Members with access to premium travel benefits and experiences."
The Centurion Lounge is the signature lounge program within the broader American Express Global Lounge CollectionSM, which provides Platinum Card® and Centurion Members with access to the most lounges across the globe compared to other U.S. credit cards, including access to more than 1,100 lounges around the world, in 500 plus cities, across 120 countries and counting.
The Centurion Lounge at Hong Kong International Airport
Opening on October 2nd, The Centurion Lounge in Hong Kong International Airport is located in Terminal 1. Covering approximately 8,000 square feet, the lounge offers an expansive escape for Card Members to relax, refresh and reboot. The space features a unique selection of premium amenities, food and beverages inspired by the local culture.
Amenities include:
A premium buffet featuring both locally and internationally inspired dishes.
Example menu items include French toast with maple syrup and mixed berry compote, assorted Dim Sum baskets, stir-fried rice with eggs, mushrooms and vegetables, chicken congee, gnocchi with Pomodoro sauce, pan fried sole fillet with caper cream sauce, and vanilla mango panna cotta.
A complimentary full bar with custom cocktails created by renowned mixologist Jim Meehan and wine selections handpicked by renowned wine authority Anthony Giglio*
Private phone areas and a meeting room, plus a workspace outfitted with a computer bar
Restrooms and a private shower suite outfitted with L'Occitane amenities
A private area exclusively available for Centurion Members and their guests, which will offer access to a dedicated Member Services Professional to help with any specific travel, reservation or card services requests
The private Centurion area will also feature an a la carte menu designed by Michelin star chef, Lau Yiu Fai of Yan Toh Heen at the InterContinental Hong Kong.
Chef Lau's menu will offer Cantonese dishes such as baked pork in puff pastry, crispy spring rolls with kimchi and pork, crispy fresh prawns with black truffles, braised wagyu beef cheek and turnip, barbecued pork with honey and steamed rice, and baked egg tartlettes with bird's nest, among others.
The Centurion Lounge at Philadelphia International Airport
In the coming weeks, American Express will open a new 6,300 square foot Centurion Lounge located in Terminal A West of Philadelphia International Airport. In this new lounge Card Members can enjoy amenities including:
An Israeli-inspired food menu designed by four-time James Beard Award winning Israeli Cuisine Pioneer, Chef Michael Solomonov
A complimentary full bar with custom cocktails created by renowned mixologist Jim Meehan and wine selections handpicked by renowned wine authority Anthony Giglio*
Floor-to-ceiling windows with expansive internal and external views
Essentials for business and leisure travelers alike, including dedicated workspaces, power outlets, private phone areas, comfortable seating and access to high-speed Wi-Fi
American Express is excited to partner with Chef Michael Solomonov, the executive chef and co-owner of Philadelphia's pioneering Israeli restaurant Zahav, to bring some of his favorite flavors to The Centurion Lounge in Philadelphia. Some of the items on Solomonov's lounge menu include challah French toast with tehina and blackberries, Israeli salad with feta, kale tabbouleh with apples and pomegranate, Bulgarian kebabs with red pepper and white bean salad, and malabi with coconut and passionfruit.
"We are extremely honored to be a part of the American Express Centurion Lounge family and excited to help make their newest lounge an oasis of hospitality for Philadelphia travelers," said Chef Michael Solomonov. "It's such an exciting time to be a Philadelphian, and I am grateful for the opportunity to show visitors to our historic town what the City of Brotherly Love is all about."
The two new lounges in Hong Kong and Philadelphia are the latest openings in American Express' network of Centurion Lounges, which also includes locations at New York's LaGuardia Airport, Las Vegas' McCarran International Airport, Dallas/Fort Worth International Airport, San Francisco International Airport, Miami International Airport, Seattle-Tacoma International Airport and Houston's George Bush International Airport.
In addition to the new locations, The Centurion Lounge at the Dallas/Fort Worth International Airport will be relocating to a larger space in Terminal D, opening in the first half of 2018. The new space will be approximately 3,000 square feet larger than the original space and will include additional amenities such as telephone rooms, a private mother's room and an additional shower suite.
Access to The Centurion Lounge is complimentary and exclusive for Platinum Card and Centurion Members. Platinum Card Members may enter with up to two travel companions at no additional charge. Centurion Members may enter with their immediate family or up to two travel companions. Platinum Card or Centurion Members may purchase a one-day pass to The Centurion Lounge for additional guests for $50.**
Access to The Centurion Lounge and the broader Global Lounge Collection is among an expansive suite of benefits designed to create a more seamless travel experience for Platinum Card and Centurion Members. The Global Lounge Collection includes access to American Express Centurion Lounges, international American Express lounges, Delta Sky Club® for Card Members flying on Delta, Priority PassTM Select Lounges upon enrollment, Airspace Lounges and MAG U.S. Escape Lounges. Card Members can find a lounge at the Global Lounge Collection website or by using the Amex Mobile app.
Visit http://americanexpress.com/platinum for more about the Platinum Card.
About American Express
American Express is a global services company, providing customers with access to products, insights and experiences that enrich lives and build business success. Learn more at americanexpress.com and connect with us on facebook.com/americanexpress, instagram.com/americanexpress, linkedin.com/company/american-express, twitter.com/americanexpress, and youtube.com/americanexpress.
Key links to products, services and corporate responsibility information: charge and credit cards, business credit cards, Plenti rewards program, travel services, gift cards, prepaid cards, merchant services, Accertify, corporate card, business travel, and corporate responsibility.
About Dave's Travel Corner

Dave's Travel Corner is a travel content, resource provider and community (founded 1996) providing travel
Guides
written about Dave's personal travel experiences and
Journals
, pages that contain trip summaries and experiences written by fellow travelers. We spotlight locations and attractions with an article linked directly from our homepage including content across our blog, photo and video galleries. We use a combination of social media, written content, photography and videos to promote locations. Not only does the content appear on this site but we have direct partnerships with other well visited travel sites for placement of the content. Since 1996, we have also established hundreds of relevant link exchanges with other travel sites.
Visitors to Dave's Travel Corner will also find thousands of travel related links organized by categories on the
Resources Page
, a
Photo Gallery
containing International travel photos,
Book Reviews
, and
Product Reviews
focusing on products useful for travelers, fully automated
Forums
,
Tour Bookings
offering over 4400 unique tours around the globe,
Interviews
with those making news in the travel industry and
Videos
- specializing in International travel videos as well as home of the
Dave & Jim Show
.
Dave's own travel blog is
Above the Clouds
which focuses on International Travel & Lifestyle.
For information on advertising please choose from a variety of
advertising options here
.
Contributors are welcome

Learn how you can contribute
About

www.davestravelcorner.com/about