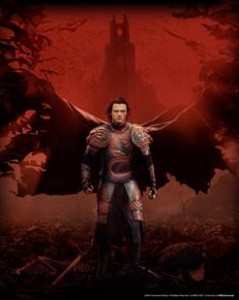 Universal Studios Hollywood and Universal Orlando Resort Sink Their Teeth into "Dracula Untold," a Terrifying New "Halloween Horror Nights" Maze Inspired By Universal Pictures' Upcoming Epic Action-Adventure
ORLANDO, Fla., UNIVERSAL CITY, Ca., (Sept 20, 2014) — Universal Studios Hollywood and Universal Orlando Resort breathe new life into history's most notorious vampire, Vlad Tepes, the real life 13th century ruler and inspiration for Bram Stoker's Dracula in a terrifying new "Halloween Horror Nights" maze, "Dracula Untold: Reign of Blood. " Beginning, Friday, September 19, 2014, guests can feast on this immersive preview of Universal Pictures' upcoming epic action-adventure Dracula Untold. Starring Luke Evans, the origin story of the man who became Dracula arrives in theaters on October 17.
"Dracula Untold: Reign of Blood" will introduce guests to the sadistic Transylvanian ruler Vlad Tepes, known as "Vlad the Impaler," who infamously tortured his enemies by impaling them alive with a wooden stake and suspending their bodies. The foreboding maze will also shed an ominous light on the one-time hero, turned blood-thirsty-tyrant, who chose to embrace unholy powers in order to defeat his enemies. "Dracula Untold: Reign of Blood" will spiral guests through Dracula's eternal damnation, where the thirst for blood is never-ending.
"'Everyone thinks they know the story of 'Dracula'," said John Murdy, Creative Director at Universal Studios Hollywood and Executive Producer of "Halloween Horror Nights." "But there is much more to the tale than just a dark figure lurking in the shadows, drinking blood. While Dracula Untold will reveal the origin story of the man who became Dracula, our 'Halloween Horror Nights' maze will invite guests to experience the atrocities Dracula imposed on his victims in the most frightening and immersive way possible."
"As a huge fan of the Universal Classic Monsters, my interest is certainly piqued any time a film explores other facets of the classic characters," said Michael Aiello, Director of Entertainment – Creative Development, Universal Orlando Resort. "Dracula Untold offers a unique perspective on the origin of the world's most famous vampire. Our maze will place guests within many of the pulse-pounding moments from the upcoming film, offering guests an unprecedented living preview of the horrors that await."
Universal Studios' "Halloween Horror Nights" events have a more than 20-year history of creating incredibly entertaining, horrifying Halloween experiences that are consistently rated the nation's best. The events on each coast feature highly-themed, disturbingly real, haunted mazes based on everything from films to nightmares – and streets filled with hundreds of specially trained "scareactors." Other announced "Halloween Horror Nights" experiences include, "The Walking Dead: The End of the Line," "From Dusk Till Dawn," "Face Off: In the Flesh," "The Purge: Anarchy" and "AVP: Alien vs. Predator."
In addition to "Dracula Untold: Reign of Blood," other "Halloween Horror Night" attractions will include "The Walking Dead: The End of the Line," based on AMC's hit TV series, "From Dusk Till Dawn," inspired by inspired by Robert Rodriguez's cult film and El Rey network's TV Series, "AVP: Alien vs. Predator," based on the Twentieth Century Fox film franchise, "Face Off: In the Flesh," based on Syfy's TV series, and "Purge: Anarchy," a new scare zone inspired by Universal Pictures' blockbuster thriller.
To learn more about this all-new "Halloween Horror Nights" maze, watch: "Dracula Untold"
About Universal Studios Hollywood
Universal Studios HollywoodSM, The Entertainment Capital of L.A.SM includes a full-day, movie-based theme park and Studio Tour; the CityWalk entertainment, shopping and dining complex, the Universal CityWalk Cinemas and the "5 Towers" state-of-the-art outdoor concert venue. World-class rides and attractions include the popular "Despicable Me Minion Mayhem" family adventure ride, the intense, award-winning ride, "King Kong 360 3-D" on the famed behind-the-scenes Studio Tour, the critically-acclaimed mega-attraction, "Transformers™: The Ride-3D," "The Simpsons Ride™," "Revenge of the MummySM—The Ride," and "Jurassic Park®—The Ride."
Updates on "Halloween Horror Nights" at Universal Studios Hollywood are available online at HalloweenHorrorNights.com/Hollywood and on Facebook at: "Halloween Horror Nights – Hollywood," on Instagram at @HorrorNights and Twitter at @HorrorNights as Creative Director John Murdy reveals a running chronicle of exclusive information. Watch videos on Halloween Horror Nights YouTube and join the conversation using #UniversalHHN.
Universal Studios Hollywood is part of NBCUniversal, a Comcast company. Follow Universal Studios Hollywood on Facebook, Twitter, Instagram and YouTube.
About Dave's Travel Corner

Dave's Travel Corner is a travel content, resource provider and community (founded 1996) providing travel
Guides
written about Dave's personal travel experiences and
Journals
, pages that contain trip summaries and experiences written by fellow travelers. We spotlight locations and attractions with an article linked directly from our homepage including content across our blog, photo and video galleries. We use a combination of social media, written content, photography and videos to promote locations. Not only does the content appear on this site but we have direct partnerships with other well visited travel sites for placement of the content. Since 1996, we have also established hundreds of relevant link exchanges with other travel sites.
Visitors to Dave's Travel Corner will also find thousands of travel related links organized by categories on the
Resources Page
, a
Photo Gallery
containing International travel photos,
Book Reviews
, and
Product Reviews
focusing on products useful for travelers, fully automated
Forums
,
Tour Bookings
offering over 4400 unique tours around the globe,
Interviews
with those making news in the travel industry and
Videos
- specializing in International travel videos as well as home of the
Dave & Jim Show
.
Dave's own travel blog is
Above the Clouds
which focuses on International Travel & Lifestyle.
For information on advertising please choose from a variety of
advertising options here
.
Contributors are welcome

Learn how you can contribute
About

www.davestravelcorner.com/about