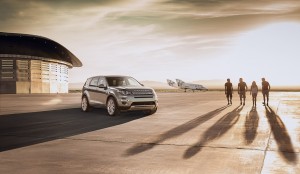 Four aspiring adventurers will win a trip to space with launch of Land Rover's 'Galactic Discovery' competition
Adventurers Sir Richard Branson, Bear Grylls, Sir Ranulph Fiennes and Virginia McKenna help launch Land Rover's trip of a lifetime to celebrate debut of New Discovery Sport
New compact SUV is premiered through online video, filmed at Spaceport America, the home of Virgin Galactic
Global competition expected to attract thousands of entries from over 40 countries
Four friends are set to win a once-in-a-lifetime trip to space with Land Rover's Galactic Discovery competition, a ground-breaking on-line search for a group of aspiring astronauts to go on the ultimate adventure.
The incredible Virgin Galactic space flight prize was announced to audiences around the world through a film featuring a group of the world's greatest-living adventurers and personalities, including Sir Richard Branson, Bear Grylls and Sir Ranulph Fiennes.
It will be the first time that a competition has offered the chance for a group of four friends to win a trip to space. The winners will be among the first pioneering travellers to view the earth from space and experience out-of-seat zero gravity.
The extraordinary opportunity is being offered by Land Rover and Virgin Galactic to mark the reveal of the New Discovery Sport, a compact and versatile SUV and first of a new Discovery family. The car was unveiled to the world in a film shot at Spaceport America, New Mexico, which will be the base for Virgin Galactic's sub-orbital space flights. The film forms part of Land Rover's biggest ever digitally-led campaign, debuting the New Discovery Sport exclusively to an online audience for the first time. Over the next four months, the brand will harness the power of social media, PR and digital marketing across 40 countries to launch the New Discovery Sport and seek out the world's most adventurous spirits. The campaign will culminate with the announcement of the four winners in December 2014.
Phil Popham, Jaguar Land Rover Group Marketing Director, said: "Only Land Rover could offer this incredible opportunity: the chance to win the most spectacular group journey of a lifetime. Our heritage is rooted in adventure, exploration and a desire to go above and beyond, and nothing embodies this spirit of discovery more than a trip to space."
British adventurer and Land Rover ambassador, Bear Grylls, will play a hands-on role in helping the winning group prepare for their voyage beyond the final frontier. He said: "This prize really is the ultimate adventure of a lifetime. I've stood on top of Mount Everest and looked up at the black above me, thinking 'there's only one place higher to go now'. As humans, it is in our DNA to go where people have never been before, and now four friends have the opportunity to do that."
Land Rover has assembled a group of experienced adventurers and personalities to back the Galactic Discovery mission, including legendary British explorer Sir Ranulph Fiennes; entrepreneur and founder of Virgin Galactic, Sir Richard Branson; and former actress and wildlife campaigner Virginia McKenna.
To enter the competition, aspiring astronauts from across the globe are being asked to produce a 30-second video, or a still image, that demonstrates their spirit of adventure, choose three friends to join them on their space adventure and submit it via Land Rover's website.
The Galactic Discovery collaboration signals the next phase of two pioneering companies – Land Rover and Virgin Galactic – working together to push the boundaries of travel and adventure for the next generation. A global partnership between the brands was announced in New York in April this year, and when flights begin, a fleet of Land Rovers will play a key role in Virgin Galactic's space experience, with future astronauts driving in the vehicles from the spaceport in New Mexico to the spaceship to begin their trip across the final frontier.
George Whitesides, CEO of Virgin Galactic, said: "We share the same spirit of adventure and exploration as Land Rover and it inspires everything we do. Democratising space and giving individuals around the world from all walks of life an opportunity to see the Earth from above is at the heart of our mission as a spaceline."
Land Rover and Virgin Galactic are now exploring potential collaborations, projects and the development of immersive experiences for customers. They are also actively working together on joint STEM education programmes, which encourage young people to aspire to a future in science, technology, engineering and mathematics. Both brands see the huge potential to develop their partnership to inspire others and motivate more young people to pursue careers in these vitally important fields.
Land Rover Galactic Discovery has been launched in celebration of the unveiling of the New Discovery Sport, the world's most versatile premium compact SUV, and the first member of the new Discovery family.
About Dave's Travel Corner

Dave's Travel Corner is a travel content, resource provider and community (founded 1996) providing travel
Guides
written about Dave's personal travel experiences and
Journals
, pages that contain trip summaries and experiences written by fellow travelers. We spotlight locations and attractions with an article linked directly from our homepage including content across our blog, photo and video galleries. We use a combination of social media, written content, photography and videos to promote locations. Not only does the content appear on this site but we have direct partnerships with other well visited travel sites for placement of the content. Since 1996, we have also established hundreds of relevant link exchanges with other travel sites.
Visitors to Dave's Travel Corner will also find thousands of travel related links organized by categories on the
Resources Page
, a
Photo Gallery
containing International travel photos,
Book Reviews
, and
Product Reviews
focusing on products useful for travelers, fully automated
Forums
,
Tour Bookings
offering over 4400 unique tours around the globe,
Interviews
with those making news in the travel industry and
Videos
- specializing in International travel videos as well as home of the
Dave & Jim Show
.
Dave's own travel blog is
Above the Clouds
which focuses on International Travel & Lifestyle.
For information on advertising please choose from a variety of
advertising options here
.
Contributors are welcome

Learn how you can contribute
About

www.davestravelcorner.com/about