Five New Episodes Feature Trailblazing Female Business Owners of Color Dedicated to Enriching Their Vibrant, Local Los Angeles Neighborhoods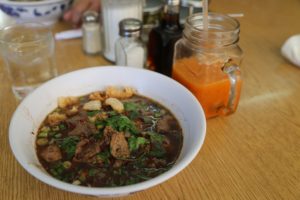 Los Angeles, Calif. – Sept. 30, 2021 – KCET, Southern California's flagship PBS station and home for award-winning public media programming, announced today five new digital episodes of SOCAL WANDERER, a KCET Original that explores the rich culture, history and landscape of Southern California, from local neighborhoods to the outer reaches. In this season's digital-first video series, host Rosey Alvero explores Los Angeles neighborhoods guided by women business owners of color who are trailblazers in their community. SOCAL WANDERER, with support from Wurwand Foundation's FOUND/LA initiative, will be releasing each of the five digital episodes weekly beginning Thurs., Sept. 30 on KCET.org premiering with "Créme Caramel LA," an episode about Sherman Oaks' Crème Caramel LA, a Filipino-American inspired bakery whose desserts have deep roots in the founder's Filipino heritage. Kristine de la Cruz opened the shop in 2013, and now her tasty treats are offered in cafes and restaurants across the Southland.
The first season of the series aired as a 30-minute broadcast special with extensive digital content on kcet.org in the fall of 2018 and featured local hot spots and interesting people from Anacapa Island, Ventura and Ojai. What started on the website as a popular online blog sharing fantastic destinations and hidden gems, morphed into the on-air show that was an insider's guide to the land of sunshine connecting with engaged enthusiasts and local experts.
Through online articles and videos, SOCAL WANDERER will feature five insider guides where local women business owners reveal hidden gems in each of their neighborhoods.
The digital episodes in the new season of SOCAL WANDERER are described as follows:
"Créme Caramel LA" – Rosey helps out at one of the best Filipino bakeries in town, Créme Caramel LA. Here she meets owner Kristine de la Cruz at her Sherman Oaks bakery, where she creates unique recipes and helps support L.A. frontline workers through coffee and sweet pandesals.
"The Wild Plum" – Rosey heads to the city of San Fernando where she meets Alex and Daniela Del Gaudio, two sisters who fulfilled their dream of creating a center for wellness in their community, The Wild Plum, a holistic wellness spa and yoga studio in northeast San Fernando Valley that welcomes all people of all backgrounds with open arms.
"Yuca's Tacos" – Rosey meets with Dora Herrera of Yuca's Tacos, a Los Feliz culinary institution serving Yucatan-style soft tacos, burritos and burgers in a former shoeshine hut. Rosey savors every meal — including the James Beard award-winning cochinita pibil — from the menu and learns what it means to truly serve a changing community over the span of 40 years.
"Compton Health Bar" – Rosey meets with Dani Solorio, the owner of the holistic wellness center Compton Health Bar. Dani is a Compton entrepreneur using remedies that have roots in ancestral healing traditions to help nourish marginalized communities of color.
"Mingles Tea Bar" – Rosey meets with Lara Curtis of Mingle's Tea Bar. The two discuss the intricacies of tea — from the caffeine buzz of black tea to the soothing effect of chamomile — and how love, community and family helped start the unlikeliest of businesses.
Join the conversation on social media by using #KCET #SoCalWanderer
About Wurwand Foundation's FOUND/LA Initiative
SOCAL WANDERER is made possible by the Wurwand Foundation's FOUND/LA initiative, supporting local entrepreneurs to help them build their business, purpose and community. FOUND/LA connects local entrepreneurs – with a focus on women, immigrant, and BIPOC business owners – with resources to help them succeed. This includes funding, educational tools, incubator-style workshops, unique mentorship opportunities, and most importantly, a community of other local entrepreneurs.
About Rosey Alvero
Rosey is an everyday advocate for protecting the environment and enjoys discovering ways to achieve social justice in everyday acts, big and small. She works for a startup, AppliedVR, revolutionizing virtual therapeutics, finding solutions to the opioid crisis and managing chronic pain for every American. She has lived and worked all over the world with her favorite stops being in San Francisco (California and Mexico), Los Angeles, New York, Paris, and Manila. It would be difficult to find her in one place, but if you do she is likely outside hiking, surfing, skating, camping, cooking, and making memories with friends and family. She is thrilled to explore the Los Angeles region as the face of SOCAL WANDERER for KCET.
About KCET
KCET is part of the donor-supported community institution, the Public Media Group of Southern California, which was formed by the merger of PBS SoCal and KCETLink Media Group. As one of Southern California's two flagship PBS stations, KCET is on-air, online as well as in the community, and plays a vital role in the cultural enrichment of Southern California. KCET offers a wide range of award-winning local programming as well as the finest public television programs from around the world. Throughout its 55-year history, KCET has won hundreds of major awards for its local and regional news and public affairs programming, its national drama and documentary productions and its website, kcet.org. For additional information about KCET's original productions, web-exclusive content, programming schedules and community events, please visit kcet.org. KCET Originals and PBS programming are available to stream on the FREE PBS App on iOS and Android devices, Roku, Amazon Fire TV, Apple TV, Android TV, Samsung Smart TV, and Chromecast. KCET is also available to watch live on YouTube TV.
About Dave's Travel Corner

Dave's Travel Corner is a travel content, resource provider and community (founded 1996) providing travel
Guides
written about Dave's personal travel experiences and
Journals
, pages that contain trip summaries and experiences written by fellow travelers. We spotlight locations and attractions with an article linked directly from our homepage including content across our blog, photo and video galleries. We use a combination of social media, written content, photography and videos to promote locations. Not only does the content appear on this site but we have direct partnerships with other well visited travel sites for placement of the content. Since 1996, we have also established hundreds of relevant link exchanges with other travel sites.
Visitors to Dave's Travel Corner will also find thousands of travel related links organized by categories on the
Resources Page
, a
Photo Gallery
containing International travel photos,
Book Reviews
, and
Product Reviews
focusing on products useful for travelers, fully automated
Forums
,
Tour Bookings
offering over 4400 unique tours around the globe,
Interviews
with those making news in the travel industry and
Videos
- specializing in International travel videos as well as home of the
Dave & Jim Show
.
Dave's own travel blog is
Above the Clouds
which focuses on International Travel & Lifestyle.
For information on advertising please choose from a variety of
advertising options here
.
Contributors are welcome

Learn how you can contribute
About

www.davestravelcorner.com/about