An Elevated 168-Room Offering with Unprecedented Style,
Panoramic Roof Deck Views, and Robotic Butlers
Collective of Eight Art Installations Include Works by Patty Ortiz, Derek Keenan, & Jim Darling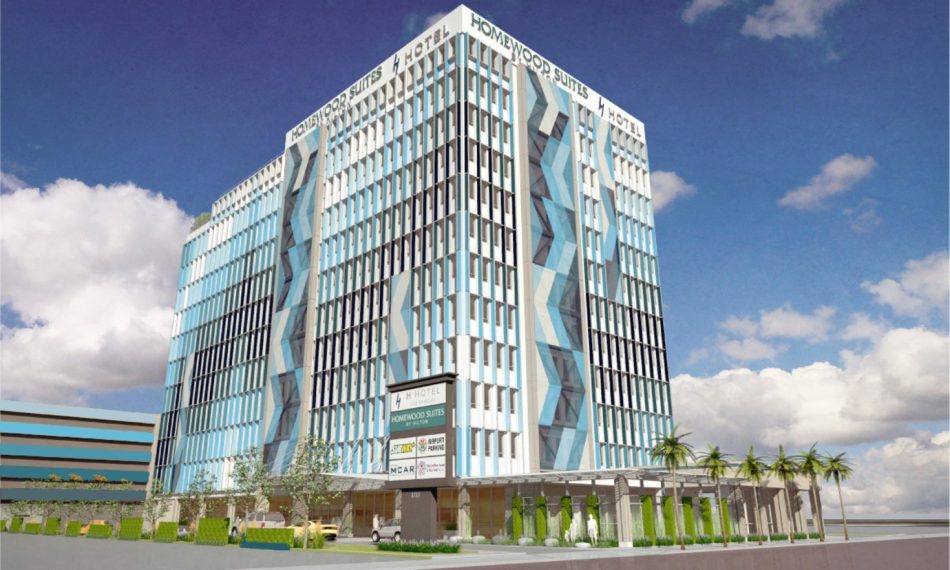 Los Angeles, CA – (November 2017) – The modern traveler has a lofty new haven near the fifth busiest airport in the world. Introducing H Hotel Los Angeles, Curio Collection by Hilton, the one-of-a-kind 168-room stylish hotel offering located just steps from the gates that begin a traveler's journey at LAX. Opened on October 10, the hotel introduces a curated hotel experience to guests engaging the best of Los Angeles and beyond without compromising the convenience of a central location. The latest addition to Curio Collection by Hilton – a global portfolio of more than 40 hotels and resorts with a unique identity-, the arrival of H Hotel disrupts the traditional concept of an airport hotel experience and serves as a beacon for all types seeking an atmospheric reprieve from the ordinary gears of destination travel.
In many ways, the H Hotel is a window unto a world suspended in midair – a feeling that begins at reception where the first of eight art installations resides. Combining digital fine art with LED programming, 'Blue Yonder' by Moodspace is an ever-changing 15'x5′ display of clouds and blue sky mingling with twilight – a shifting cascade of color emanating a peaceful, expansive feeling that invites hotel guests to check in and let go. This theme of meeting the horizon is furthered in each of the 168 guestrooms, designed and outfitted by Design Force Corporation. Vast 11.5 ft. ceilings harbor windows offering a fascinating overview perspective of the LAX grid in full swing, and the design elements of lush paints and light neutrals add to an uplifting sense of hovering in the clouds. On the amenity front, H Hotel is providing first-class service by featuring Temple Spa bath products, in-room Nespresso machines for the perfect brew, and all televisions are equipped with Google Chromecast.
Elevating higher still, the rooftop is home to the H Overlook, a vast open-air roof deck with dramatic views of the runways below, as well as a 180 degree panoramic snapshot of the L.A. landscape that expands from the the Santa Monica Mountains to the high rises of Downtown Los Angeles. This private events venue offers customizable seating arrangements for up to 200 people, and the real move is towards the glass rail where one can be more easily spellbound by the constant stream of airliners coasting at eye-level towards the runway.
The amenities take a futuristic turn with HANNAH, a robotic butler and by all appearances a distant cousin of The Jetson's Rosie the Robot Maid. Guests in need of an item can summon HANNAH, who appears in good time with the cargo in request. Refreshments, shampoo, fresh towels, snacks – it's all on the menu. Developed and programmed by Savioke, HANNAH knows its way around every elevator and hallway like the back of its motherboard.
Guests will also enjoy the H Hotel's Fitness Center – 1,270 sq. ft. of sleek equipment with more windows and views of the city. The uniquely appointed Transfer Lounge serves as a comfortable living room that unshackles travelers from the check-in / check-out timeline. With a business center, lounge-like escape, luggage lockers, a refreshment station and a personal bathroom with shower, it's a welcome retreat for hotel guests in flux. The culinary program is anchored on the lobby level by the Waypoint Kitchen, H Hotel's signature restaurant dramatized with booths, navy and gold accents. Diners can engage an approachable menu highlighted by Garlic Mascarpone Flatbread Pizza and Cocoa Cinnamon tossed Donut Bites.
"For one of the busiest travel hubs on earth, an independent luxury hotel experience coupled with LAX convenience has been noticeably nonexistent," says Bob Alter, managing member of SVI Airport, LLC. "We're excited to debut the H Hotel and can't wait to see its spaces and style enjoyed by travelers on the wings of both business and pleasure."
To create an aura of tasteful transcendence, the H Hotel enlisted NINE dot ARTS to curate a collection around the art of flight. Eight artists were enlisted from across the U.S. to create gravity-defying pieces across many mediums. With Planes, Patty Ortiz suspends a fleet of painted aluminum 'paper airplanes' near the entryway. In the transition, Jim Darling's Plane Window series depicts oil paintings of skies in plane window frames.
From the windows of approaching planes, the illuminated exterior of the H Hotel will be discernible from the rest; its mid-century architecture shaped into a modern industrial facade colored with azure hues. Originally raised in the 1960s as an office building, the property is a dual-branded venture housing a new Homewood Suites by Hilton alongside the H Hotel, bringing 290 total rooms to approximately 40 million people traveling through LAX. H Hotel's distinct amenities, spaces, and rooftop of the H Hotel are exclusive to its guests. For those looking to depressurize the hustle of LAX travel and combine convenience with a sense of wanderlust, the H Hotel is the property primed to spirit them away in style.
The hotel is a part of Hilton Honors, the award-winning guest-loyalty program for Hilton's 14 distinct hotel brands. Members who book directly have access to instant benefits, including a flexible payment slider that allows members to choose nearly any combination of Points and money to book a stay, an exclusive member discount, free standard Wi-Fi and access to the Hilton Honors mobile app. For more information or to make a reservation, visit H Hotel Los Angeles, Curio Collection by Hilton or call 310-215-3000.
Starting Room Rates:
$249 Weekends
$329 Weekdays
H Hotel
6151 W Century Blvd.
Los Angeles, CA 90045
(310) 215-3000
hhotellosangeles.com
About Curio Collection by Hilton
Curio Collection by Hilton (curiocollection.com), launched in 2014, is a global portfolio of more than 40 remarkable, upper upscale hotels and resorts handpicked for their unique character and personality. Curio Collection properties appeal to travelers seeking one-of-a-kind discoveries and authentic experiences, all backed by Hilton (NYSE: HLT) and its award-winning Hilton Honors program. Read the latest Curio Collection stories at news.curiocollection.com, discover Curio Collection destinations through Cities by Curio itineraries and connect with the collection on Facebook, Instagram, and Twitter.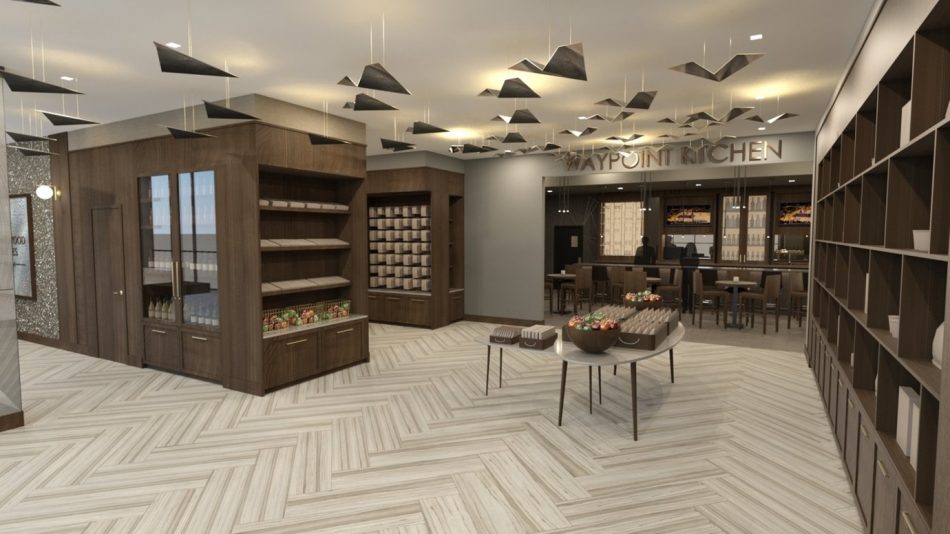 About Dave's Travel Corner

Dave's Travel Corner is a travel content, resource provider and community (founded 1996) providing travel
Guides
written about Dave's personal travel experiences and
Journals
, pages that contain trip summaries and experiences written by fellow travelers. We spotlight locations and attractions with an article linked directly from our homepage including content across our blog, photo and video galleries. We use a combination of social media, written content, photography and videos to promote locations. Not only does the content appear on this site but we have direct partnerships with other well visited travel sites for placement of the content. Since 1996, we have also established hundreds of relevant link exchanges with other travel sites.
Visitors to Dave's Travel Corner will also find thousands of travel related links organized by categories on the
Resources Page
, a
Photo Gallery
containing International travel photos,
Book Reviews
, and
Product Reviews
focusing on products useful for travelers, fully automated
Forums
,
Tour Bookings
offering over 4400 unique tours around the globe,
Interviews
with those making news in the travel industry and
Videos
- specializing in International travel videos as well as home of the
Dave & Jim Show
.
Dave's own travel blog is
Above the Clouds
which focuses on International Travel & Lifestyle.
For information on advertising please choose from a variety of
advertising options here
.
Contributors are welcome

Learn how you can contribute
About

www.davestravelcorner.com/about