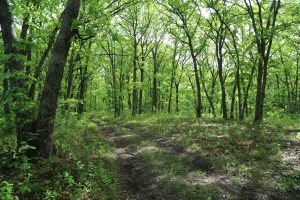 Lake of the Ozarks, MO – In a recent article published by Condé Nast Traveler, the Lake of the Ozarks' Ha Ha Tonka State Park, located at 1491 State Highway D near Camdenton, was named the most beautiful place in Missouri.
The article, which listed the most beautiful and compelling place in each of the 50 states, urges readers to consider the list as a "starting point to the most epic cross-country trip ever."
According to Condé Nast: "Picking just 50 places isn't easy, but we polled our Facebook followers, did some digging and came up with this list of the must-see, must-visit spots in each state. Of course, it only scratches the surface of what this country has to offer, so consider it your starting point and start exploring."
Central Missouri's Lake of the Ozarks, named the "Best Recreational Lake in the Nation" by readers of USA Today, is worth a road trip all on its own. The Lake of the Ozarks covers 54,000 acres with 64 billion gallons of water stretching 92 miles end-to-end across a four-county area. The Lake boasts myriad attractions and events as well as over 200 restaurants and nightspots and more than 50 marinas for on-the-water fun along its 1,150 miles of shoreline.
However, Condé Nast honed in on the area and named Ha Ha Tonka as the "Show-Me" state's must-see, must visit destination. Widely considered one of the shining jewels of the Missouri State Parks system, Ha Ha Tonka also was voted the fourth-best state park in America by readers of USA Today a few years back.
"We're thrilled that Ha Ha Tonka State Park has been recognized as the most beautiful place in Missouri," says Jim Divincen, administrator for the Lake of the Ozarks Tri-County Lodging Association. "The park truly is stunning and we hear time and time again from many of our vacationers that Ha Ha Tonka is the highlight of their trip. It's one of many reasons why five million visitors come to the Lake of the Ozarks each year."
The overlook at Ha Ha Tonka Spring. There are 316 wooden steps that lead from the spring up to the castle ruins.
According to Ozark folklore, the park's name – Ha Ha Tonka – is derived from the local Osage Native American phrase thought to mean "laughing waters," in reference to the large natural spring that pumps out over 48 million gallons of water per day.
The park's main attraction is the ruins of the 20th century "castle" perched high on a bluff overlooking Ha Ha Tonka Spring and the Lake of the Ozarks. The skeletal stone structure was originally constructed as an opulent country escape for Robert M. Snyder, a wealthy Kansas City business man who perished in one of Missouri's first automobile accidents. Snyder never lived to see his dream realized but the home was completed by his sons and later operated as a hotel before being gutted by a fire in 1942. In addition to the outer walls of the estate, a stone water tower also remains to stand sentry over the park.
Hikers exploring beneath the massive natural bridge, which was used as an actual bridge by Robert M. Snyder as he traveled to and from his estate. The natural bridge was closed to vehicular traffic in 1980.
Over 520,000 visitors trek to Ha Ha Tonka anually to explore the ruins as well as the 14 different hiking trails and the numerous natural highlights, including the spring, which is the twelfth largest in the state.
The park is Missouri's premier showcase of karst geology and features a massive natural bridge, a steep-sided sinkhole named "The Colosseum," a 150-foot deep sink basin with two bluff shelters that were used as hide-outs by bandits in the 1830s and 250-feet high bluffs that tower above Ha Ha Tonka Spring.
The park also is home to one of Missouri's best examples of a woodland landscape as well as several large glades.
Located on the Niangua arm of the Lake, Ha Ha Tonka State Park is accessible by water as well as by land and offers opportunities for fishing and swimming in addition to boat docks, picnic tables, pavilions and a visitor center complete with a topographical map of the park carved out of stone. Ha Ha Tonka is open year around from 7 a.m. until dark and admission is free.
To learn more about Ha Ha Tonka State Park, visit mostateparks.com/park/lake-ozarks-state-park.
In addition to Ha Ha Tonka, the area also is home to Lake of the Ozarks State Park. The largest in Missouri, Lake of the Ozarks State Park encompasses over 17,626 acres and is consistently Missouri's most visited state park. For all the details on Lake of the Ozarks State Park, visit mostateparks.com/park/lake-ozarks-state-park.
Visitors that would like to find out more about lodging and dining options available at the Lake of the Ozarks, or to learn about all the different events and attractions, should visit the Lake of the Ozarks Convention and Visitor Bureau's (CVB) website at www.FunLake.com or call 800-FUN-LAKE (386-5253).
# # #
About Dave's Travel Corner

Dave's Travel Corner is a travel content, resource provider and community (founded 1996) providing travel
Guides
written about Dave's personal travel experiences and
Journals
, pages that contain trip summaries and experiences written by fellow travelers. We spotlight locations and attractions with an article linked directly from our homepage including content across our blog, photo and video galleries. We use a combination of social media, written content, photography and videos to promote locations. Not only does the content appear on this site but we have direct partnerships with other well visited travel sites for placement of the content. Since 1996, we have also established hundreds of relevant link exchanges with other travel sites.
Visitors to Dave's Travel Corner will also find thousands of travel related links organized by categories on the
Resources Page
, a
Photo Gallery
containing International travel photos,
Book Reviews
, and
Product Reviews
focusing on products useful for travelers, fully automated
Forums
,
Tour Bookings
offering over 4400 unique tours around the globe,
Interviews
with those making news in the travel industry and
Videos
- specializing in International travel videos as well as home of the
Dave & Jim Show
.
Dave's own travel blog is
Above the Clouds
which focuses on International Travel & Lifestyle.
For information on advertising please choose from a variety of
advertising options here
.
Contributors are welcome

Learn how you can contribute
About

www.davestravelcorner.com/about