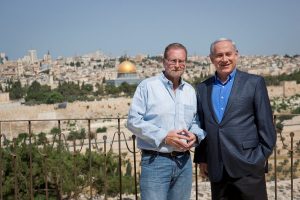 Israel: The Royal Tour, with Israeli Prime Minister Benjamin Netanyahu and CBS Travel Editor Peter Greenberg,
Premieres on Public Television Thursday, March 6, 2014
(check local listings)
One-hour special offers unprecedented look at Israel through the eyes of its prime minister.
(February 25, 2014) – A historic television event is coming to public television stations next month with the premiere of Israel: The Royal Tour. The one-hour special is an unprecedented tour inside the country, an up-close-and-personal journey with a very special guide: the Prime Minister of Israel, Benjamin Netanyahu. The latest in the Royal Tour series hosted by CBS News Travel Editor Peter Greenberg, Israel: The Royal Tour provides unprecedented access inside a sacred land that is at once ancient and modern, with a long history of conflict. The special, premiering on public television stations beginning Thursday, March 6, 2014 (check local listings), provides an all-access pass into – and across – the entire country, led by the one man who knows it best.
Prime Minister Netanyahu takes Greenberg by helicopter, ship, dune buggy and bicycle throughout Israel – the birthplace of the world's three great religions. Netanyahu and Greenberg explore the country's iconic destinations: from climbing Masada to walking the streets in the Old City of Jerusalem; from the Mediterranean beaches of Tel Aviv to the holy sites below the Western Wall; from the Jordan Rover to the Temple Mount. Israel: The Royal Tour travels to some locations beyond the standard tourist checklist that hold special meaning to Netanyahu. Greenberg and Netanyahu also sit down for a frank discussion of the situation in the region, and discuss Palestinian statehood and the prospects for a real peace.
In New York and Los Angeles, Israel: The Royal Tour premieres on the following stations. Check local listings for additional airings in other cities.
New York – Thirteen – Thursday, March 6 at 8pm
New York – WLIW21 – Thursday, March 6 at 9:30pm
Los Angeles – PBS SoCal – Thursday, March 6 at 7pm
Los Angeles – KVCR – Monday, March 24 at 10pm
Los Angeles – KLCS – April TBD
Benjamin Netanyahu, Prime Minister of Israel, commented, "Many times during my years of public service I have wished there were an accessible way to share the many facets of Israel's unique beauty: its distinct landscapes, its inspiring holy sites, its ancient history and modern cities, its cultural and culinary treasures, its thriving nightlife and above all, its diverse and dynamic people. And Peter proved that he was more than up to the task."
"Peter Greenberg's Royal Tour specials are a great fit for public television, combining our popular travel and history genres with the singular perspective of a world leader's personal insight," said Diane Masciale, general manager, WLIW21. "We are excited to offer Peter's tour of Israel with Prime Minister Netanyahu to stations across the country and look forward to Peter's next itinerary."
Highlights of the tour include:
The Red Sea – Shared by Israel, Jordan, Saudi Arabia and Egypt – it is both a place of beauty and strategic economic significance. Netanyahu and Greenberg explore the Dolphin Reef and have up-close interactions with the dolphins that live there, but are not captive.
Caesarea – Netanyahu walks Greenberg through the pivotal drama of this ancient port city.
Rosh Hanikra – Netanyahu takes Greenberg to the stunning grottoes of Rosh Hanikra and shares stories of his time there in the Israeli army.
Jordan River – Netanyahu and Greenberg raft down the river together.
Jerusalem – Netanyahu takes Greenberg in, above and under the city.
P.M. Residence – Netanyahu invites Greenberg for a rare visit to the Prime Minister's residence for a visit with his wife Sara, and a personal look at his life, his family and his history.
Technion – Netanyahu takes Greenberg into Israel's prime center for cutting-edge science and technology and an inside look at the latest inventions.
Tel Aviv – Netanyahu and Greenberg stay up late at one of the city's hottest clubs.
Masada- Netanyahu and Greenberg head to the top of Masada to hear the whole story of determination, sacrifice and historic victory.
Dead Sea – Netanyahu and Greenberg to end their journey afloat.
Israel: The Royal Tour is the latest installment in Peter Greenberg's Royal Tour series. Previous tours have included the King of Jordan, Prime Ministers of New Zealand and Jamaica, and the Presidents of Peru and Mexico. Mexico: The Royal Tour premiered on public television stations in 2011. Israel: The Royal Tour is produced by Greenberg in association with WLIW21 for WNET. Executive Producer and Host is Peter Greenberg. Director is John Feist. Editor is Gary Pollak. For WLIW21: General Manager is Diane Masciale. For WNET: Executive-in-Charge is Stephen Segaller. A WLIW21 presentation in association with WNET.
Israel: The Royal Tour was made possible in part by the generous contributions of Robert K. Kraft and the Robert and Myra Kraft Family Foundation and Delta Air Lines.
About Peter Greenberg
Peter Greenberg, who logs more than 400,000 miles a year reporting for CBS News and for his nationally syndicated radio program, is considered the world's most credible front-line travel news journalist. He is a multiple Emmy Award-winning investigative reporter and producer, and a New York Times best-selling author. Greenberg also produces and hosts the public television series The Travel Detective with Peter Greenberg, which reveals the process of travel from the inside, giving viewers access to hard-to-find information — from some of the best minds in the travel industry. http://www.petergreenberg.com
About WNET
As New York's flagship public media provider and the parent company of THIRTEEN and WLIW21 and operator of NJTV, WNET brings quality arts, education and public affairs programming to more than 5 million viewers each week. WNET produces and presents such acclaimed PBS series as Nature, Great Performances, American Masters, PBS NewsHour Weekend, Charlie Rose and a range of documentaries, children's programs, and local news and cultural offerings available on air and online. Pioneers in educational programming, WNET has created such groundbreaking series as Get the Math, Oh Noah! and Cyberchase and provides tools for educators that bring compelling content to life in the classroom and at home. WNET highlights the tri-state's unique culture and diverse communities through NYC-ARTS, Reel 13, NJTV News with Mike Schneider and MetroFocus, the multi-platform news magazine focusing on the New York region. WNET is also a leader in connecting with viewers on emerging platforms, including the THIRTEEN Explore iPad App where users can stream PBS content for free.
About Dave's Travel Corner

Dave's Travel Corner is a travel content, resource provider and community (founded 1996) providing travel
Guides
written about Dave's personal travel experiences and
Journals
, pages that contain trip summaries and experiences written by fellow travelers. We spotlight locations and attractions with an article linked directly from our homepage including content across our blog, photo and video galleries. We use a combination of social media, written content, photography and videos to promote locations. Not only does the content appear on this site but we have direct partnerships with other well visited travel sites for placement of the content. Since 1996, we have also established hundreds of relevant link exchanges with other travel sites.
Visitors to Dave's Travel Corner will also find thousands of travel related links organized by categories on the
Resources Page
, a
Photo Gallery
containing International travel photos,
Book Reviews
, and
Product Reviews
focusing on products useful for travelers, fully automated
Forums
,
Tour Bookings
offering over 4400 unique tours around the globe,
Interviews
with those making news in the travel industry and
Videos
- specializing in International travel videos as well as home of the
Dave & Jim Show
.
Dave's own travel blog is
Above the Clouds
which focuses on International Travel & Lifestyle.
For information on advertising please choose from a variety of
advertising options here
.
Contributors are welcome

Learn how you can contribute
About

www.davestravelcorner.com/about