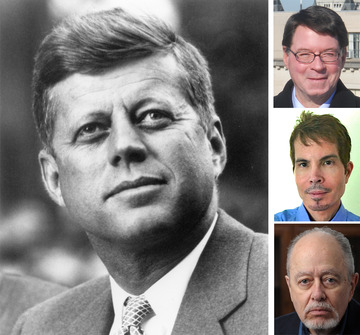 "JFK": An Inside Look at the Assassination of a President 50 Years Later," Thursday November 7
Panel Discussion to Feature Three Different Perspectives from Authors Patrick Nolan, Gerald Posner and G. Robert Blakey
LAS VEGAS (September 2013) – On Thursday, November 7, at 7 p.m., The Mob Museum, The National Museum of Organized Crime and Law Enforcement, will host "JFK: An Inside Look into the Assassination of a President 50 Years Later" in its historic courtroom. Part of the Museum's ongoing programming series, the evening will provide a look back at this historic event through the differing perspectives of three panelists.
Authors Patrick Nolan ("CIA Rogues and the Killing of the Kennedys," due to be released on November 6), Gerald Posner ("Case Closed: Lee Harvey Oswald and the Assassination of JFK") and G. Robert Blakey ("The Plot to Kill the President" and "Fatal Hour: The Assassination of President Kennedy by Organized Crime") will address questions such as: Was Lee Harvey Oswald a lone shooter? What role, if any, did organized crime play in the assassination? Was government involved? Moderating the panel will be Tom Stone, senior lecturer in English at Southern Methodist University in Dallas, who has taught classes for the last 20 years on JFK's assassination.
About Patrick Nolan
Patrick Nolan is a forensic historian who has dedicated his life to uncovering truths surrounding the JFK, MLK, and RFK assassinations of the 1960s. He's been a journalist, a television news producer, and a professor at Hofstra University and St. John's University. His groundbreaking book, "CIA Rogues and the Killing of the Kennedys: How and Why US Agents Conspired to Assassinate JFK and RFK," is based on world-famous forensic scientist Dr. Henry C. Lee's conclusion that both Kennedy murders involved more than one gunman. Were the conspirators who assassinated the President the same perpetrators that killed his brother the Senator? In "CIA Rogues," Nolan offers a fresh new look at the evidence and pieces together one of the most disturbing puzzles in American History. He claims an alliance involving a high-level CIA rogue element, led by Richard Helms and James Angleton, with mob support, had the motive, means and opportunity to carry out both assassinations and cover them up for nearly a half century.
About Gerald Posner
At 23, Posner was one of the youngest attorneys ever hired by Cravath, Swaine & Moore. A Political Science major, Posner was a Phi Beta Kappa and Summa Cum Laude graduate of the University of California at Berkeley (1975), where he was also a national debating champion, winner of the Meiklejohn Award. At Hastings Law School (1978), he was an Honors Graduate and served as the Associate Executive Editor for the Law Review. Posner has worked as a freelance writer on investigative issues for several news magazines, and a regular contributor to NBC, the History Channel, CNN, FOX News, CBS, and MSNBC. He is the author of 11 books covering everything from Nazi war criminals to heroin trafficking to political assassinations to 9/11 and terrorism. His 1993 book, "Case Closed," was a New York Times bestseller and a finalist for the Pulitzer in History. It received widespread critical acclaim. Typical was historian Robert Dallek in The Boston Globe, "Superb…The most convincing explanation of the assassination" and Jeffrey Toobin in the Chicago Tribune, "Utterly convincing…Fascinating and important…Case closed, indeed." In Case Closed, Posner concludes that Oswald alone killed JFK.
About G. Robert Blakey
Blakey is a recognized expert on organized crime and an authority on the JFK assassination. In the late 1960s he campaigned for and helped write much of the anti-racketeering legislation (RICO Act) that had a major impact on fighting organized crime. As chief counsel to the 1977 House Select Committee on Assassinations, Blakey led the investigation into President Kennedy's assassination, reexamining the evidence with a new forensics panel. Blakey also worked as a Special Attorney at the Department of Justice in the Organized Crime & Racketeering Section from 1960 to 1964. Blakey is the co-author with Richard Billings of "The Plot to Kill the President" (1981). The book was reissued in paperback in 1993 as "Fatal Hour: The Assassination of President Kennedy by Organized Crime."
Doors will open at 5:30 p.m. with a reception featuring light fare and a cash bar. The program will begin promptly at 7 p.m. in The Mob Museum's historic courtroom. Following the moderator-led panel discussion, audience members will have a chance to ask questions and have their books signed by the authors. The evening will mark the first public signing of Nolan's book. The program will conclude by 9 p.m.
Tickets for the November 7 event are $30 for non-members; Museum members will receive a 10 percent discount. To make reservations, please call (702) 229-2734 or visit http://themobmuseum.org/archives/category/events/.
About the Mob Museum
The Mob Museum is a world-class destination in downtown Las Vegas dedicated to the thrilling story of organized crime and law enforcement. It presents an exciting and authentic view of the Mob's impact on Las Vegas history and its unique imprint on the world. True stories of Mob history are brought to life in a bold and contemporary style via engaging exhibits, high-tech theater presentations and more than 600 artifacts, the largest collection of Mob and related law enforcement memorabilia under one roof. Since opening in 2012, The Mob Museum has accumulated numerous accolades, including being named one of "20 Places Every American Should See" by Fox News and Budget Travel magazine, "Las Vegas' Best New Attractions for 2012" by Travel + Leisure magazine, "9 Reasons to Visit Las Vegas" by CNNgo and "Best Museum" by Nevada Magazine. Admission is $19.95 for adults ages 18 and over with special pricing for children, seniors, military, law enforcement, Nevada residents, and teachers. Museum hours are Sundays through Thursdays from 10 a.m. to 7 p.m.; Fridays and Saturdays 10 a.m. until 8 p.m. For more information, call (702) 229-2734 or visit www.themobmuseum.org. Connect on Facebook: www.Facebook.com/themobmuseum and on Twitter: @TheMobMuseum.
About Dave's Travel Corner

Dave's Travel Corner is a travel content, resource provider and community (founded 1996) providing travel
Guides
written about Dave's personal travel experiences and
Journals
, pages that contain trip summaries and experiences written by fellow travelers. We spotlight locations and attractions with an article linked directly from our homepage including content across our blog, photo and video galleries. We use a combination of social media, written content, photography and videos to promote locations. Not only does the content appear on this site but we have direct partnerships with other well visited travel sites for placement of the content. Since 1996, we have also established hundreds of relevant link exchanges with other travel sites.
Visitors to Dave's Travel Corner will also find thousands of travel related links organized by categories on the
Resources Page
, a
Photo Gallery
containing International travel photos,
Book Reviews
, and
Product Reviews
focusing on products useful for travelers, fully automated
Forums
,
Tour Bookings
offering over 4400 unique tours around the globe,
Interviews
with those making news in the travel industry and
Videos
- specializing in International travel videos as well as home of the
Dave & Jim Show
.
Dave's own travel blog is
Above the Clouds
which focuses on International Travel & Lifestyle.
For information on advertising please choose from a variety of
advertising options here
.
Contributors are welcome

Learn how you can contribute
About

www.davestravelcorner.com/about