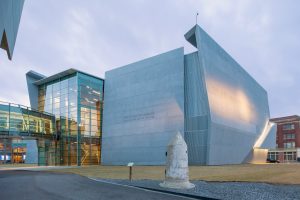 Road to Tokyo: Pacific Theater Galleries Museum completes Campaigns of Courage pavilion with 10 immersive galleries on World War II in the Pacific, opens additional stand-alone gallery on US Merchant Marine
NEW ORLEANS (November 23, 2015) – On December 12, 2015, The National WWII Museum will open its newest permanent exhibit: Richard C. Adkerson & Freeport-McMoRan Foundation Road to Tokyo: Pacific Theater Galleries. Retracing the grueling trail that led from Pearl Harbor to Tokyo Bay, Road to Tokyo explores the evolving strategy for fighting relentless Japanese forces in Asia and the Pacific, examining cultural differences, logistical challenges and the staggering range of extreme conditions that confronted American military forces in Asia and the Pacific.
Along with Road to Tokyo, a new exhibit on the US Merchant Marine is scheduled for completion in December. LTJG Ralph E. Crump Merchant Marine Gallery is a stand-alone gallery that honors the mariners who risked their lives transporting weapons, men and matériel to distant warfronts. Features include a video, artifacts, a model of a Liberty ship and an engaging array of personal narratives. The gallery will be situated in the Solomon Victory Theater complex, at the end of the American Spirit Bridge – a new glass-and-metal bridge that connects the Museum's Louisiana Memorial Pavilion with the rest of the six-acre campus for the first time.
Rich in content and expansive in scope, Road to Tokyo, Merchant Marine and the American Spirit Bridge offer visitors a more complete story than ever before of the American experience in World War II. After visitors begin their WWII journey in the Museum's replica Union Pacific train car (just like new recruits heading to boot camp in the United States), the American Spirit Bridge takes them "overseas" to immersive exhibits that explore how the war was fought and won in Europe (Road to Berlin), and now the Pacific (Road to Tokyo).
Road to Tokyo encompasses 10 richly layered galleries showcasing over 400 artifacts (including a shark-faced P-40 Warhawk), interactive oral-history kiosks, serialized Dog Tag profiles, short films and re-created wartime environments. Located on the second floor of the Museum's Campaigns of Courage pavilion, the galleries collectively explore the story of a world that was unimaginably alien to American GIs, a conflict of searing brutality and a victory so devastating it is hotly debated even today.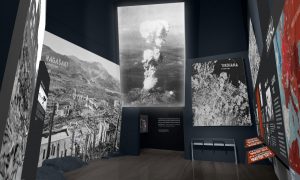 "The United States plunged into World War II following the Japanese surprise air attack on the Pacific Fleet at Pearl Harbor," said Dr. Keith W. Huxen, Samuel Zemurray Stone Senior Director of Research and History for The National WWII Museum. "The war forced President Roosevelt and his chief advisors to confront strategic challenges on an epic scale. Securing US victory in the Pacific required mobilizing American industry, gaining control of sea lanes and air zones, developing new technologies, executing amphibious landings and overcoming vast distances."
Road to Tokyo also highlights the story of the tenacious American spirit that carried the day. "The men and women who fought in the Pacific were courageous and deeply determined," Huxen continued. "The exhibit features content on the relentless work of the Seabees who built runways for island-hopping aircraft, and the steadfast scientists who created vaccines against devastating new diseases. This is the story of the Americans who literally forged a path to Tokyo through ingenuity and great sacrifice."
The opening of Road to Tokyo will complete Campaigns of Courage: European and Pacific Theaters, a pavilion that addresses the heart of the Museum's mission: telling the vast story of how the war was won. Set in the center of the institution's campus, Campaigns opened in December 2014 with the launch of Road to Berlin on the first floor. Together, the two exhibit floors draw visitors through a riveting narrative in a way that leaves a lasting impact and redefines the Museum experience – with emphasis placed on experiential storytelling.
Campaigns of Courage is also the primary setting for the Museum's Dog Tag Experience, an interactive exhibit that allows visitors to select a servicemember or civilian and follow the individual's story through the war. As guests move through the galleries, they use digitally enabled dog tag cards to check in with one American's unfolding story, viewing that gallery's events through the lens of a personal narrative. Following their Museum experience, users can revisit the stories online and add digital artifacts and oral histories to create a personalized online gallery at dogtagexperience.org.
"Campaigns of Courage contains more than 19,000 square feet of exhibit space so that we can take visitors inside the details of each major challenge, deepening understanding of the heroic story of the war generation," said Dr. Gordon H. "Nick" Mueller, President and CEO of the Museum. "This tale is one of determination and sacrifice, and we're honored to share firsthand narratives directly from those who fought to bring the war to an end. Completing this pavilion helps us complete our mission. We're excited to forge ahead with our expansion while we still have WWII veterans alive to see it."
A series of private and public Grand Opening events will be announced at the beginning of December. These events serve as a capstone to a year of accomplishment for the Museum, which celebrated its 15th anniversary in June and was recognized as the No. 3 Museum in the nation by TripAdvisor Travelers' Choice™ awards – up from No. 4 last year.
The National WWII Museum tells the story of the American experience in the war that changed the world – why it was fought, how it was won, and what it means today – so that future generations will know the price of freedom, and be inspired by what they learn. Dedicated in 2000 as The National D-Day Museum and now designated by Congress as America's National WWII Museum, it celebrates the American Spirit, the teamwork, optimism, courage and sacrifices of the men and women who fought on the battlefront and served on the Home Front. For more information, call 877-813-3329 or 504-528-1944 or visit nationalww2museum.org.
About Dave's Travel Corner

Dave's Travel Corner is a travel content, resource provider and community (founded 1996) providing travel
Guides
written about Dave's personal travel experiences and
Journals
, pages that contain trip summaries and experiences written by fellow travelers. We spotlight locations and attractions with an article linked directly from our homepage including content across our blog, photo and video galleries. We use a combination of social media, written content, photography and videos to promote locations. Not only does the content appear on this site but we have direct partnerships with other well visited travel sites for placement of the content. Since 1996, we have also established hundreds of relevant link exchanges with other travel sites.
Visitors to Dave's Travel Corner will also find thousands of travel related links organized by categories on the
Resources Page
, a
Photo Gallery
containing International travel photos,
Book Reviews
, and
Product Reviews
focusing on products useful for travelers, fully automated
Forums
,
Tour Bookings
offering over 4400 unique tours around the globe,
Interviews
with those making news in the travel industry and
Videos
- specializing in International travel videos as well as home of the
Dave & Jim Show
.
Dave's own travel blog is
Above the Clouds
which focuses on International Travel & Lifestyle.
For information on advertising please choose from a variety of
advertising options here
.
Contributors are welcome

Learn how you can contribute
About

www.davestravelcorner.com/about