LA WATERFRONT DELIVERS AN AUTHENTIC VISITOR EXPERIENCE STEEPED IN HISTORY AND THE AMERICAN SPIRIT
With Small-Town Charm and Family-Friendly Attractions, the LA Waterfront at Port of Los Angeles Offers a Slice of American Life, Both Past and Present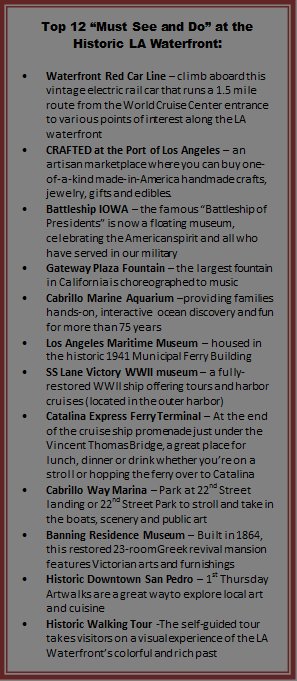 SAN PEDRO, Calif. — June 1, 2013 — Many who visit Los Angeles often miss out on the rich history and heritage that made Southern California the thriving metropolis that it is today.
Much of region's growth over the past 150 years was – and continues to be – connected to retail goods and other cargo flowing through the Port of Los Angeles, also known as America's Port®, anchoring the largest trade gateway in the western hemisphere. For wander-lusters near and far, the 2013 summer season provides a great opportunity to experience both the old and new at the historically authentic LA Waterfront™ at the Port of Los Angeles.
Whether you visit on weekday, weekend or come down for one of the many special events, there's something for everyone on the LA Waterfront.
From historic landmarks and museums, to one of the largest indoor craft marketplaces in the country, to authentic, ethnic eateries, trendy cafes and shabby-chic art galleries in downtown San Pedro, the LA Waterfront is a destination for visitors seeking a truly authentic American experience.
Staying true to a rich culture of a port town influenced by European and Asian working-class immigrants who settled the area generations ago, the LA Waterfront allows visitors to see a working port in action while taking in the old-town seaport culture, cuisine and character. Substantial investments by the Port of Los Angeles over the last several years have added a new and growing mix of visitor-friendly elements, like expansive public promenades and bike paths, public art, a new outer harbor marina and beautiful parks not far from the water's edge.
In addition to the Cabrillo Marine Aquarium, Los Angeles Maritime Museum, Banning Residence Museum, and a handful of other historic landmarks, new attractions like the Battleship IOWA, CRAFTED at the Port of Los Angeles and eclectic shops and eateries in San Pedro's historic downtown district make for a full day of exploration and fun. Next summer, a downtown-adjacent public harbor and plaza will be completed and, in the future, the waterfront's Ports O' Call Village – another popular weekend attraction – will also be re-developed.
"With something for everyone, the LA Waterfront is a place where visitors can experience an authentic slice of Los Angeles' heritage and history, while exploring what's new too," said Port Executive Director Geraldine Knatz.
The once predominantly industrial waterfront now offers a mix of activities and attractions that provide visitors a full day – or even an overnight stay – with plenty of things to do, including:
EXPLORE
The free vintage Waterfront Red Car Line trolley runs along a 1.5 mile route connecting the World Cruise Center and the spectacular Gateway Fanfare Fountain on the north end, to other attractions, shops and restaurants along the waterfront and historic downtown district.
Along the ride, stop for a visit at the L.A. Maritime Museum or Ports O' Call Village, or end the journey at the 22nd Street Landing, where it's just a quick walk to the picturesque park there or the famous CRAFTED at the Port of Los Angeles marketplace (open Friday through Sunday).
Los Angeles' newest "floating" museum attraction is the Battleship IOWA. This 887-foot, 45,000-ton World War II battleship has been designated the "World's Greatest Naval Ship" because of her power, speed, heavy armor, longevity and modern technology. Tours are held daily.
Or continue the exploration of local military history with visits to the S.S. Lane Victory, a nationally recognized historic 1945 battleship; Fort MacArthur Museum, a former U.S. Army post that guarded the L.A. Harbor from 1914 – 1974; and the Drum Barrack Civil War Museum, the only Civil War-era U.S. Army building still standing in Southern California.
With its spectacular natural setting adjacent to Cabrillo Beach Coastal Park and the Port of Los Angeles, the Cabrillo Marine Aquarium has provided a great place to explore sea life for 75 years. First to offer whale-watching tours along the coast, the historic Frank Gehry-designed aquarium displays the largest collection of Southern California marine life in the world. Just a short walk away is also the famous Point Fermin Lighthouse circa 1874, the first navigational light into the San Pedro Bay.
Located in the historic 1941 Municipal Ferry Terminal, which is now listed on the National Register of Historic Places, the Los Angeles Maritime Museum celebrates the history of Los Angeles Harbor and the ferry system that transported thousands of passengers to canneries and shipyards, as well as to military bases on historic Terminal Island.
Or for a breath of fresh air, take a self-guided Historic Walking Tour called "Windows of the Past," which takes visitors on a visual experience of the LA Waterfront's colorful and rich past. Or head to Wilmington and visit the Banning Residence Museum. Built in 1864, this exquisitely restored 23-room Greek revival mansion was once home to General Phineas Banning, best known as the "Father of the Port of Los Angeles."
SHOP
CRAFTED at the Port of Los Angeles is one of the nation's largest indoor year-round craft marketplaces, and the mecca for the Southern California handcrafted movement. Housed in authentic, restored former port warehouses, the marketplace features artisanal food makers, designers and craft artists who together create a bustling intersection of art and commerce. Live music performances and special events are featured throughout the year.
Built in 1963, Ports O' Call Village features an intriguing, assortment of shops, restaurants and attractions waiting for discovery. Visitors can follow the brick pathway to explore the truly authentic, local shops and find just the right treasured trinket or souvenir. Or they can swing by the famous Ports O' Call Restaurant to bid hello to the famous "Fisherman" statue in front, modeled after the famous fisherman of Gloucester, Massachusetts.
PLAY
The largest water feature in California, the welcoming Gateway Fanfare Fountain landmark and promenade are located at Harbor Boulevard and Swinford Street in San Pedro. Designed by the same architects who created The Fountain of Bellagio in Las Vegas, this spectacular water display pumps 400,000 gallons of recycled water with streams as high as 100 feet. Worth a watch, the dramatic choreographed dancing water shows happen every 30 minutes throughout the day/evening and more frequently during peak hours.
Visitors are invited to take a leisurely stroll along the completely transformed Cabrillo Way Marina, a 700-slip marina covering 87 acres of land and water, located just south of 22nd and Miner Streets. Nearly a mile of public waterfront promenade, complete with sweeping views of the water, the marina also features one of the newest art installations at the Port – "Ship in a Bottle" by popular artist Mark Dion.
The 18-acre 22nd St. Park is located just across from 22nd Street Landing at the Port, offering walking and biking trails, shade trees, two bocce ball courts, and nearly four acres of grassy open space for recreation – all with a view of the water. A quick walk and visitors can also take in some shopping at the new CRAFTED marketplace nearby.
Visitors looking for a leisurely day in the outdoors can enjoy the new 30-acre Wilmington Waterfront Park, which spans nine blocks, and features rolling green lawns for recreation and relaxation, a nautical-themed playground, walking trails with a scenic elevated vista of the Port, an iconic pedestrian bridge, and performance spaces for entertainment too.
First Thursday Artwalk is a great way to explore the local artist scene and enjoy live entertainment, while munching on offerings from Los Angeles' famous Gourmet Food Trucks that gather for the monthly event. Note that there is no July event.
Originally built in 1931, the elegantly restored art deco theater, The Warner Grand, is a magical place to listen to a concert, enjoy a vintage film or watch live theater.
DINE
Like a trip around the world, downtown San Pedro features a wide range of cuisine, from Hungarian to Mexican, Mediterranean to Italian, Japanese to California Fresh, and everything in between. Many restaurants – including the famous Whale and Ale English Pub – often feature live music along with lively brews as well. The The LA Waterfront Dining Guide helps visitors match taste buds to just the right cuisine.
The Port of Los Angeles is America's premier port and has a strong commitment to developing innovative strategic and sustainable operations that benefit the economy as well as the quality of life for the region and the nation it serves. As the leading seaport in North America in terms of shipping container volume and cargo value, the Port generates more than 830,000 regional jobs and $35 billion in annual wages and tax revenues. The Port of Los Angeles – A cleaner port. A brighter future.
About Dave's Travel Corner

Dave's Travel Corner is a travel content, resource provider and community (founded 1996) providing travel
Guides
written about Dave's personal travel experiences and
Journals
, pages that contain trip summaries and experiences written by fellow travelers. We spotlight locations and attractions with an article linked directly from our homepage including content across our blog, photo and video galleries. We use a combination of social media, written content, photography and videos to promote locations. Not only does the content appear on this site but we have direct partnerships with other well visited travel sites for placement of the content. Since 1996, we have also established hundreds of relevant link exchanges with other travel sites.
Visitors to Dave's Travel Corner will also find thousands of travel related links organized by categories on the
Resources Page
, a
Photo Gallery
containing International travel photos,
Book Reviews
, and
Product Reviews
focusing on products useful for travelers, fully automated
Forums
,
Tour Bookings
offering over 4400 unique tours around the globe,
Interviews
with those making news in the travel industry and
Videos
- specializing in International travel videos as well as home of the
Dave & Jim Show
.
Dave's own travel blog is
Above the Clouds
which focuses on International Travel & Lifestyle.
For information on advertising please choose from a variety of
advertising options here
.
Contributors are welcome

Learn how you can contribute
About

www.davestravelcorner.com/about